When Tripawds Founder Jerry G. Dawg was diagnosed with osteosarcoma lung metastasis and selected to participate in a clinical trial studying immune modulation therapy on dogs with cancer, little did we know that the K9 Immunity supplements he was given would boost and extend his quality of life for many more months.
After our firsthand experience with great results from K9 Immunity, we continue spreading the word about the powerful effects this dog cancer supplement provides.
That's why today it's a special honor that thanks to a generous sponsorship from K9 Medicinals and DogCancer.net, the Tripawds Nation is being represented at Blog Paws 2014, the world's biggest social media conference for pets and their people!
"We are proud to partner with Tripawds to share information about fighting and treating canine cancer, as well as spread a message of hope for all dogs and their families,"  —Dorla Salling of K9Medicinals and Dogcancer.net.

K9 Immunity Works
For Dorla, the value of K9 Immunity became clear when she was told that her beloved dog Rosie had advanced cancer, and might have two weeks to live at most. Feeling empowered by the science behind K9 Immunity's pharmaceutical grade immune modulating compounds, Dorla fought back and as a result, Rosie continued improving and maintained a high quality of life until earning her wings at the age of 13.
Rosie and Jerry's stories are remarkable, but one look at the many similar testimonials about K9 Immunity and you'll see that they're not unusual: K9 Medicinals and DogCancer.net have helped over 1 million dogs enhance their chance of recovery from cancer.
Do you have a K9 Immunity story to share?
If you have you used this product as part of your Tripawd's cancer fighting nutrition plan, please Join this discussion to share your experience.
Although there are no guarantees in medicine, the company is so certain K9 Medicinals will help your dog they offer a 100% Satisfaction Guarantee.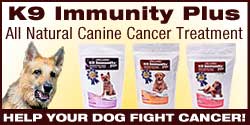 K-9 Immunity™ and K9 Immunity Plus™ are 100% All-American made with no imported ingredients.
Produced under strict GMP regulations in FDA registered facilities.
Human grade pharmaceutical quality immune-active heteropolysaccharides produced in-house through an advanced and patented bio-pharmaceutical manufacturing process
Safest and most potent canine immune supplements available
If you and your dog are in the fight of your lives, Dorla says "It's not too late to give your dog a chance: K9Immunity Plus is the proven and affordable way to significantly boost the fight against canine cancer."
Please join us in thanking K9 Medicinals and DogCancer.net for supporting the Tripawds Nation and spreading the word that there IS life after a cancer diagnosis!
See you at Blog Paws 2014!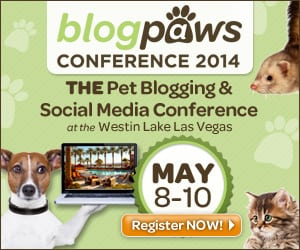 Save 10% off registration with promo code: BlogPaws2014-Speaker-Nelson-10