Welcome to Amputee August! Today we have expert Tripawd rehab tips to get your dog or cat on track to better fitness and health.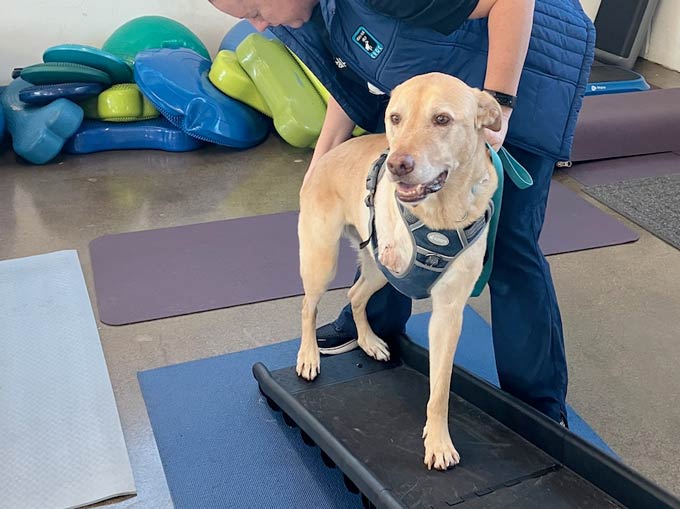 For four years now, Dr. Amber Callaway-Lewis of Treasure Coast Animal Rehab Therapy in Vero Beach, Florida is celebrating three-legged dogs and cats at her practice. She really enjoys showing pet parents how to help their amputee heroes live healthy, strong lives on three. And today we are happy to have her as our special guest to share expert Tripawd rehab tips.
Watch the video for a great conversation about older Tripawds, young three-legged dogs and cats, and how rehab therapy can help them get strong and stay there!
Get Discounted and Free Rehab for Your Tripawd!
If you live in the Treasure Coast region in Florida, during Amputee August you can take advantage of 25% off a Tripawd Fitness course at Treasure Coast Animal Rehab!
Remember that Tripawds Foundation's Rehab Reimbursement Program can pay up to $200 for the first evaluation of your Tripawd. Whether you can make it to TC Animal Rehab or you see a therapist where you live, the Maggie Moo Fund for Tripawd Rehab will cover up to $200 if it's your Tripawds' first evaluation.

Let's hear it for pawesome vet rehab therapists like Dr. Lewis, and keep the Amputee August celebration going! How are you celebrating with your three-legged hero?
See More Amputee August Chats with Dr. Amber Callaway-Lewis
Amputee August Celebrates Tripawd Exercise and Fitness
Amputee August Spotlights Cat and Dog Amputation Studies
Amputee August Expert Advice from a Rehab Vet
Two Fun Tripawd Cat Exercise Tips Anyone Can Do!
Florida Vet Celebrates Animal Amputee August for Tripawds