All three-legged heroes need some help getting out in the world. Just because they try to keep up with the pack on walks, doesn't mean they should. A stroller lets a Tripawd walk a little and ride a little, which helps preserve their joints yet give them the exercise and fresh air they need.
Here are the three Tripawd dog stroller reviews and experiences from members of our community. What's really cool is that all three are stroller / trailer models, which means you can attach them to your bike, or use them for walking / jogging.
Nellie Loves Her New Ride, the Booyah Dog Stroller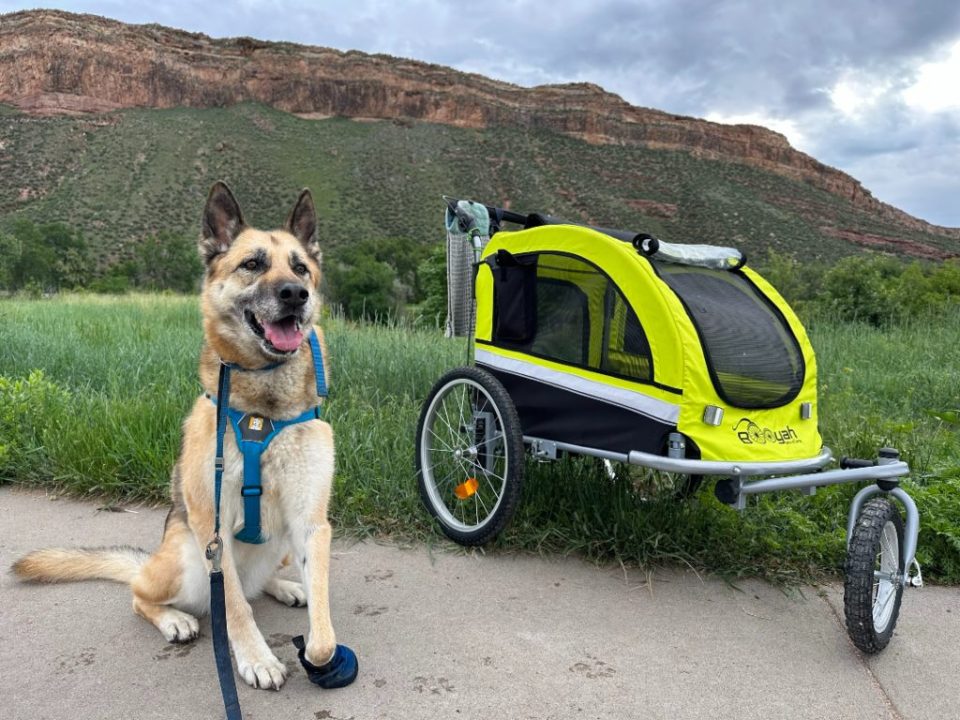 Our honorary spokesdog Nellie cannot walk very far on her damaged leg. But with the Booyah Dog Stroller, she can go as far as we can! We are very impressed with this stroller. From the durable build to the rugged suspension, it's a terrific investment we hope will last a lifetime.
Three things we love about the rugged Booyah pet stroller:
All wheels have suspension. Nellie loves the smooth ride and so do we. The ride is especially nice on dirt and gravel roads.
The Booyah stroller frame and components are very well-built. We've only had it a couple of months but so far it feels like it will hold up wherever we go, for years to come.
This stroller supports her weight really well. Nellie doesn't weigh that much (57-pounds), but the bottom of her previous stroller was built with a thinner material. It needed extra reinforcement with several sheets of heavy cardboard. The Booyah does not.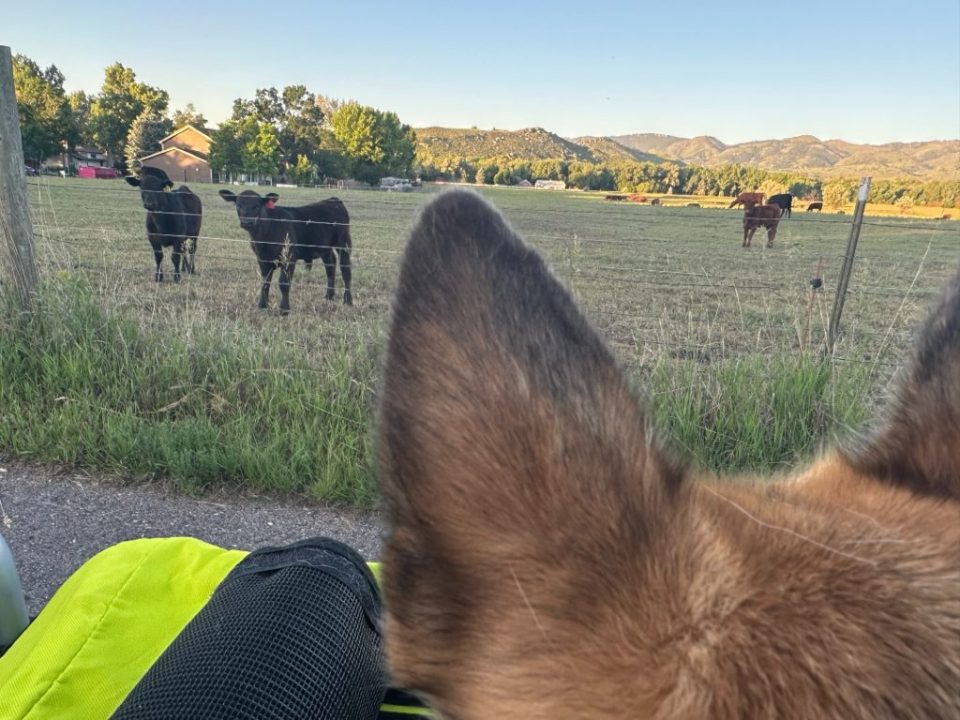 Three things we don't love about the Booyah:
This stroller takes longer to assemble and reassemble than her previous ride. If it doesn't fit in your car, you'll need about 10 minutes to break it down and put it back together.
It doesn't have enough pockets. We had to buy a Booyah stroller organizer to carry treats and poop bags. It's really nice though, so we are glad they make one.
Better brakes are needed. The brakes it comes with are OK, but could be better for heavier dogs like Nellie.
Of course, other dog strollers for Tripawds do exist out there. To find one that's right for you, talk to other dog stroller buyers. Here are some models that members discussed in this Hopping Around Discussion Forum topic.
NEW: Tripawds Recommends the Burley Bark Ranger Dog Stroller!
The Burley Bark Ranger, a Rugged Tripawd Dog Stroller for All Breeds!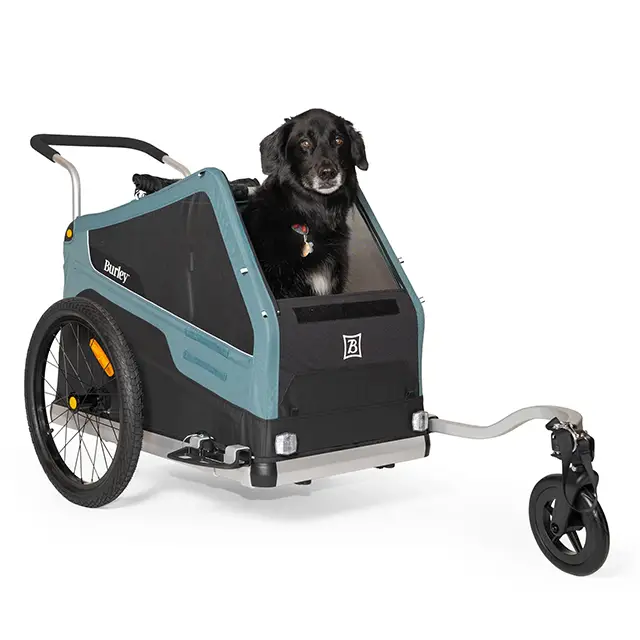 Tripawds member @mischief purchased a Burley Bark Ranger for her dogs Loki and Tempest. She writes:
I've been taking it very slowly getting Loki comfortable with the stroller. She's prone to anxiety, so it's extremely important that she feels safe in her stroller. I bought the stroller at the end of November. It spent a month or so in my living room before migrating to the bedroom where Loki has been sleeping in it. First set up like a crate on the ground, then later with wheels. I realized pretty quickly that we needed to add the kickstand accessory that Burley offers because Loki likes to put her front paws in and look around before getting into the stroller. Without the kickstand, the stroller would sometimes tip when she did this. I suspected I was going to want this accessory when I bought the stroller, but held off on purchasing it to see how it went without it.

I had a pretty quiet weekend and the weather was lovely so I decided it was time to take Loki for a stroll. Saturday we did a very short stroll because I wanted to keep it a positive experience. Sunday we went for a longer stroll. This time we encountered a couple of barking dogs at once (one behind a privacy fence that we could only hear, one on an electric fence that we could see and hear), which prompted Loki to jump out! Luckily, I anticipated this and had her on a leash for safety. Once I coaxed her back in, we had a lovely stroll around the neighborhood. I'm tempted to try a park in the near future during a quiet time.

@mischief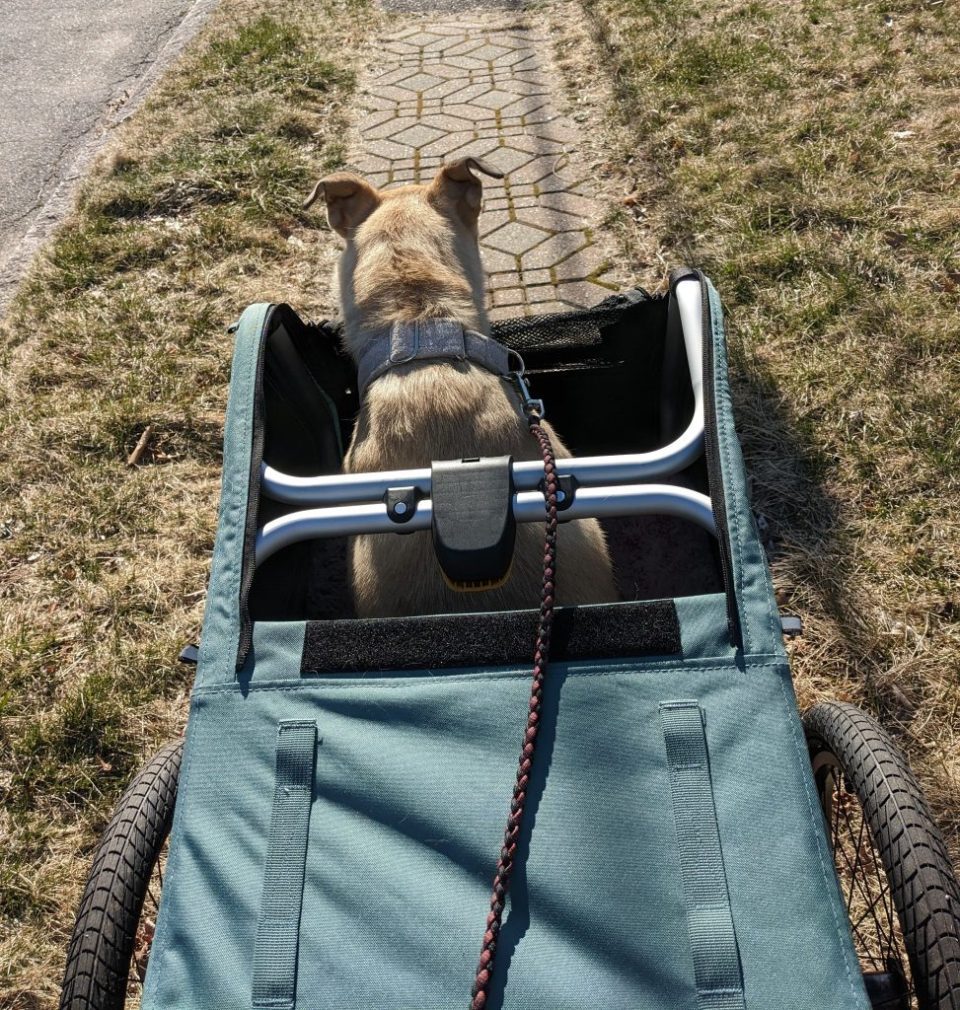 After a few weeks, @mischief wrote about her experience here. To sum it up:
Overall, I'm happy with the Burley. There are 2 small areas where I feel like it could improve.

The handle bar is a little low on the highest setting. I'm average height at best – I think tall people would find this uncomfortable. Alternately, I have tiny t-rex arms and don't realize it. I usually feel like handles are too short on things.
The kickstand is hard to open. Once it's in place it makes the whole stroller extremely stable and it's easy to kick closed. I think I'm going to add a tether to it using paracord to make it easier to pull open.

One other note to share on the Burley… I have the "standard" size, which is rated for up to 75lbs. Loki weighs about 40lbs, but she is a tall, skinny dog. I think she's about 21-22″ at the withers. If she was any taller, she wouldn't be able to sit comfortably – her neck/upper back would hit the cross bar. Obviously, dogs can take many shapes while staying under the 75lb limit, but taller dogs who like to sit up would need the XL size at a lower weight.

@mischief
The Innopet (Ibiyaya Hercules) Large Pet Stroller
A big thanks to Mr. Pip's mum, Linda, for telling us about a great dog stroller you can get outside of the U.S. It's called the Innopet Stroller in the UK, and in the US it's the Ibiyaya Hercules Large Pet Stroller!
Shop Amazon UK for Pet Strollers and Dog Prams.
Linda shared how she discovered the Innopet / Ibiyaya Pet Carrier:
I'm in UK so The Booyah stroller that looked great is very hard to source here, and impossible to try before you buy.

Further research led me to Innopet. they have The Sporty, and the Hercules. Both have a good reputation for being good off road (we mostly walk in open country and long hikes hence needing a stroller for Pip so he can still come out with us for a few hours but have rests after walking (hopping?) for 20-30 mins)

I found a place where you can hire the stroller before committing to a purchase which was fab as I could see lots of types and work out the best fit for us. The Innopet Sporty was too small for my 18kg border collie. He could have fitted all curled up, but thats not comfy for any length of time, so we went for the Innopet Hercules.

The Hercules is a really well built (not much plastic used) and you can see from the hire one how well they last. It copes brilliantly with grass, dirt tracks, muddy paths and still gives a good stable and comfortable ride.

If you are in south of UK then check out Happy Hot Dogs for a rental (they are in the New Forest)

@Linda Nicholls
Shop for Tripawd Dog Strollers and Help Your Dog Get Out in the World!
Strollers really are one of the best ways to help an amputee dog keep active. Let your dog ride a little, stroll a little, and they'll never feel left out of all the fun.
NEW: Tripawds Recommends the Burley Bark Ranger Dog Stroller!
If you find a dog stroller you like, let us know about it in Hopping Around!