Many new Tripawds members wonder how soon their dog should get chemotherapy after amputation surgery. It's a valid question. Amputation is a major surgery, and chemo isn't exactly a small thing either. But a 2022 study shows that giving an osteosarcoma dog chemotherapy right after amputation surgery might be the best way to go.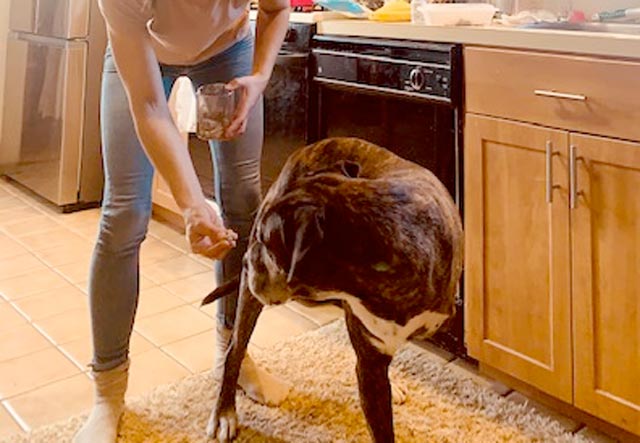 For many years, new amputee dogs with osteosarcoma didn't get their first chemotherapy session until they were completely healed from surgery. It seemed to make sense to let the body heal from amputation before adding chemotherapy to the mix.
However, veterinary oncologists at the University of Bologna in Italy have turned that idea upside down in their study, "Timing of adjuvant chemotherapy after limb amputation and effect on outcome in dogs with appendicular osteosarcoma without distant metastases."
Researchers Study Best Times to Give a Dog Chemotherapy after Amputation Surgery
As you may know from comparative oncology studies, osteosarcoma behaves almost identically in humans and dogs. But in human medicine, chemotherapy is given before amputation surgery.
In veterinary medicine, osteosarcoma chemotherapy typically happens after amputation. Dogs usually get their first round of chemo about the same time that stitches get removed.
The Italian researchers wanted to find out if dogs with osteosarcoma stand a better chance of long-term survival by getting chemotherapy closer to amputation surgery.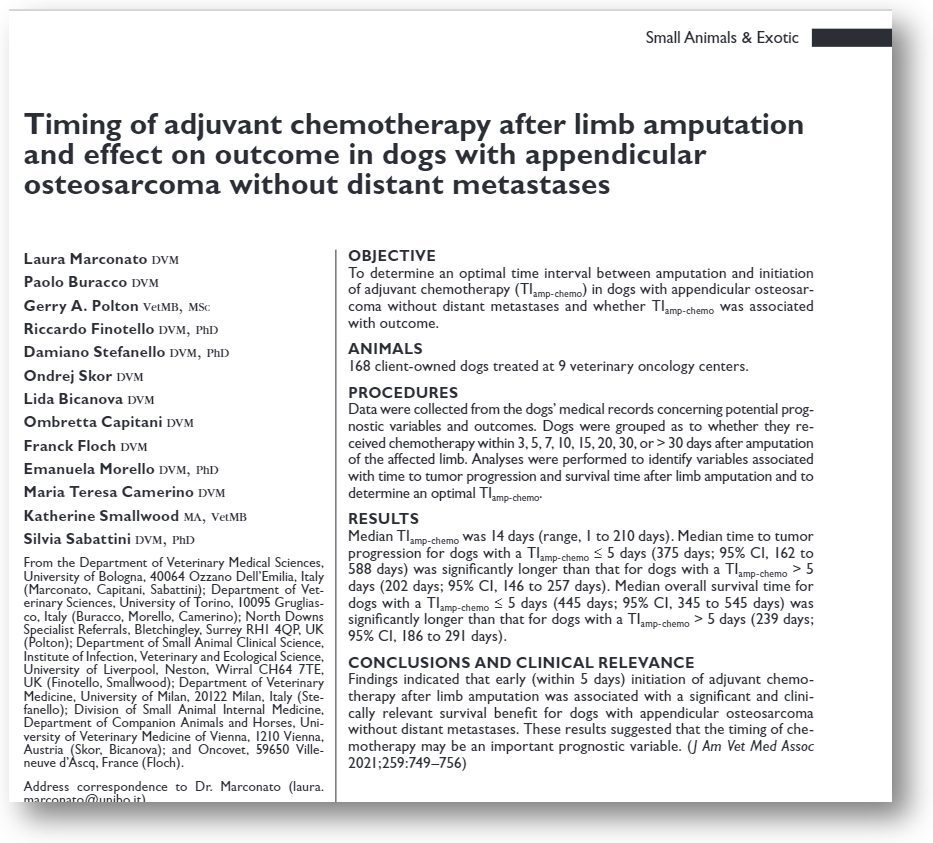 What the Data Revealed
This was a retrospective study, meaning that researchers analyzed data from the records of dogs who had already gone through chemotherapy. The results could hopefully answer questions like:
Can giving chemo sooner help dogs survive longer?
Does it hurt a dog to have chemotherapy too soon after amputation surgery?
Data was collected from 168 cases of dogs with osteosarcoma being treated at nine different veterinary oncology centers. These dogs were grouped into different chemotherapy timing intervals: 3, 5, 7, 10, 15, 20, 30, or more than 30 days after amputation of the affected limb.
Here's what researchers discovered about the best time to give osteosarcoma dogs chemotherapy after amputation surgery:
Dogs treated with chemotherapy within about five days of amputation surgery had longer times to disease progression (metastasis), and longer overall survival times.
Differences were most marked between dogs receiving chemotherapy ≤5 days and >5 days (median overall survival time, 445 and 239 days, respectively) after amputation.

"Timing of Chemotherapy Following Amputation in Dogs with Osteosarcoma," Clinician's Brief
Even more amazing was that dogs treated within five days of amputation didn't experience any more chemotherapy side-effects than dogs treated the usual way.
The Sooner an Osteosarcoma Dog Gets Chemotherapy After Amputation Surgery, The Better
Overall, when an osteosarcoma dog gets chemotherapy within five days of amputation surgery, they will fare better than dogs who get it later.
Another surprising finding from this study: when dogs receive chemotherapy around the 30 day mark after amputation surgery, they have shorter disease progression times (about 136 days to metastasis), and shorter overall median survival times (about 169 days). These numbers are almost identical to dogs who don't get chemotherapy at all.
In other words, the more time that passes between amputation and chemotherapy, the higher the chance that a dog's osteosarcoma journey will play out exactly like dogs who do not get chemotherapy at all.
So if your veterinary oncologist wants to do chemotherapy right after amputation surgery, don't panic. This data shows that it's a good idea. If you're choosing chemotherapy for osteosarcoma, as the saying goes, "Git 'er done!"
Recommended Reading: