If your Tripawd is hurting, you might be wondering "What does cannabis and CBD for pet pain do to make dogs and cats feel better?"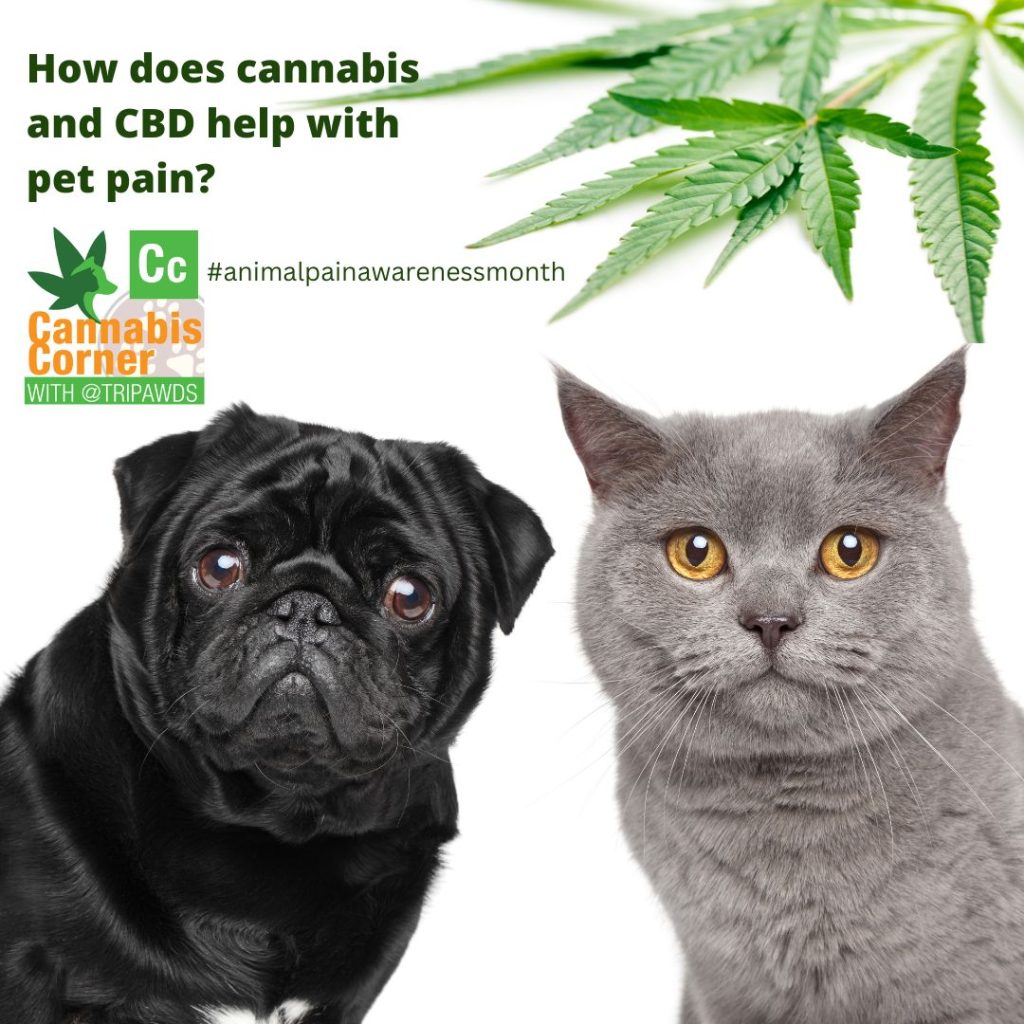 In this month's Animal Pain Awareness Month edition of Cannabis Corner, we're going to find out. You will learn:
This is a big topic, but we promise to make it easy to understand. Also keep in mind that we are not giving medical advice either. As a Certified Veterinary Cannabis Guide, I'll share what we learned in our training. But for the best advice, turn to a veterinary team trained in cannabis medicine for more help finding the right pain management treatment for your Tripawd, Now, let's get on with learning.
How does cannabis and CBD for pet pain work on dogs and cats?
For a detailed explanation, review what we learned in our previous Cannabis Corner post, "How Cannabis (CBD) Works in Dogs and Cats." In a nutshell, cannabis and CBD for pet pain works because of how the molecules in a cannabis plant work with the body's endocannabinoid system (ECS). The ECS keeps our nervous and immune systems in balance.
Both THC-free (hemp-based) pet or people products, and cannabis products with THC (marijuana products that cause a "high") contain molecules that benefits the ECS.
The right cannabis and CBD products can help a pet or person feel better because certain molecules inside the plant can decrease inflammation, which decreases pain. CBD is just one that can decrease inflammation.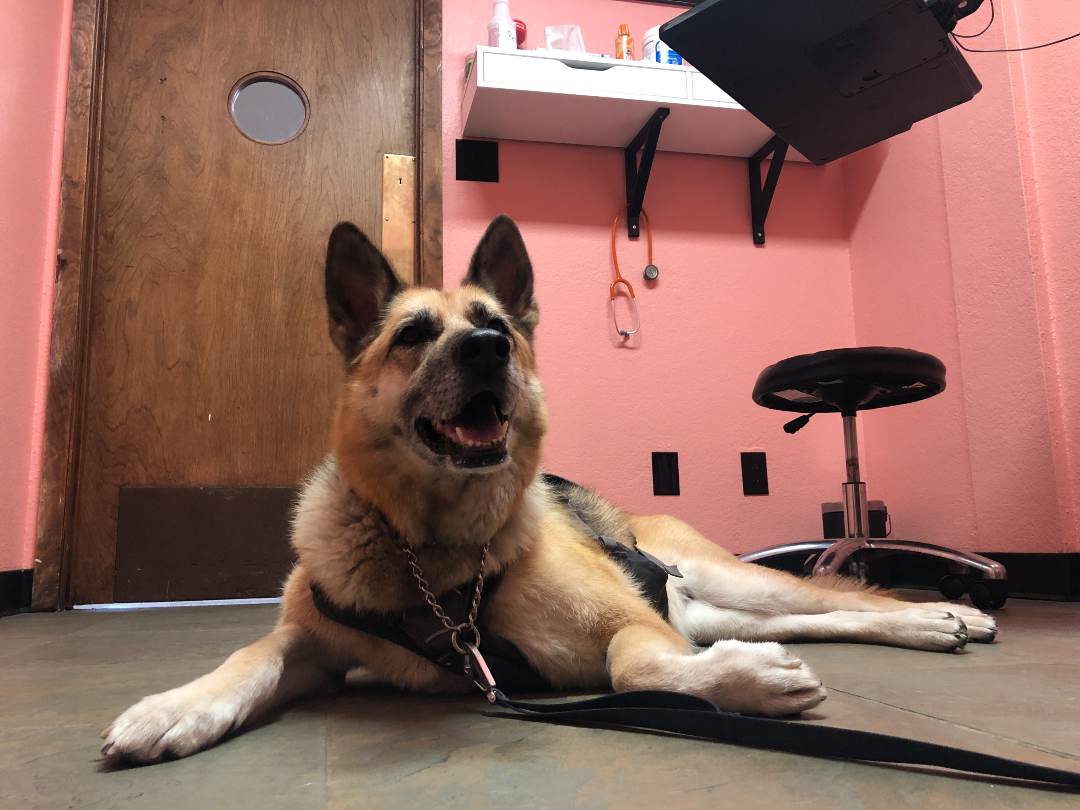 Cannabis molecules that may reduce inflammation include:
THC (9-tetrahydrocannabinol)
CBD (cannabidiol)
CBG (cannabigerol )
These molecules work their best when a plant also has certain "terpenes" and "flavonoids." These are molecules that give any plant (not just cannabis) the aromas and flavors experienced by someone who smells or ingests the plant.
Limonene (has a citrusy smell with possible anti-carcinogenic properties)
Myrcene (contains antiseptic and anti-inflammatory properties)
Borneol (smells like Vicks Vapo-Rub and may help reduce fatigue and stress)
When a plant has multiple anti-inflammatory cannabinoids, terpenes, and flavonoids, it provides an "entourage effect." This is a combined effect on the body that is more helpful than when a pet person uses a cannabis "isolate" product. An isolate product only contains one type of cannabis molecule, like CBD.
Check out what the founder of the Veterinary Cannabis Education and Consulting says about it!
Good science that shows how cannabis can decrease pet pain include:
Oral Transmucosal Cannabidiol Oil Formulation as Part of a Multimodal Analgesic Regimen: Effects on Pain Relief and Quality of Life Improvement in Dogs Affected by Spontaneous Osteoarthritis.
Conclusion: Based on owner perceptions, dogs who were given a quality CBD product under controlled conditions appeared to have less severe pain, less impact on activities, and a higher quality of life.
A Randomized, Double-Blind, Placebo-Controlled Study of Daily Cannabidiol for the Treatment of Canine Osteoarthritis Pain
Conclusion: CBD significantly decreased pain and increased mobility in a dose-dependent fashion among animals with an affirmative diagnosis of OA.
The Use of Cannabidiol-Rich Hemp Oil Extract to Treat Canine Osteoarthritis-Related Pain: A Pilot Study
Conclusion: Of the 32 dogs that completed the study, 30 dogs demonstrated benefits from the addition of this hemp-derived CBD oil. Outcome benefits included decreased pain scores, improvements in mobility, and improved quality of life as defined by their owners.
As any cat parent can see, the vet world is lacking on cat-specific studies about cannabis products. Every study about how cannabis and CBD helps pet pain has focused on dogs, or how cannabis works in dogs and cats. We hope that this changes soon and cats are no longer an afterthought but a focus within this discussion.
What is the best CBD product for pet pain?
This is the million dollar question! And every cannabis pet product company wants to you to believe that theirs is the best CBD for dogs and cats. But the truth is, about 90% of the CBD pet products are garbage. They don't contain what is inside their package, and have no hard science to back up their claims. You must do research if you don't want to waste your money on these garbage products.
Here's how to find a good cannabis and CBD product for dogs and cats
First, ask a veterinary cannabis professional for help. I cannot stress this enough. Every dog and cat responds differently to cannabis. A veterinary cannabis expert will review labs on your pet, to know where and how inflammation is occurring in the body. Then they choose the right product to target that painful inflammation.
Next, only buy from reputable brands that provide a "COA," or certificate of analysis on their website or upon request. A COA shows the company has had its product tested for CBD and THC levels. COAs also reveal any contaminants, like heavy metals or pesticides.
Don't buy a CBD product just because it's cheaper than another brand. Cheaper products may be full of contaminants and lack any helpful amounts of CBD. Home-grown products given to you by friends or family members can also be contaminated.
Compare Apples to Apples. Right now, there is no consistency across products made with cannabis and CBD for pet pain. A dose in one product is not the same in another. Effectiveness is reduced unless you know exactly how much to give your pet. Again this is why we urge you to ask a veterinary cannabis professional for help with product choices.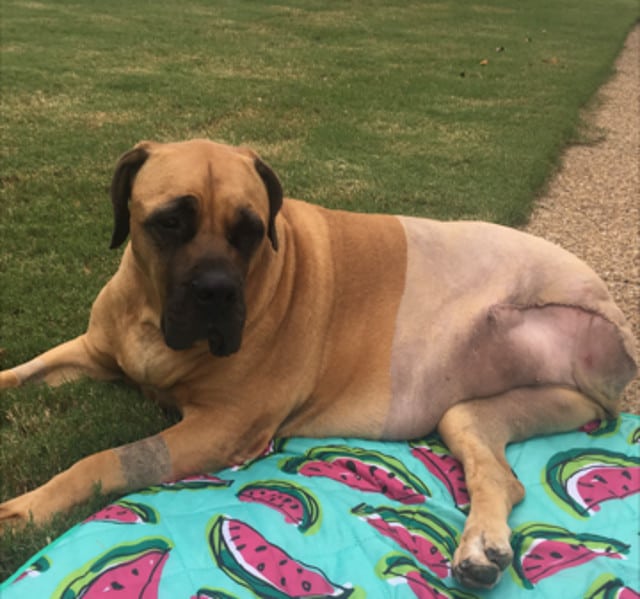 Can a cannabis product for pet pain replace pharmacy drugs?
Many pet parents don't like the idea of giving their dog or cat pharmacy drugs for pain. We shy away from some of the best pain medications for amputee pets, like Gabapentin, because we worry about giving them too many chemicals.
But please DO NOT replace pet pain drugs with CBD and cannabis products marketed for pet pain, without talking to your vet.
Cannabis and CBD for pet pain is a helpful addition to your dog or cat's pain management toolbox. And eventually when your pet's acute pain is under control, you can work toward the goal of replacing pet pain drugs with cannabis. But remember, it can take time for cannabis to work. For example, you need to find the best product for your pet. And a safe dosage means you must "go slow and start low" to find the most effective dose. This can take weeks.
Please do not try to replace your veterinarian's prescribed drugs with cannabis products, without any medical oversight. You will deprive your pet of fast, effective, and safe pain relief. The best pain remedies for acute pain include Non-Steroidal Anti-Inflammatories, Gabapentin, Amantadine, and a newer version of Tramadol called Tapentadol. When used with guidance, these pharmaceuticals are safe and more helpful in the short-term than any cannabis product at the moment.
Again, if you want to replace pet pain drugs with cannabis, ask a veterinary cannabis professional for help.
Got 30 minutes? Watch veterinarian Dr. Robert Silver, an early adopter of veterinary cannabis science, discuss how cannabis for pets works.
Got suggestions for a future post about cannabis and pets? Comment below and share your ideas so we can all learn together!