Tripawds come in all sizes, and so do dogs who get bone cancer. Today's Tripawd Tuesday story spotlights LeBeau the Beagle Tripawd. Newly diagnosed with osteosarcoma, he is currently going through chemo and kicking cancer's butt for hopefully a very, very long time!
Meet LeBeau, the Beagle Tripawd Beating Bone Cancer
His dad Jim just wrote to us to share his Tripawd Tuesday story. We know you'll find this pup as adorable, and inspawrational as we do!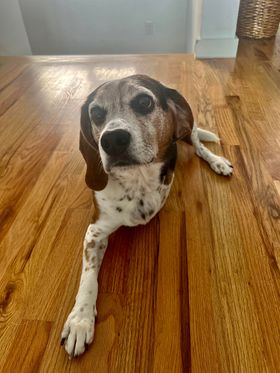 LeBeau is a 9 year old beagle/best friend, who had a front left leg amputation on 8/8/2022 due to bone cancer.
He is going through chemo now to try and extend the 10 months life expectancy provided by his vets/surgeon. He is only a handful of weeks post amputation and you'd never know a thing happened. Same happy, friendly, loving sweet lil guy he's always been.
Here is a video of him swimming at a dog park in Dallas, not as graceful as he was before and uses a life vest now, but gets to continue one of his favorite activities (video is of first time using life vest). Hope this helps others see what a normal happy life tripawds can live, I know when we learned he needed amputation, the stories of others helped me.
Jim
We Want YOUR Tripawd Tuesday Story!
Are you inspired by today's Tripawd Tuesday feature about how LeBeau the Beagle Tripawd is beating bone cancer? Want to share your Tripawd hero's story? Whether you have one, two, or more Tripawd dogs with three legs, a coyote, a cat, or a rabbit (or any three-legged animal!), share your three-legged love story with the world and inspire others! Send your Tripawd Tuesday shout-out now.
Each Tuesday is the best way to celebrate Tripawd amputee pets from around the world. Enter for a chance to be "Tripawd of the Week." Just share your story in a few words and you're in!
Whether you are a bonafide registered Tripawds member, or part of our Facebook, Twitter and Instagram communities, we want to tell the world about your three-legged cat or dog.
Send Your Tripawd Love Story in 3 easy steps:
In a short paragraph or two (or longer if you'd like!), describe your three-legged hero's story. Share a photo, video or both.
Got a Tripawds Forum topic and/or Tripawds blog that you started? Be sure to include that link too! Of course let us know any social media handles that feature your Tripawd.
Then send your story to us via email, Facebook Messenger, or direct message us on Twitter or Instagram @TripawdsCommunity.
We try to publish a new Tripawd story each week. It's time for yours to get featured!