It's Pet Pain Awareness Month, so let's take a look at the best (and worst) pet amputation pain drugs for dogs and cats.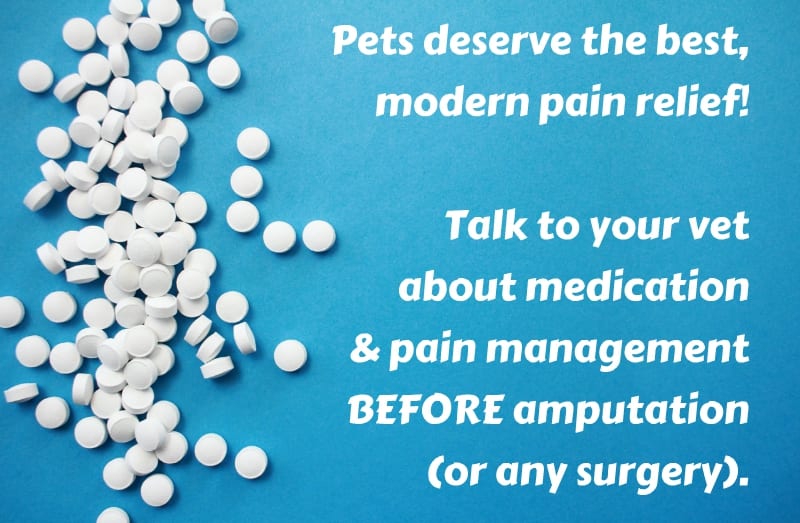 All new amputee pets will probably feel some discomfort during recovery. Even with the best pet amputation pain drugs, some soreness and inflammation can happen. But how much discomfort a patient experiences depends on the pain control they received from your veterinarian.
Our goal is to help your new Tripawd be as comfortable as possible during recovery. The following article can help.
The Best (and Worst) Pet Amputation Pain Drugs for Dogs and Cats
"Pain Management Update PLUS: Natural Pain Relief for Dogs" is one of the most current and comprehensive looks at the best and worst pet amputation pain drugs for dogs. Published in The Dog Cancer Blog and written by Dr. Demian Dressler, co-author of The Dog Cancer Survival Guide. The article examines the newest research on new and old pain drugs.
There is new information available that shows a whole bunch of drugs vets often use for pain do not work the way we thought they did.

Some don't work well at all, and others do, but not the way we think they do. — Dr. Demian Dressler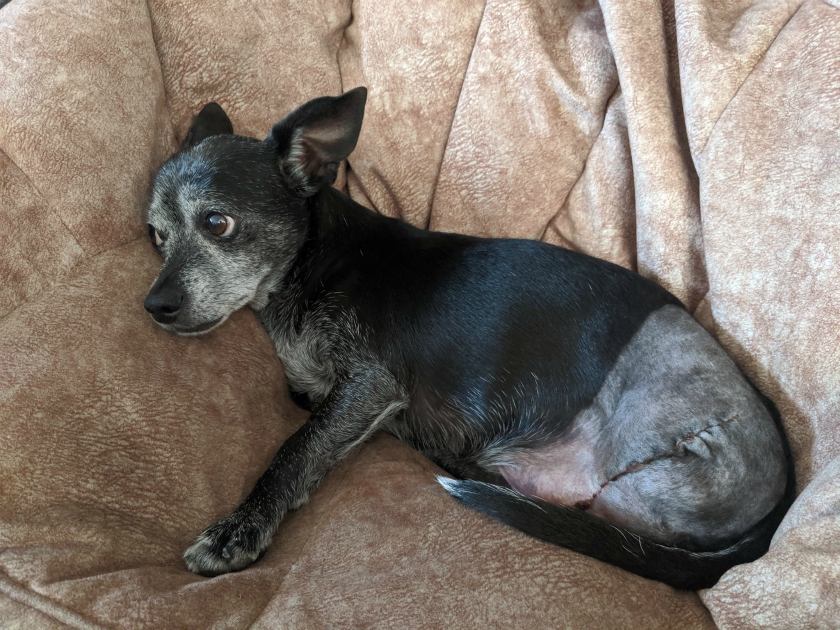 For cats, the article Pain Management in Cats by Wendy Baltzer, DVM, PhD, Diplomate ACVS, is a good read that explains what pain is, how cats perceive it and what drugs work best in cats.
Pet Pain Drugs for Dogs and Cats That Do NOT Work Well
Recent pet pain studies show that the following medications are less effective for pain than vets previously believed:
Tramadol, at least when used alone, is not effective for surgical pain..
Tylenol® with codeine is also not effective.
Hydrocodone with acetaminophen doesn't work well either.
Buprenorphine, when used in a standard injectable form by vets is ineffective for treating severe pain.
Fentanyl is falling out of favor because it works well for some patients and not others. Studies show its absorption rate in animals is unreliable and sporadic.
Pet Pain Drugs for Cats and Dogs That DO Work Well
One or two drugs are not enough to control amputation pain in pets. A good pain management protocol involves at least three medications. When multiple types of pain are addressed, it calms severed nerve pathways and decreases the perception of pain for the patient.
To ensure your pet will be as comfortable as possible during amputation recovery, talk to your vet about the following amputation pain medications.
Simbadol™ is a highly concentrated injectable version of buprenorphine, used in cats. One injection lasts 24 hours and must not be dispensed to a pet owner.
Nocita™, is another injectable post-op pain medication veterinarians can give to dogs (and provide off-label use for cats). It lasts approximately three days.
Zorbium, newly released in July 2022, is a buprenorphine transdermal solution. It's the first transdermal buprenorphine animal drug intended to control postoperative pain in cats. Your vet can give it to your cat in the hospital, a single application provides pain relief to the cat for four days!
Trazodone and Zonisamide work well to ease anxiety and allow your pet to relax.
Carprophen (Rimadyl), Meloxicam (Metacam), Deracoxib are Non-Steroidal Anti-Inflammatory Pain Drugs (NSAIDs) that decrease inflammation in the body, allowing it to heal. For dogs who are sensitive to NSAIDs, Galliprant® (grapiprant) is a good option. For cats, short term use of meloxicam or ketoprofen is safe.
Tapentadol is a newer opioid that complements the effects of the previous types of medications. If it sounds like 'Tramadol," that's because it 's a new and improved version of the drug. Tapentadol is just starting to be used in veterinary medicine, and a 2014 Tapentadol study showed it can be as effective than morphine, and much more helpful than Tramadol at controlling pain in dogs.
Gabapentin reduces nerve pain and helps prevent phantom pain in cats and dogs.
Amitriptyline

is another drug for both species that can help reduce phantom limb pain, as well as anxiety.

Amantadine is also shown to be an effective pain reducer.

Cats like Leo deserve quality pain control
Dog and Cat Amputation Pain Relief is a Team Effort
Pets experience pain the same way that people do. Some drugs work better than others, some patients need more, some need less. But all animals deserve the most modern pain management available to vets where you live.
Amputation pain management is a delicate balance that takes a team approach between the pet parent and the veterinarian. For the easiest recovery possible, talk to your vet before surgery to find out what your pet will come home with after amputation and how pain will be addressed.
Recommended Reading