The updated second edition of our first Tripawds three legged cat book is now available as a premium interactive e-book. You can also download a new Tripawd Basics edition for Kindle readers or purchase the book as a paperback on Amazon.
Whether your cat has already lost a leg or will be having an amputation soon – due to cancer or for any another reason – the new How to Help Your Three Legged Cat book will help you prepare for your feline friend's new life on three legs.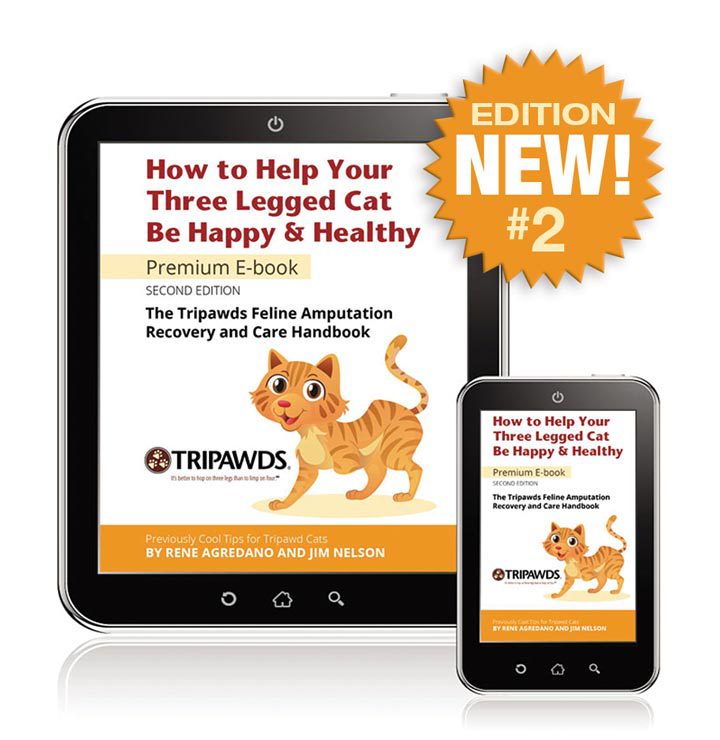 Nobody ever expects their animal to lose a leg, but sometimes it's the only way to provide a better quality of life. When that happens, How to Help Your Three Legged Cat helps worried pet parents feel more comfortable throughout the entire journey.
First Three Legged Cat Book, Second Edition
Help your three legged cat with this essential feline amputation recovery and care handbook. Previously Cool Tips for Tripawd Cats, first published by Tripawds in 2018. Now in its Second Edition, we've updated this important guide to include additional original content. We've added many more current informative articles, forum topics, and podcast interviews. Plus, you'll find more three legged cat photos and videos, with new tri-kitty profiles from member blogs, and many more helpful resources.
With this updated three legged cat book, you'll feel confident, knowing if amputation is right for your cat. Learn how to select the best veterinary clinic for the surgery. Get the best tips to help improve quality of life for cats after limb amputation. Discover what to expect during recovery.
Find out the different challenges for front leg Tripawds and tripod cats missing a rear leg. Understand important life-saving information about "outdoor cats" requiring an amputation, and be prepared for alarming behavior commonly exhibited by many cats during recovery. Get fast answers to questions about prosthetics for amputee cats, phantom limb pain, rehabilitation, the best pain management practices, and much more.
What You Will Learn with How to Help Your Three Legged Cat:
The information in this vital resource is a compilation of Tripawds member experiences, veterinarian interviews, and community discussions at Tripawds.com. You will learn the most important things to know about keeping your cat happy on three legs.
Quickly find information about common concerns, including:
Why cats lose limbs
How cats experience life as an amputee
Understanding pain in cats
Pre-amputation considerations
Post-amputation recovery tips
Differences between front and rear leg amputees
The benefits of feline rehabilitation therapy and home exercise
Nutrition and supplement tips
And much more!
The updated premium three legged cat book contains hundreds of direct links to specific articles, forum topics, and video interviews. As a result, you'll instantly access more recovery and care tips to help your three legged cat. You can print the pages, but you'll find the interactive PDF version much more helpful. That's because each link provides direct access to more helpful in depth information at tripawds.com as many other feline amputation resources we've discovered.
Tripawd Basics: Three Legged Cat Book Essentials
The Tripawd Basics cat amputation book is optimized for Kindle readers and mobile devices. It is an edited version of the Tripawds Premium E-book. To reduce the price, content has been truncated or removed and the formatting optimized for Kindle re-flowable format. Deliver the e-book file directly to your Kindle device when you purchase on Amazon. Or, get the immediate download here to receive both PDF and EPUB file formats. You'll also be supporting your Tripawds community!
Do you refer to read paperback books? Want to send this three legged cat book as a gift? Get the Tripawd Basics version, optimized for affordable printing. It is an edited version of the Tripawds Premium E-book. You'll still get the fundamental information from How to Help Your Three Legged Cat. To reduce the price, however, content has been truncated or removed and the formatting optimized for paperback printing.
Your purchase includes a coupon for $5 off the premium edition. This interactive three legged cat book PDF includes many photos, videos, and tri-kitty member profiles. You'll get more veterinarian interview excerpts, extended recommended reading lists, and additional bonus material.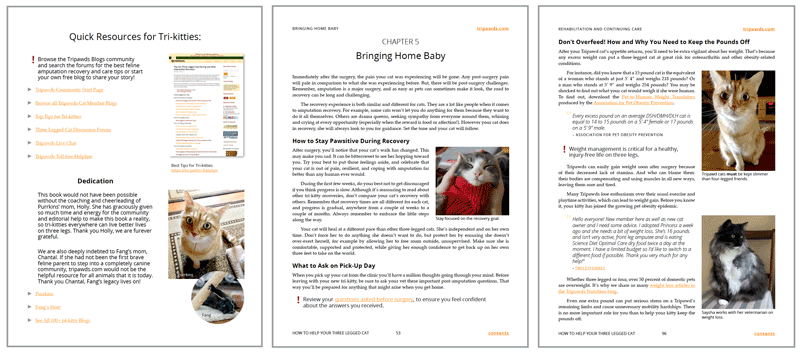 Made Possible by Tripawds Community Members Like You
How to Help Your Three Legged Cat is from the creators of Tripawds – the largest online support community for three-legged pets and their people.
This important update of our first three legged cat book would not have been possible without the pawesome help from Purrkins' mom, Holly. She has graciously given so much time and energy for the community and editorial help to make this book a reality. As a result, tri-kitties everywhere can live better lives on three legs.
From the creators of Tripawds.
With 15+ years of experience helping pet parents through difficult times, and interviewing numerous veterinary experts, Rene and Jim offer valuable insight for coping with amputation recovery and care for three-legged dogs and cats. Their work is applauded by leading veterinarians and teaching institutions.