For many years, veterinarians believed that osteosarcoma metastasis in cats rarely happens. A new study concludes that bone cancer mets in cats isn't such a rare thing after all. More treatment besides amputation may be necessary.
New Study Examines the Rate of Osteosarcoma Metastasis in Cats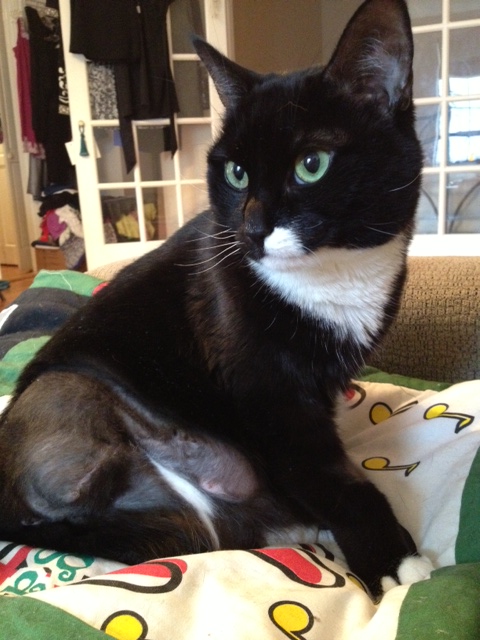 Jill the Cancer Fighting Kitty joined us years ago. She was the first feline Tripawds member diagnosed with osteosarcoma. The disease started in her toe, then metastasized to her limb. She was a pioneer in our community for a couple of reasons.
This bone cancer is relatively uncommon in cats. For cats who do get diagnosed with bone cancer, about 70% to 80% of them have osteosarcoma. Veterinarians always believed that amputation was enough to cure bone cancer in cats. Chemotherapy was considered unnecessary, or optional.
Jill, the Chemotherapy Pioneer
But not treating Jill with chemo didn't sit well with her mom, Erica. She and her oncologist Dr. Ann Hohenhaus treated Jill with IV chemotherapy. Jill also received metronomic chemotherapy as a precaution.
Jill's case, as many of you know, is somewhat rare. In most kitties with osteosarcoma, amputation alone is recommended. However, since Jilly had a met develop 6 months after her toe with the primary tumor was amputated, IV chemo was recommended after leg amputation.

So, after hearing about metronomics on tripawds, I brought it up with her onco and we've decided to give it a try. However, there is NO research on metronomic cytoxan in kitties. I know I can always stop if she doesn't handle it well, I would just like to have SOME information about it. Oh well….I guess Jill is a pioneer — Jill's Journey
Jill went on to live out her life cancer-free. She earned her angel wings for other reasons. Since then, several Tripawd cats with osteosarcoma have joined us. Sadly, lung metastasis happened in a few cats. Their stories showed us that osteosarcoma metastasis in cats didn't seem so rare after all. And now, a new study validates our experience.
Amputation Alone May Not Be Enough for Cats with Osteosarcoma
Trikitty member Purrkins recently shared an interesting feline osteosarcoma article from Cornell Cat Watch magazine. The article challenges the common belief that amputation is enough treatment for cats with bone cancer. This retrospective study from Japan examined the health history of 67 cats with osteosarcoma.
Researchers found that nearly 40% of cats with appendicular or scapular osteosarcoma came down with metastasis after limb amputation!
These findings are so important. Hopefully this study can lead to better treatment for cats with osteosarcoma. If your cat is diagnosed with bone cancer, please consult with a veterinary oncologist who can help decide on appropriate treatment.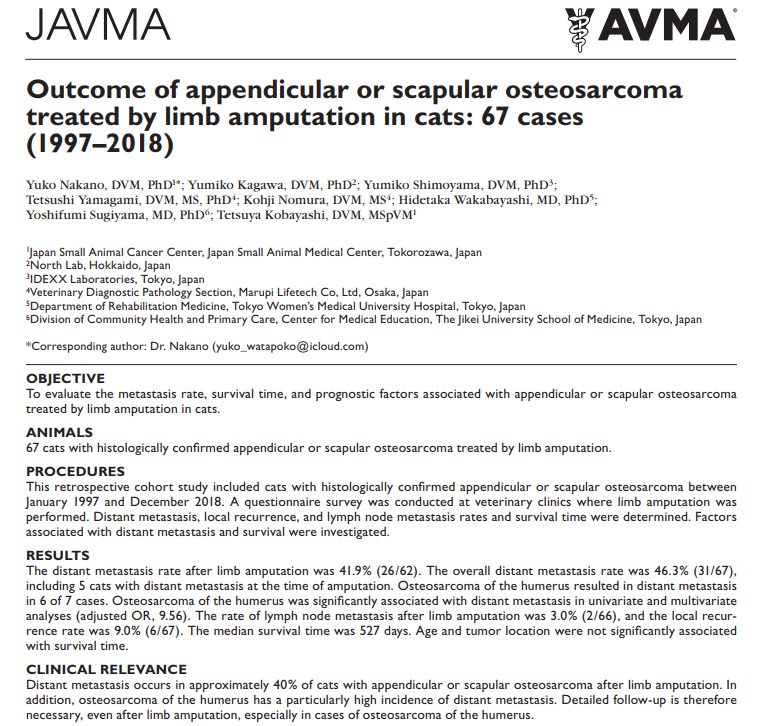 Outcome of appendicular or scapular osteosarcoma treated by limb amputation in cats: 67 cases (1997–2018)
OBJECTIVE

To evaluate the metastasis rate, survival time, and prognostic factors associated with appendicular or scapular osteosarcoma
treated by limb amputation in cats.

CLINICAL RELEVANCE

Distant metastasis occurs in approximately 40% of cats with appendicular or scapular osteosarcoma after limb amputation. In addition, osteosarcoma of the humerus has a particularly high incidence of distant metastasis. Detailed follow-up is therefore necessary, even after limb amputation, especially in cases of osteosarcoma of the humerus.