Today's Tripawd Tuesday is a public service announcement from Ari, passionate advocate for 3-legged dogs at AKC competitions.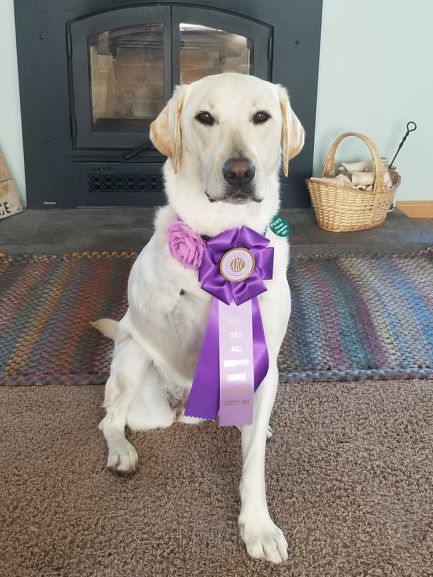 We all know Tripawds can do many things. But the American Kennel Club does not let 3-legged dogs compete in-person at Obedience & Rally events. Currently 3-legged dogs are restricted to online (virtual) participation only.
It's true. Tripawds can earn Obedience & Rally titles online. But they are not allowed to do it in person.
The restriction is despite the AKC's recent ruling that allows three-legged dogs to compete in person at agility events. This dog sport is far more rigorous and physically demanding than Obedience & Rally. The AKC's ruling just doesn't make any sense.
This is why we are sharing the following guest post that was send to us. It's from Tripawd mom Carolyn Baynes, mom to Ari the Obedience & Rally Advocate!
Let's Get 3-Legged Dogs at AKC Obedience & Rally Competitions, In Person!
I'm sure many of you know that Ari and I have been trying to work with the America Kennel Club (AKC) to allow Tripawds to compete in Obedience and Rally Trials for approximately 2.5 years. So far, the AKC has only allowed Tripawds to participate in Virtual Beginner & Novice Obedience. But not in Rally, and not in person.
My efforts to have the AKC allow Tripawds to compete in person in Obedience & Rally have fallen on deaf ears.
The Director of Obedience & Rally actually stated to me that "Ari is the exception to the rule and IF we allow Tripawds to compete in Rally we will let you know!" I answered her by stating that "Ari was NOT the exception to the rule and there are many many 3 legged dogs that have the ability to compete is any modality that they choose, especially in the non taxing modality of Obedience & Rally!" I did not receive a response.
The AKC recently announced that 3 legged dogs were now allowed to compete in Agility?!
Many are wondering, why Agility but not Rally? So a 3 legged dog is OK to run up and down an A-Frame, cross over top of a high dog walk, execute 15 to 18 bi-directional jumps, dive thru weaves and tunnels? But cannot execute a 2:00 flat Rally/Obedience Course?
Join the Movement to Allow Tripawds in AKC Rally & Obedience
Please join the effort to allow 3-legged competitors in Rally & Obedience. Mari-Beth O'Neill, Vice President of AKC Sport Services, has asked for comments from Tripawd parents interested in having the AKC open up Obedience & Rally to 3-legged dogs.
I am asking you all to please support this effort.
The more the merrier! Please write, even if its just a few lines supporting this effort.
Let's show the AKC and the world that Tripawds can do Rally & Obedience!
Thank You from Florida.
Carolyn Baynes & my beloved Ari
More Recommended Reading
Meet Maggie the Agile Cow Dog, the first Tripawds member who introduced us to rally and obedience games, and the namesake of the Maggie Moo Fund for Tripawd Rehab.
Did you enjoy today's Tripawd story? Each Tuesday we celebrate amputee pets from around the world. Reach out to us for a chance to be "Tripawd of the Week." Just share your story in a few words and you're in!
Whether you are a bonafide registered Tripawds member, and/or part of our Facebook, Twitter and Instagram communities, we want to tell the world about your three-legged cat or dog.
Send Your Tripawd Love Story in 3 easy steps:
In a short paragraph or two (or longer if you'd like!), describe your three-legged hero's story. Share a photo, video or both.
Got a Tripawds Forum topic and/or Tripawds blog that you started? Be sure to include that link too! Of course let us know any social media handles that feature your Tripawd.
Then send your story to us via email, Facebook Messenger, or direct message us on Twitter or Instagram @TripawdsCommunity.
We try to publish a new Tripawd story each week. It's time for yours to get featured!