Welcome to Cannabis Corner by Tripawds! Since so many of us are exploring how cannabis ("CBD") pet products can help our dogs and cats, education is key for safe and effective use. Once a month, we'll share tips on how to be a smart pet parent consumer of cannabis pet products. Today, let's start with the basics.
Let's End Cannabis CBD Pet Product Confusion

Your education begins by understanding cannabis terminology. Today we'll cover:
Do you know the difference between cannabis, marijuana, and hemp? Or why CBD is sometimes sold online, but other times it is not? If you're as confused about cannabis as I was, you're in the right place.

Let's break this down to make it easy to understand.
What is the difference between marijuana, hemp, and cannabis?
Cannabis is the scientific name of the plant often called marijuana, or hemp. Whether or not cannabis is called marijuana or hemp depends on how it is cultivated and sold. Here's a good explanation.
The cannabis plant naturally contains nearly 200 molecules. These molecules were recently discovered. But cannabis has shown pet and people healing properties for millennia. Today, scientists are discovering exactly how cannabis works in the body. Every day they learn more about which cannabis molecules ("cannabinoids") help with health issues.
CBD is one of many cannabinoids that can help with health issues.
Another cannabinoid is THC. Discovered back in the 1960s, THC is responsible for that euphoria feeling when the plant is ingested, inhaled, or rubbed on the body.
Why You Can't Buy Marijuana Online
Cannabis can be grown and sold with enough THC to give a euphoric feeling. Some people enjoy cannabis with high concentrations of THC. They experience relief from pain and other illnesses. But pets who accidentally ingest cannabis with high levels of THC turn into a dizzy, nauseated, confused mess.
The level of THC within a cannabis product sets apart legal versions of cannabis, from illegal ones. Here in the U.S., the federal government determines those levels of legality.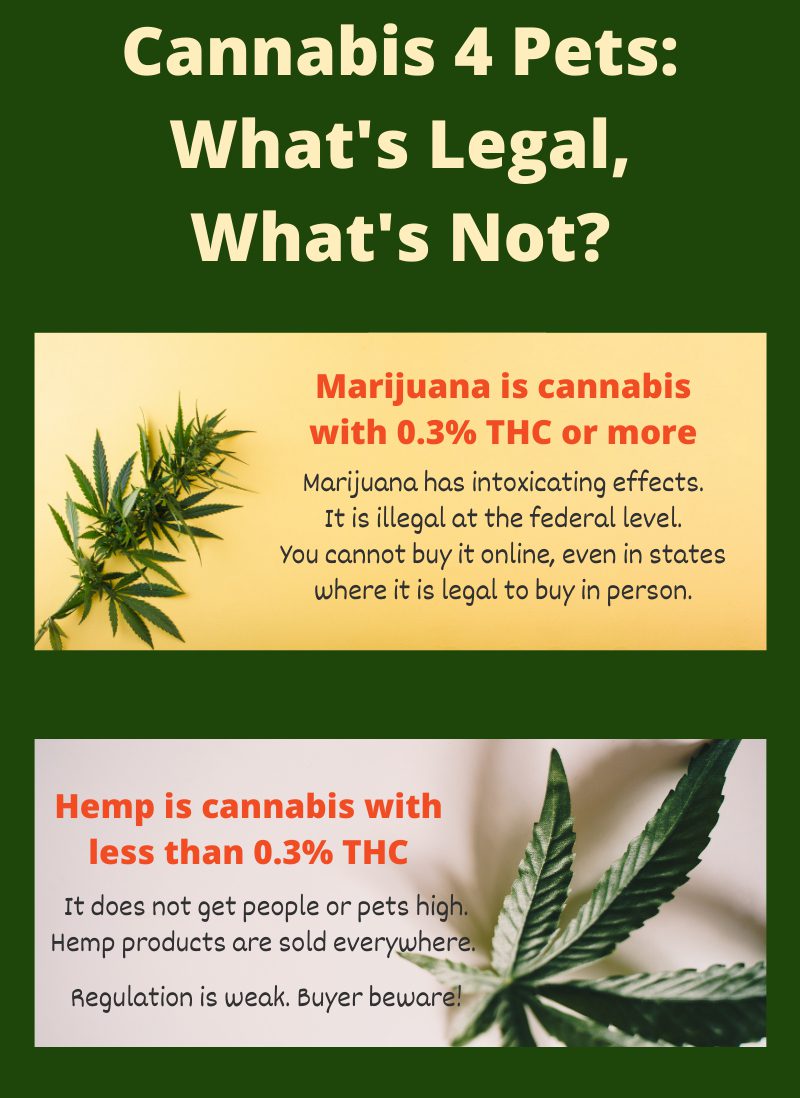 If a product contains more than 0.3% THC, it's marijuana.
Marijuana is illegal at the federal level. You cannot buy it online. But you can buy it in person in states where it is legal.
If a product has less than 0.3%, it's hemp.
Hemp is legal at the federal and state level. These products do not get pets or people high because THC amounts are so low.
Cannabis can be cultivated to contain more, or less THC. Many states have gone around federal law. These states decriminalized high THC (marijuana) cannabis products. Those states allow you to buy marijuana products with high amounts of THC at local, regulated dispensaries.
Why Hemp Products for Pets (should be) Legal and Safe
THC amounts also determine if a product is safe for pets. Most cannabis pet products are THC-free. Science is trying to understand if and how even a little THC can help aid health issues. The jury is still out.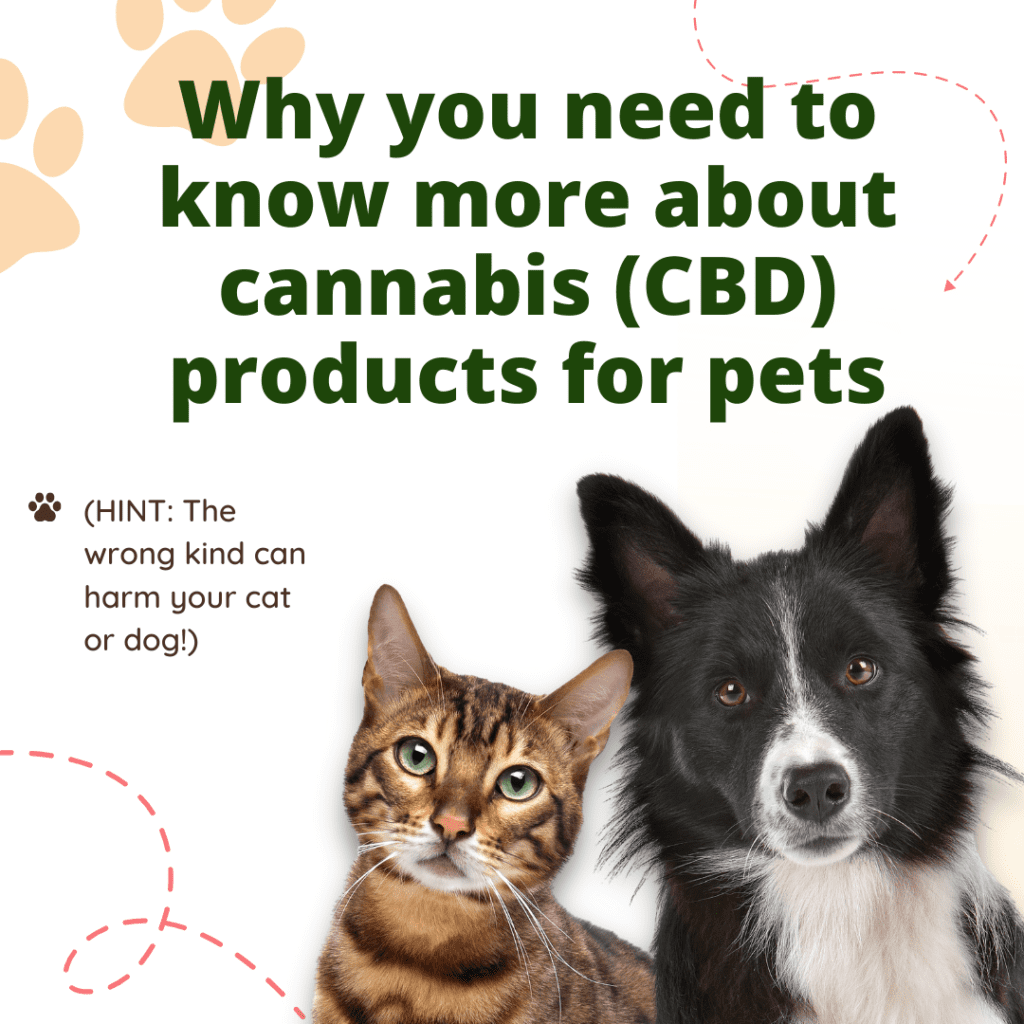 Cannabis can be grown and made into products that do not contain THC. This is the legal version, called hemp. It's the form of the plant that gets turned into things like cloth, food, and products that are safe for pets.
The U.S. federal government made hemp products legal in 2014. Hemp (cannabis) products for pets and people are sold just about anywhere today.
Why Hemp Products for Pets are Everywhere
Hundreds of companies make hemp products for pets and people. They make cannabis oil, hemp treats, skin salves, you name it. They say their products can help with many health issues like anxiety, pain, and seizures. These claims are based on cannabis studies that ramped up in the early 2000s.
Every day, human and veterinary scientists learn new ways cannabis and molecules like CBD affect the body.
This is why suddenly we are seeing CBD pet products everywhere.
Buyer Beware! Regulation is Weak for Cannabis Products for Pets and People
Cannabis is finally getting the props it deserves in veterinary and human science. Every day we learn more about its benefits. Marijuana and hemp products from the plant are generally safe for pets and people. The problem is that right now, government regulation is weak. No legal entity can guarantee these products deliver on their promises.
Many unscrupulous manufacturers take advantage of the lack of cannabis CBD products for pets regulation.
The Food and Drug Administration oversees what little cannabis product regulation exists. Their findings are often surprising. FDC hemp product studies show that the majority of cannabis products for pets and people do not contain cannabis healing properties. Some products even contain toxins, like heavy metals.
Buyer beware of cannabis CBD pet products!
Learn How to Buy Good Cannabis Products
Stick around to get educated. Cannabis Corner is keeping the Tripawds community informed, updated, and safe. In our next edition, learn how cannabis affects the body.
Do you find this article helpful? Want more information about veterinary cannabis? Let us know your thoughts below.