Young and adult Tripawd dogs and cats are more prone to join and pain issues. The 2022 AAHA Pet Pain Management Guidelines are the best toolkit available to help our veterinary team (and we pet parents) recognize and treat pain in our three-legged hero.
Pet Pain Management is Evolving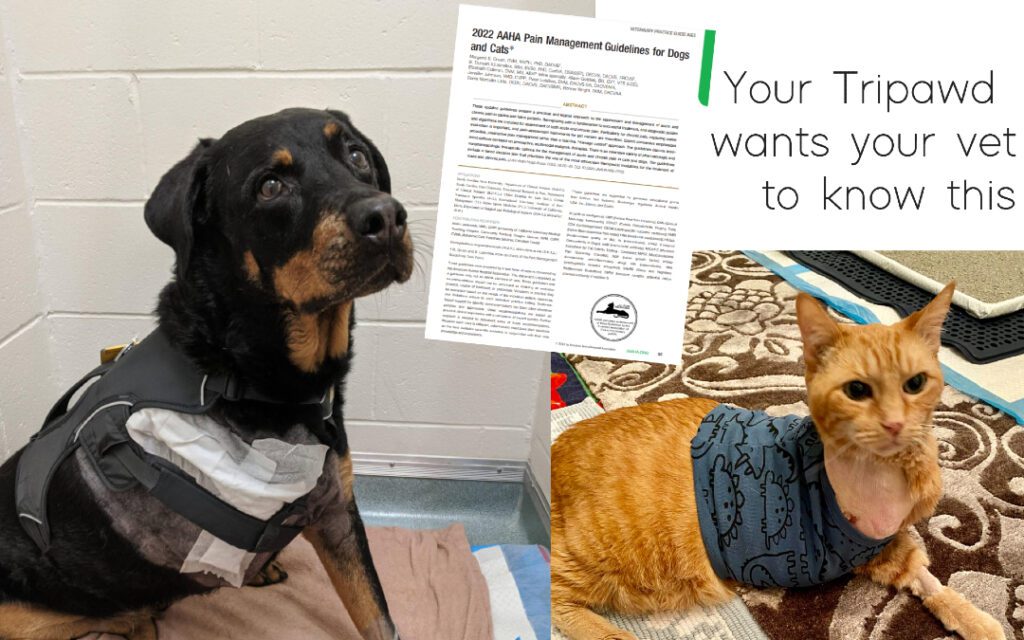 Did you know that as recently as 1989, veterinary students were taught to ignore animal pain? Over the next 30 years, animal pain management improved, but has a long way to go. Too many veterinarians only practice "reactive" pain control. They send new amputee dogs and cats home from surgery without enough pain medication. Later when the animal is in acute pain distress, they scramble to control the pain that's escalated, making it harder to control.
Also, not enough veterinarians recognize that phantom leg pain in dogs and cats is real. And even fewer educate pet parents about the benefits of rehabilitation therapy for amputee pets.
That's why we are so glad the AAHA Pain Management Guidelines exist!
Why Read the 2022 AAHA Pain Management Guidelines?
Newly revised for 2022, this peer-reviews document provides vets with top to bottom recommendations for pain management, pain medications, supplements and therapies.
This peer-reviewed document published in the March / April 2022 issue of (JAAHA), the Journal of American Animal Hospital Association. It's written for veterinarians, and the clinical language can feel daunting. Download it anyways.
There's a lot you can learn to help your Tripawd live pain-free. For example:
What are the best ways to screen cats and dogs for acute (sudden) and chronic (ongoing, low grade) pain?
Understanding different ways cats and dogs show pain, and how to watch for signs of it
The most-to-least effective pain medications and therapies to ask our vets about
And how we pet parents can collaborate with our veterinary team to manage pain in our Tripawds and other pets.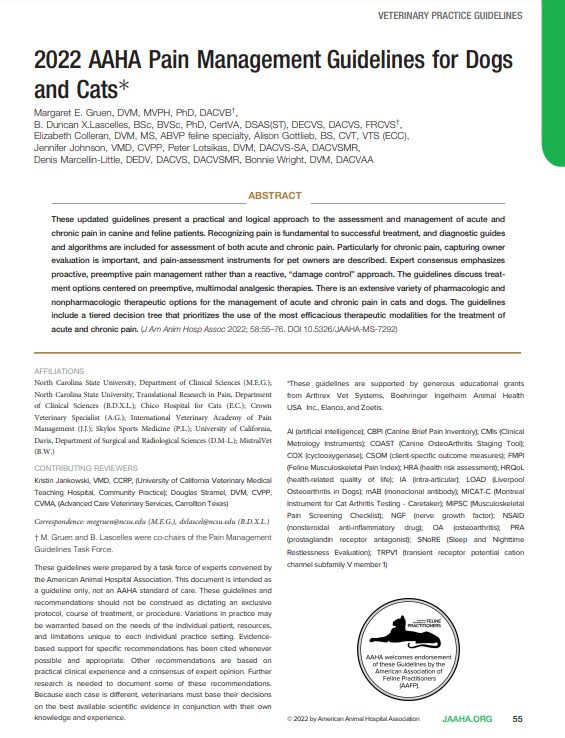 Use the Guidelines to Start a Convo with Your Vet
These guidelines are better than ever. Cats get equal time in the document. The authors also explain the critical role that pet parents play in pain management. And for the first time, it serves as a pain management "How to" toolkit for veterinarians.
The publication's co-chair, pain management guru Duncan Lascelles, BSc, BVSc, PhD, CertVA, DSAS(ST), DECVS, DACVS, FRCVS, told AAHA NEWSTat:
"Instead of just saying it's good to practice good pain management, we're also saying here's how you do it: Here's the approach to pain assessment. Here are the tools you need. And here's a tiered treatment approach. There are a lot of things to choose from. This is what we recommend first. This second." (AAHA's updated Pain Management Guidelines: A paradigm shift in managing pain)
Take an hour to read through the 2022 AAHA Pain Management Guidelines. You'll feel a little smarter about what your pet's pain management should look like. And it's a great tool to discuss with your vet when (not if), your three-legged hero is showing pain signals.