"He's not in any pain. He's not crying or anything." Most pet parents are under the impression that pain in Tripawd (and four-legged) cats and dogs looks like this. Barking, whining, limping, crying. But veterinary pain management experts want us all to know the signs of pain in pets and other animals can look very different.
September is Animal Pain Awareness Month, a time to remind ourselves how dogs and cats show pain. You might be surprised, so read on for help determining pain in pets.
How Pets Tell Us they Hurt
When a dog or cat is hurting, they obviously can't tell us in our language. Instead, they demonstrate it with body language. The only problem? Their "words" aren't always easy for us to understand. Painful signals in dogs and cats can be so subtle we don't "hear" what they are saying. Thankfully, new science about pain in pets proves they are telling us loud and clear that they are in pain, at least, in their own way. For example: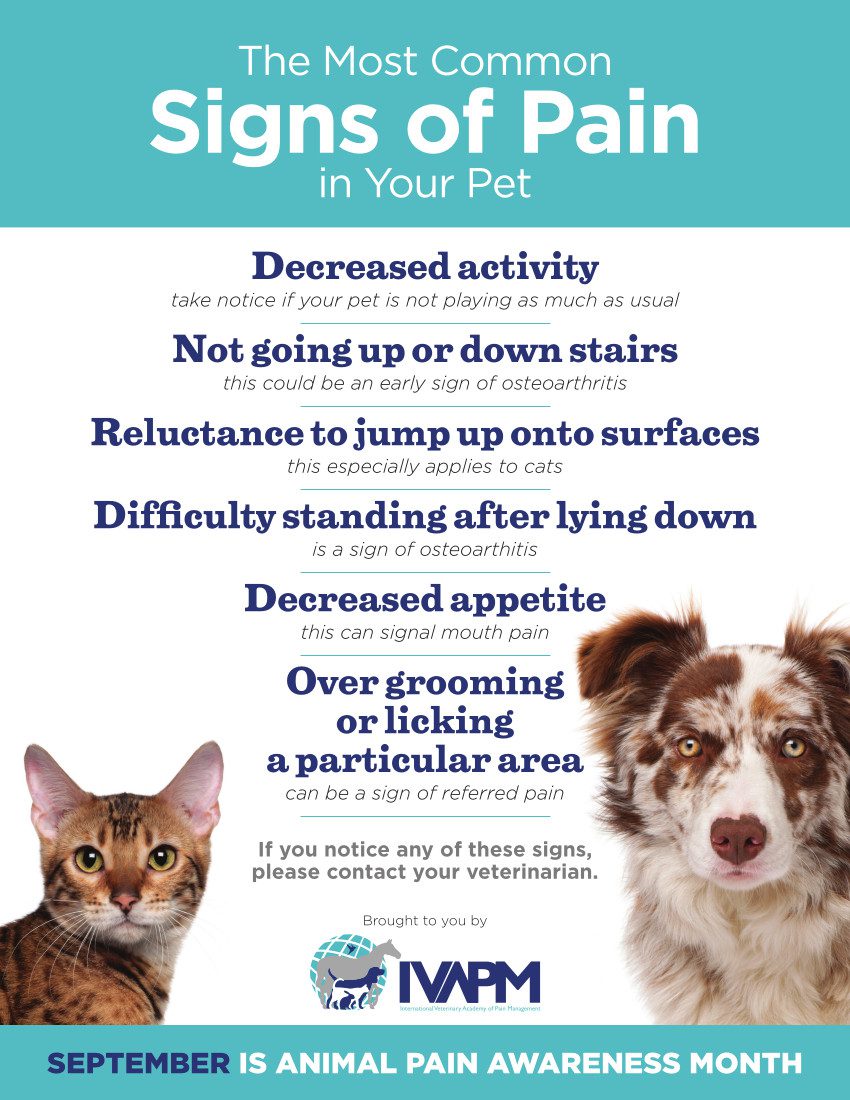 Top Signs of Pain in New Tripawd Cats and Dogs
Many Tripawd pet parents are surprised at how well their dog or cat starts hopping around after amputation surgery. They bounce back right away and get on with life. It's wonderful to see them hoppy again! We all love that! But over time, pain in Tripawd pets can set in. And the pain signals aren't always easy to catch. Pain in new amputee pets can manifest in a number of ways like:
Sitting down on walks
Being "stubborn" by refusing to go potty, go home from a walk, or return home from a walk
Not eating unless they are hand-fed
If you suspect your Tripawd is in pain, please reach out to your veterinarian. They can work with you to figure out why. And if that doesn't work, an animal pain expert certified by the International Veterinary Academy of Pain Management can.
Veterinarians who are earned the Certified Veterinary Pain Practitioner (CVPP) are the world's best experts in animal pain. They can build a custom pain management program for your Tripawd that goes further than what a general practice veterinarian usually prescribes.
A pet pain expert can:
Prescribe a combination of treatments to help speed pain recovery.
From analgesic drugs like Gabapentin
To rehabilitation therapy such as massage, hydrotherapy, and acupuncture
Tripawd pain experts (who of course treat four-legged animals too!), have a wider selection of tools at their disposal to help your hero feel good again.
How to Find a Pet Pain Expert
CVPP veterinarians can be tricky to find, but not impossible. Ask your veterinary team for help. You can also visit The International Veterinary Academy of Pain Management website. Their "Find a Pet Pain Practitioner" search tool can help you get closer to find a Tripawd pain expert quickly.

If you cannot find a pet pain expert, please contact us for help.