They say that we don't find our pets, they find us. This lovely Tripawd Tuesday story proves it's true! The feature, Tripawd Tuesday: Keira Works Husky Magic from the Bridge," is a story about devotion and listening to the furry angels on our shoulders. Time to kick back and enjoy this beautiful three-legged love story by Keira and Alvin's mom, Patricia Jordan of Mount Kisco, New York.
Finding Alvin: A Story of Love, Loss and Renewal on Three Legs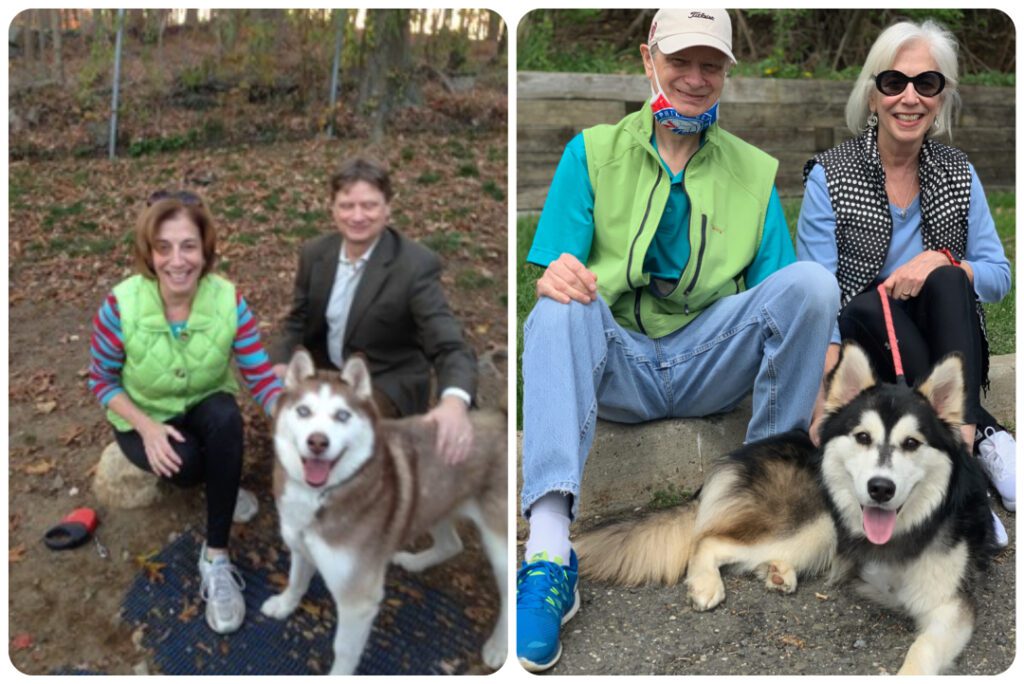 On April 6, 2021, six months after the loss of our 13-year-old husky Keira, after six months of multiple daily crying bouts – and after an expressed determination never, ever to adopt a dog again, I clicked on a site and saw Alvin.
He'd been shot in Georgia, medically treated by a wonderful veterinarian in that state, endured a front-leg amputation, and was rescued and brought to New Jersey. I closed my browser, left the room and, breathing heavily, tried to forget the sight of this smiling, young husky who, described in the headline as a "gem," seemingly refused to be cowed by his two-month-old ordeal. But there was no walking away.
Alvin was calling me to him
It seemed that Keira was engineering what would be a healing journey that brought joy back into our home, allowed the healing to begin – and ensured that Alvin's resilience would be a lesson to all who would meet him and experience the contagious sense of joy that he radiates.
We had rescued Keira, a gorgeous husky, in October of 2013, following the devastating loss of our rescued rottweiler in September, who had died suddenly and unexpectedly. Keira, at seven years old, had been rescued from a high-kill shelter in the south after the family she'd lived with for her entire life had decided they didn't want a dog anymore. The New York rescue organization described her as "depressed," having lost her long-time family.
Still reeling from the loss of our rottweiler, I had told the rescue attendant that I wanted a dog who loved to kiss, and Keira certainly filled the bill. She seemed to sense that she'd found a home, and, after countless kisses, the rescue organization made an exception and allowed us to take her home that day, following their review of our references.
It was a wonderful seven years.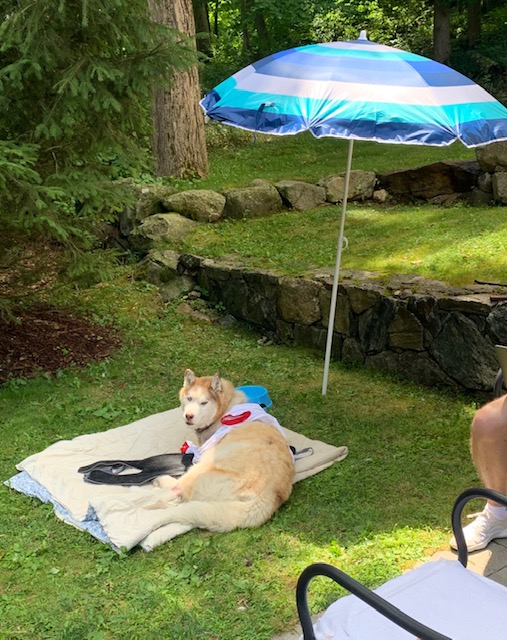 We were often stopped by strangers who marveled at her – not only at her beauty, but at her gentleness. She loved everyone, and even the UPS delivery man and the mail carrier laughed at how they could just step over her when delivering packages to our door.
When we noticed a limp in the summer of 2020, we learned that she had a low-grade Lyme infection and attributed the limp to that, beginning the medication and hoping to see a quick recovery. Instead, Keira collapsed in our living room and we brought her to the emergency room, having to endure the Coronavirus restrictions that forbade our accompanying her. We didn't speak in the car, staring out the window and anticipating a broken leg, which, in fact, was the case.
Unfortunately, the broken leg was not reparable due to bone cancer and our next struggle was one I still ponder: whether or not to amputate.
One factor in the decision was the input of both Keira's regular doctor, the oncologist and the emergency-room doctor who had treated her. While none of these caring professionals – all of whom loved Keira – tried to persuade us one way or the other, one commonality emerged from our conversations with all three: she would be out of pain following the amputation.
Another factor was the intervention of Keira's primary-care veterinarian with the emergency-room where Keira was staying – and which, at that point in the pandemic, was not allowing any visitors. "Go see Keira," he advised. "Her eyes will let you know if she wants to live." Those icy blues did just that, as did her kisses.
In the months following the amputation, we put as much of our lives on hold as possible, cheering Keira.
She adapted to her new gait, a feat that younger amputees would achieve much more quickly than a 13-year-old, 70-pound adult dog. We bought a sofa bed so that we could sleep on the main floor with her, put a beach umbrella outside so that she could rest without overheating – and began the chemotherapy that the oncologist explained was not designed, as with human chemo, to cure her, but to enhance her quality of life in the limited time we'd have together.
In late September, we rented a one-story, no-stairs house on Keira's beloved Cape Cod, explaining to the landlords that we wanted Keira to have one more Cape Cod trip. While it appeared that she was deteriorating, we were hopeful that the chemo, still in its early stages, would help. It didn't. ­­
In early October, Keira collapsed and we rushed her to the emergency room. The oncologist, a loving man who fell for Keira despite their short acquaintance, explained that the chemo had been ineffectual. It was over. My husband and I lay on the comfortable "goodbye room" floor at the emergency room with Keira, holding and kissing her for 30 minutes before we concluded that Keira was ready to say goodbye. We, however, were not.
As I returned to my computer on April 6, 2021, I felt the pull of Keira urging me to buck up and read the description on Alvin.
The adoption restrictions were onerous: prospective adopters had to live 50 miles or less from the rescue organization; no adoptions would be approved to adopters without northern breed experience, including, of course, huskies; and the winning applicant must have a fenced-in yard.
I was unfamiliar with the location of the rescue group, but did a quick map search and found that we were exactly 50 miles from the rescue organization. The location was just right! We had husky experience! We had a fully-fenced yard! And, of course, we had front-leg amputation experience, which the rescue organization likely never anticipated in a prospective adopter.
I sent the 12-page application, worried that the reviewers would balk at two people in their sixties trying to adopt a puppy.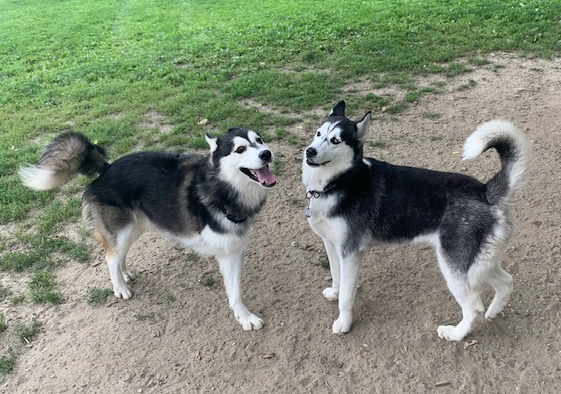 They called me that very day and explained that, on paper at least, we seemed perfect, but they would need to proceed with a close review of the application; a discussion with our veterinarian; calls with our references; an initial screening call; a zoom inspection of our home; and a final phone meeting with the organization's founder.
After the initial screening and the zoom house inspection, the rescue organization decided what we knew all along. Alvin had found a home!
There would be no reference check! No discussion with the veterinarian! No final phone meeting with the organization's founder! They felt that it seemed too perfect, and almost surreal that a couple would emerge with exactly the required distance from the rescue organization, husky experience, a fenced yard – and amputation experience.
But it wasn't surreal. It was Keira calling.
As a young amputee, Alvin has surprised us with his agility.
He climbs – no, leaps – up the stairs two at a time, jumps into my SUV with no assistance, swims – and generally exudes joy. I often think of the encouragement that President Joe Biden brings to those in a state of grief, having himself grieved deeply. "One day," he says, "you'll remember that loved one, and a smile will come to your lips before a tear comes to your eye."
I often smile these days, even after less than one year, thinking of Keira. She had her way. Alvin is home.
This story is dedicated to the loving staff of Yorktown Animal Hospital in Yorktown Heights, NY.
We Want YOUR Tripawd Tuesday Story!
Did you like today's Tripawd Tuesday spotlight on Tripawds Keira and Alvin? Whether you have one, two, or more Tripawd dogs, a coyote, a cat, or a rabbit (or any three-legged animal!), share your three-legged love story with the world and inspire others! Send your Tripawd Tuesday shout-out now.
Each Tuesday is the best way to celebrate Tripawd amputee pets from around the world. Enter for a chance to be "Tripawd of the Week." Just share your story in a few words and you're in!
Whether you are a bonafide registered Tripawds member, or part of our Facebook, Twitter and Instagram communities, we want to tell the world about your three-legged cat or dog.
Send Your Tripawd Love Story in 3 easy steps:
In a short paragraph or two (or longer if you'd like!), describe your three-legged hero's story. Share a photo, video or both.
Got a Tripawds Forum topic and/or Tripawds blog that you started? Be sure to include that link too! Of course let us know any social media handles that feature your Tripawd.
Then send your story to us

via email,

Facebook Messenger, or direct message us on

Twitter

or Instagram

@TripawdsCommunity.
We try to publish a new Tripawd story each week. It's time for yours to get featured!