If your cat is losing a leg soon, now's the time to get familiar with post amputation pain medication for cats. What you learn here can save you and your cat from a long, painful amputation recovery.
The Importance of Post-Amputation Pain Medication for Cats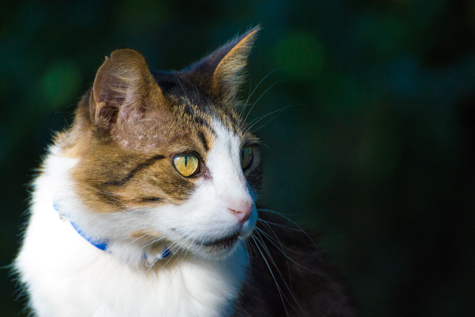 If a cat comes home without excellent pain medication, the recovery is going to be harder than it needs to be. That's because like people and dogs, recovering Tripawd cats may experience more than one kind of pain after amputation. Sudden jolts of nerve pain, acute pain from cut muscle and bone, and consistent aches caused by the new Tripawd gait are common. The good news is these pains can be managed by following the latest guidelines for veterinary pain management.
"The current data tell us pain is best managed from a multi-modal perspective. Another term for this is "targeted" therapy. This means using different tools that complement one another to achieve a better outcome than we can achieve with a single-tool approach. Patients benefit when we make thoughtful decisions about which strategies work well together — what targets in the body we need to address and how.
—The evolution of pain management in pets, by Dr. Robin Downing, DVM, MS, DAAPM, DACVSMR, CVPP, CCRP
Knowing the basics of post-amputation pain medication for cats is so crucial for your Tripawd cat's quality of life. We even dedicated an entire section of our Cool Tips for Tripawd Cats Feline Amputation Handbook to this subject!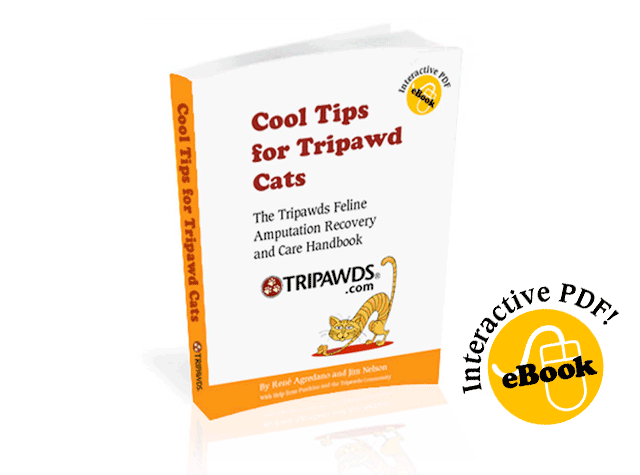 For now, here's what you need to know about pain control after amputation. Be sure to have a conversation with your vet surgeon to discuss your cat's pain control plan.
Common Post-Surgery Pain Control Drugs for Cats
Before surgery day, make sure your Tripawd will get pain relief on multiple fronts, with multiple types of medications. Here are the most common pain management drugs feline Tripawd members come home with after amputation surgery.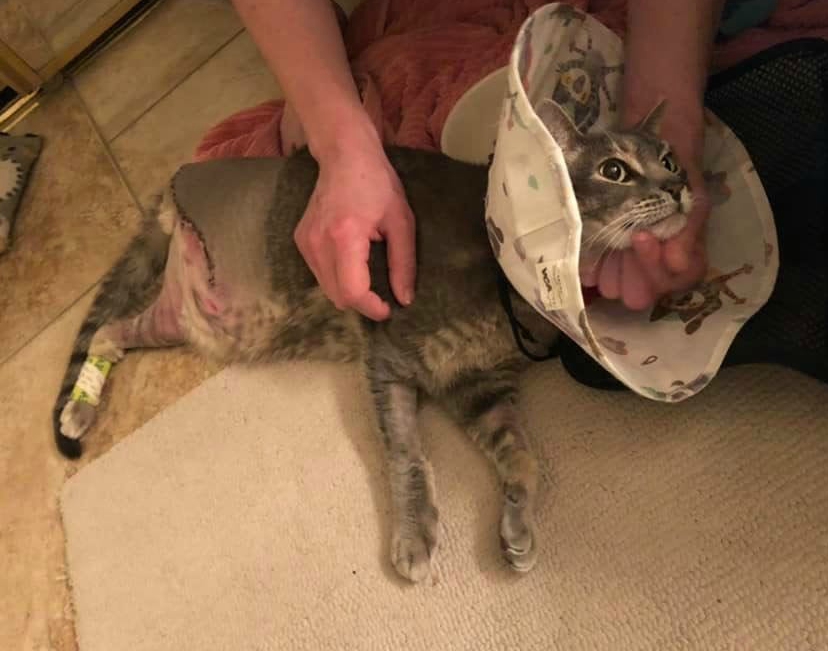 Non-Steroidal Anti-Inflammatories (NSAIDs)
These drugs reduce mild to moderate painful swelling and inflammation in the body after amputation surgery. Care must be used, as the kidney and liver can be affected. But please, never give your cat a human NSAID, which can be lethal. Veterinary NSAIDs for cats include:
Robenacoxib (Onsior), approved and safe for short-term, post-surgery recovery in cats. Many feel it is a better, safer option than the controversial Metacam, which has been shown to cause acute renal failure and death when given to cats on a long-term basis. However keep in mind that Metacam for cats is considered safe when given as a one-time, single injection after surgery. Either NSAID may be injected by your vet after surgery or given to you in oral form to administer to your cat.
Opioids
For immediate post surgery and extreme pain, opioids are given. These drugs may be used in combination with a NSAID and include:
Simbadol is an injectable version of Buprenorphine with high success rates in felines.
Zorbium, newly released in July 2022, is a buprenorphine transdermal solution. It's the first transdermal buprenorphine animal drug intended to control postoperative pain in cats. Your vet can give it to your cat in the hospital, a single application provides pain relief to the cat for four days!
Tramadol, for mild to moderate pain control but with a bitter taste that cats hate.
Codeine, also for mild-to-moderate pain relief.
Fentanyl, a skin patch for severe pain relief that's 75 to 100 times stronger than morphine.
Hydromorphone, a strong, sedating opiate for severe pain that may cause nausea and vomiting.
Buprenorphine (aka Buprenex or Simbadol), an injectable drug for post-op pain. It can be injected but the oral buccal route (in the cheek) is preferred.
Gabapentin (Neurontin) or Amitriptyline
These two drugs deserve a special mention here, because of the risk of phantom limb pain in new amputee cats. Currently they're being used to treat it in an 'off-label' method by veterinarians. This means it's legal to prescribe to animals but there are no long-term studies showing its effectiveness for any species other than humans. As a result, your cat's dosage may need fine-tuning until it works. Once it does, things get much better.
Gabapentin for post-amputation nerve pain relief has been commercially available since 1993 but use in animals is relatively new. Its efficacy remains debatable in the veterinary community and many vets still don't routinely prescribe it to new amputees. Some vets just aren't convinced gabapentin works. Many Tripawds parents still have to advocate for this pain reliever.
If you feel your cat is suffering from phantom limb pain, please ask your vet about Gabapentin.
Amitriptyline is another drug that can help with phantom limb pain, as well as anxiety.
One thing I've learned is that you really have to take your cat's medical care into your own hands and make sure that your vet is really doing what's best for your baby. — Pain Management: Dealing with Vets, by Fang's Mom.
Give Better Relief with Multiple Medications
In our interview with feline pain expert Stephen Cital, we learn that when the body is in pain, it releases cortisol. This causes internal stress, delays wound healing and can even suppress the immune system. Attacking pain in multiple ways will speed up the healing. Using smaller amounts of multiple drugs has a better effect than one big dose of one drug.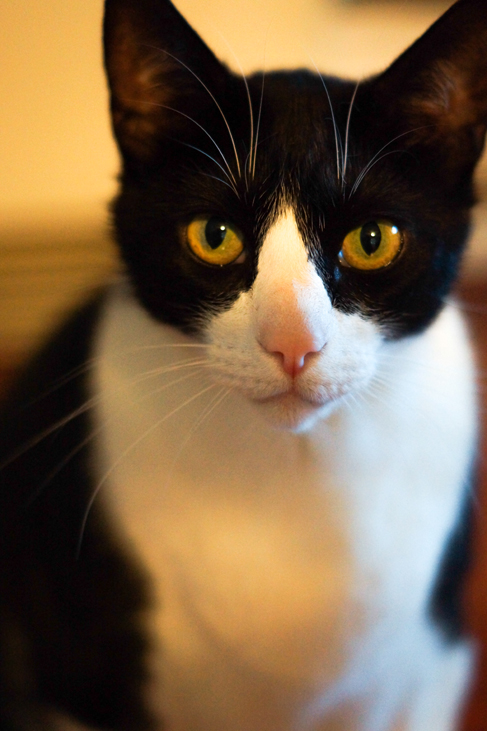 "When I say multimodal, that means multiple different drugs, not just one drug like you mentioned at a high dose," says Cital. "And what's nice about mixing different drugs or doing polypharmacy is when you mix different drugs, some of these drugs play really nice together and they can potentiate each other so it makes them work better and we can use them at lower dosages, which is going to get rid of some of the negative side effects we would see with a big, huge dose of buprenorphine or a big, huge dose of a particular nonsteroidal anti-inflammatory."
To learn even more about managing post-amputation pain medication for cats, listen to our conversation with Stephen Cital. It's on the Tripawd Talk Radio episode, Tripawd Cat Pain Management Tips and Tricks.
Recommended Reading:
Cool Tips for Tripawd Cats Amputation Care and Recovery Handbook
Tripawd Talk Radio: Cat Pain Management Tips and Tricks
How to Manage Pet Amputation Recovery Pain
Members Share Tips to Give Pills to Cats After Amputation
Is Your Tripawd in Pain? Dr. Downing Explains How to Tell.
Post Surgery Pain in Tripawd Dogs and Cats
How Gabapentin Works for Acute and Chronic Pain
VCA Hospitals: Pain Management for Cats