You know that cats and dogs can have great lives as amputee pets. But are you aware that exotic animal Tripawds can be happy with one less leg? We didn't, until we met Dr. Laurie Hess, DVM, Diplomate ABVP (Avian Practice). In her new book "Unlikely Companions: The Adventures of an Exotic Animal Doctor," Dr. Hess gives the scoop on caring for such unique critters (and their equally offbeat owners!). We learn lessons on life and love from an umbrella cockatoo who's not eating, a depressed chinchilla, a pregnant potbellied pig and more special animals.

In 2015 Dr. Hess shared the Tripawd Tuesday tale of Patsy and Janet, two amputee birds who lost their limbs to an Amazon parrot. This time around we asked her if she had other interesting tales about exotic animal Tripawds, and she was happy to tell more!
Besides Patsy and Janet, what other exotic animal Tripawds have you done amputation surgeries on, and why?
"We actually did an amputation of a rabbit's back leg just last week. The bunny had a bad femur fracture months ago that never healed well, so we decided to amputate.
Besides birds and rabbits, I have done other amputations on lizards, turtles, ferrets, and small rodents such as chinchillas and rats. Most of the time, the amputations are done because of non-healing wounds or fractures that we have tried treating but that don't heal well or at all.
What kind of care and environmental needs do exotic animal Tripawds have after amputation surgery? Is it easier or more challenging to care for them during recovery, as opposed to dogs and cats?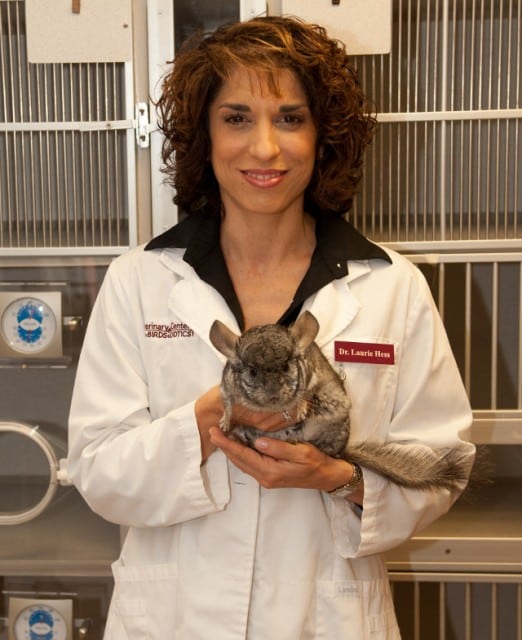 "Most of these animals do really well post-operatively. They adapt quickly to their new situation and go back to living normally quickly. Their owners typically give them pain medication and anti-inflammatory drugs after surgery, and some pets need to wear a bandage post-op.
A few, such as active ferrets and small rodents, may need to have their cages rearranged so that they aren't likely to climb and fall until they have adapted to their new bodies. Since most of these animals are small and light, they may be easier to care for than a large dog that needs help going down stairs to get outside.
Some reptiles, such as turtles, with amputations may need be "dry-docked†after surgery to keep their incisions dry until they are healed. Given that many turtles won't eat unless they are in the water, getting them to eat post-op can be challenging sometimes.
But overall, these pets do well and are generally easy to care for after surgery."
What lessons have you've learned from "special needs" and handicapped exotic animals?
"I have learned that exotic pet owners are very dedicated to their animals and are usually willing to go to all lengths to help their pets. Most of these owners are worried about how their pets will adapt with one less leg, but they are usually surprised at how well these animals do quickly."
Meet a Very Special Exotic Animal Veterinarian
Dr. Laurie Hess is the founder and owner of the Veterinary Center of Birds and Exotics in New York. She is board-certified by the American Board of Veterinary Practitioners in avian medicine, and is a member of the Association of Exotic Mammal Veterinarians and the Association of Reptilian and Amphibian Veterinarians. Dr. Hess has lectured all over the country and internationally, has written for various veterinary publications, and has appeared on shows such as FOX's Good Day New York and the Martha Stewart Show. She has published research on exotic pet nutrition, and has presented it in the US and Europe.
More Reading about Exotic Animal Tripawds
Tripawd Tuesday Celebrates Two Awesome Amputee Birds
Meet Calypso the Tripawd Turtle
Tripawd Tuesday: Mason the Marvelous Lamby
The Miracle of Clyde the Three-legged Senior Tripawd Rabbit
Save
Save