Today for Tripawd Tuesday we're celebrating second opinions! Why? Because many of us got multiple opinions from different vets before learning that our dog or cat's leg needed to be amputated. And as we learned, second opinions saved our pet's life.
"Thanks for getting another opinion, Mom!"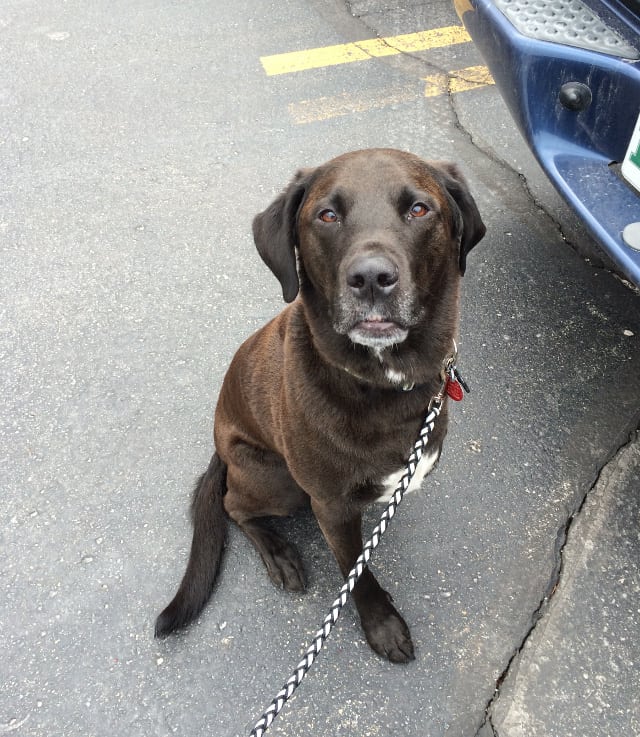 Check out this handsome pup's story, you'll jump for joy that his momma listened to her intuition and got that second, life saving opinion. Yay!
Stormy's Story
by Danielle Cach
Mister Stormy Weathers… My favorite subject! Well, it all started about mid 2014 when we noticed his entire left shoulder muscle had completely atrophied and all that was able to be seen was his bone. At first we didn't know how serious this was as he was a very active dog and never acted as if he was in pain. During his routine vet visit we inquired with them as to what the cause may be. Unfortunately, they said if it wasn't causing him pain, to just leave him be.
As if that was foreshadowing, one day in October 2014, Stormy woke me up SCREAMING in pain. It was not a yelp or a cry, but a true scream. I ran to him and knew it was his shoulder that was hurting him as he couldn't move. I immediately called the emergency vet line and made him an appointment for early the next day.
At this point we were still going to his same vet, sadly. They performed modalities on him and he didn't yelp or cry (he's very stoic), and they performed a multitude of X-Rays. They couldn't find anything, so they sent us away with a crappy referral and some pain meds. This just didn't sit well with me.
Mom's Intuition Saved His Life
I decided to contact another vet that I had gone to previously with my other animals, and got in to see her as soon as possible. I truly believe this decision is what saved Stormy's life. She immediately knew that he had something very serious going on that she wasn't able to treat onsite. She sent Stormy and I to get a CT scan from Dr. Dan Degan at the Animal Surgical Center.
Sure enough, Dr. Degner found a large mass underneath Stormy's left shoulder. It was a malignant nerve sheath tumor and the only way to guarantee Stormy a happy and healthy life was to amputate his entire limb.
Stormy knew he would be OK.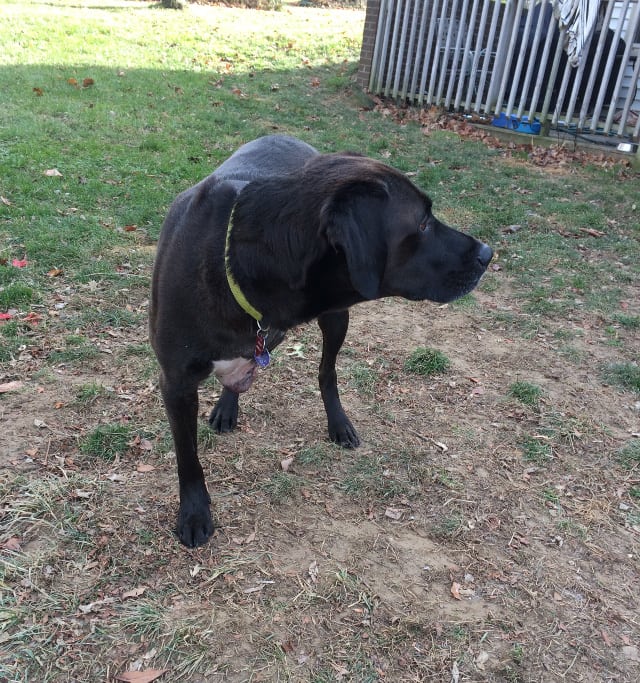 I truly felt like the wind had gotten knocked out of me. I had either expected the worst news (having to euthanise him) or no news at all. I was terrified and overwhelmed with emotions. Because we were so close to Thanksgiving, we made the amputation appointment for December 3rd 2014. That day was the hardest of my life, but my baby did so well. They didn't even keep him overnight!
By the very next morning my little baby was up and walking completely on his own. He had to be made to slow down! It was a miracle in my eyes. Sadly, he did have some complications with his recovery because we discovered that he was narcotic sensitive, which led to severe stomach issues. Once we got that issue sorted out, things were smooth sailing! About two weeks following his amputation we went back to the vet who saved his life to begin rehabilitation!
Stormy's Stronger than Ever!
Stormy is currently completing his 3rd session at Animal Rehabilitation Center of Michigan with the doctor who saved his life! Her name is Dr. Kate Reynolds, and I owe her everything. She also is in charge of the rehab center, so we see her quite often. Without Dr. Reynolds or Dr. Degner I'm not sure where I would be!
Stormy is a happy, healthy dog who has luckily been healthy ever since. He is my world and even got him tattoo'd on my ankle!
Pawprints on her heart . . . and leg!
Without this site I would have had far more anxiety about his surgery, but you have all been so amazing. Now this is our normal and I love him even more! I even have Tripawd decals on my truck and tell everyone I can about how I have a three legged dog!
Share Your Tripawd Tuesday Tale!
Each Tuesday, Tripawds from around the world can enter for a chance to be "Tripawd of the Week." Just share your Tripawd's story and you're entered to win! On every Tuesday of the week, tell us about your three-legged hero here in the Tripawds Discussion Forums or on the Tripawds Facebook page. Just follow these easy steps:
In a few short sentences, describe your three-legged hero's story.
Include a photo or video.
Include a link to your Tripawds Facebook page, Forum topic and/or Tripawds blog (if applicable)
All entries must be received by Saturday at 11:59 pm. One Tripawd story will be selected at random to be featured the following Tuesday.