Dogs and cats have many good reasons to despise a trip to the vet's office – and one of them is the lighting fixtures hanging from the ceiling! That's because unlike humans, they can see the flicker and hear the buzz coming from fluorescent lights and they hate it.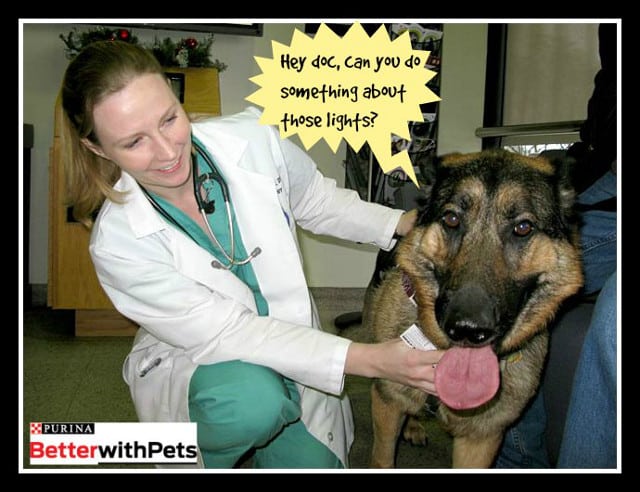 In fact, everything from our floors at home to where we board our pets and even how we feed them can affect their emotional wellness. The good news is that at the Purina Better With Pets Summit we learned ways to create a stress-free environment for pets. Read on to learn some of those tips too!
Disclaimer Nestlé Purina™ covered the cost of our one-day trip to the Big Apple and this follow-up coverage of #BetterWithPets. We are being compensated for creating awareness about the awesome things we learned at Summit, but we only share information relevant to you and this community. Nestlé Purina is not responsible for the content of this article.
Create a Stress-Free Environment for Pets
If anyone knows about stressful environments for pets, it's Tripawd parents. That's because once you have a three-legged dog or cat you are constantly on alert for stressful things like slippery floors or stairs – something you might not have previously considered.
At the Better with Pets Summit we learned that animal health and behavior experts are getting more pet lovers to think like a Tripawd parent, by encouraging everyone to create happier pet homes, kennels and clinics through changes both big and small. Here are some tips they're suggesting: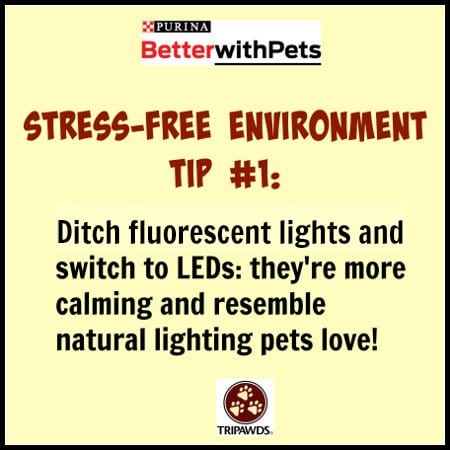 Get rid of that ugly fluorescent lighting – it's unnatural and cats and dogs are bothered by it. Architects who design pet-friendly kennels and vet offices advise switching to LED lighting instead. According to Heather Lewis, a principal architect at the pet-centric design firm Animal Arts, we can boost our pet's happiness level by transitioning to LED lighting, which comes in flavors that resemble the natural sunlight that dogs and cats love.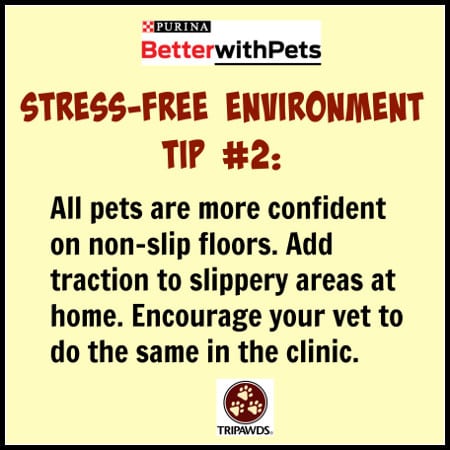 Now that you have a Tripawd you understand why traction is so important, but did you know it when your pet had all four legs? Traction gives even the most mobility-impaired pet more confidence and prevents injuries in all other dogs too.
And while many vets will tell you that slippery clinic floors keep germs away better than other kinds of flooring, that's not necessarily true anymore. As part of Dr. Marty Becker's "Fear-free Vet Visits†campaign, he's encouraging vets to make the switch to rubberized floors since new floor cleaners can get rid of germs on non-slip surfaces. "Imagine what that would be like for a senior dog, instead of trying to walk on a skating rink!†he said.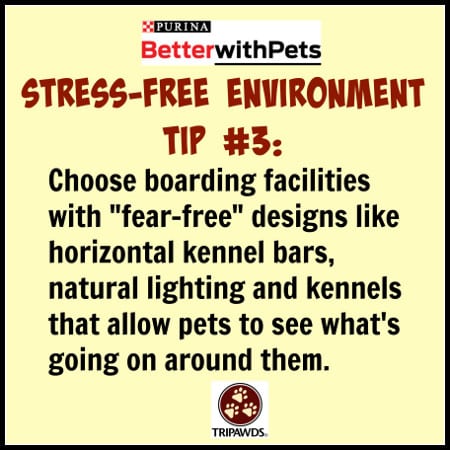 The next time you choose a pet boarding kennel, take a look at the overall design and ask yourself: "Is this a fear-free environment?†Every year animal behaviorists are learning more about environments that make pets happier and thankfully architects like Heather Lewis are creating them.
At the Summit she showed us examples of well-designed, stress-free dog and cat kennels. Notice how different fear-free kennels look!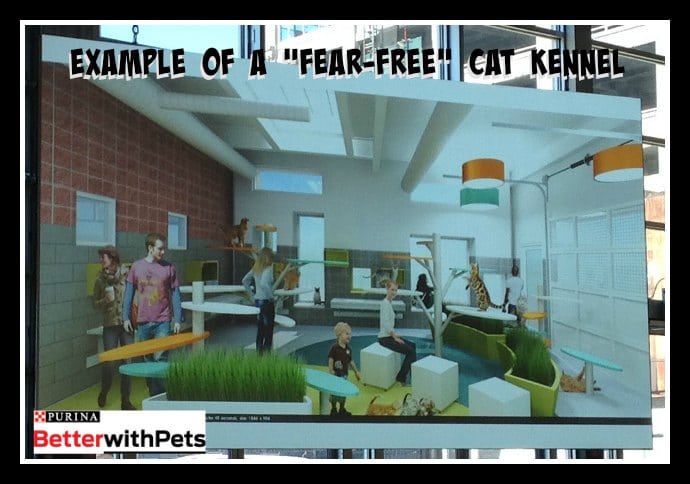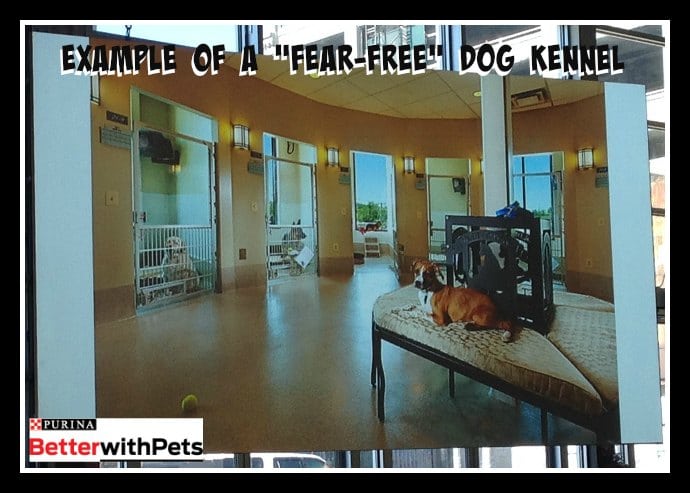 Kennels have ample natural lighting. Pets are outdoor creatures by design, they thrive in a natural environment. Windows and LED lighting creates that for them.
Pets can see what's going on around them. Side-by-side rows of kennels are stressful. Dogs become agitated because they can hear kennel noise but can't see what's going on. If they can hear and see the other boarders, but remain protected with a fence, they are much happier.
There's plenty of open space. For pets who can and want to interact with others, open space is available in the middle of the kennel. And for those who just want to watch but aren't secure enough to hang out with pals, they can do it from the safety of their protected space.
Add Some Good Stress to Your Pet's Life
If you've gone through amputation recovery with a pet, you know how bored they get when we restrict their activities. But dogs and cats get bored at other times too, like when we leave them at home alone. And while there's nothing we can do to avoid a temporary goodbye, there are things we can do to make them happier when we shut the door. How? By giving our pets good stress with activities that exercise their minds.
What is "Good Stress"?
Putting food in a bowl is boring and it's not great for our pets because bowl feeding robs them of their natural hunting instinct. "Think about how we usually feed our pets (in a bowl),†says animal behavior expert Ragen McGowan, PhD, a senior scientist at Nestle Purina. "It's done just like that!†she said as she snapped her fingers for emphasis. "Then they have all this time to sit around and think.†That extra time can lead to boredom and destructive behavior.
Instead, McGowan says we need to help our pets exercise their minds, which adds some good stress into their lives. This animal behavior concept is called "Contrafreeloading†which simply means working for food.
Food puzzles are the best way to apply this concept to our pet's life. Tripawds Spokesdawg Wyatt Ray loves his!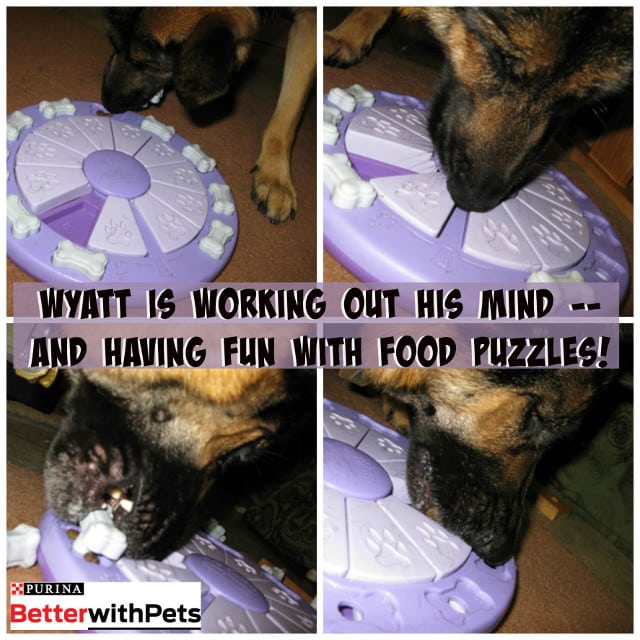 "The most important enrichment device there is, is a food puzzle,†says Dr. Tony Buffington, an Emeritus Professor of Veterinary Clinical Sciences at Ohio State's College of Veterinary Medicine. "It's mentally stimulating and intrinsically motivating,†he said.
"You want to give them that "Eureka!†moment,†McGowan added. How? By allowing pets to hunt and "capture†their prey. Each time you stuff a Kong or hide food in different toys, you're introducing your pet to this kind of good stress that helps work out their brains – which can be far more tiring and emotionally rewarding than physical exercise!
Keep in mind you don't always have to do food puzzles. Even "broadcasting†(tossing) kibble throughout the house is a great way to work out your pet's brain!
Want More Tips to Create a Stress-Free Environment for Pets?
Pet health has come a long way. As Dr. Becker said, pets are happier when we consider all aspects of their lives and when they're happier, our bond grows even deeper. The dog or cat who has well-balanced physical and mental health will pay it back in a million different ways – all it takes is a little more effort on our part.
We could go on all day about what we learned at the Summit, but instead we'll just head on over to the Purina Better with Pets interactive learning center. It's jam-packed with even more of the same fun learning activities that we participated in at the event. Hop on over there with us and we guarantee it will be an eye opener for you too!