Have you met Oscar, the newest Tripawd cat to join our growing list of Trikitty bloggers? Today for Tripawd Tuesday, we're giving three-paws up to this sweet kitty who lost his leg in a terrible, cruel way: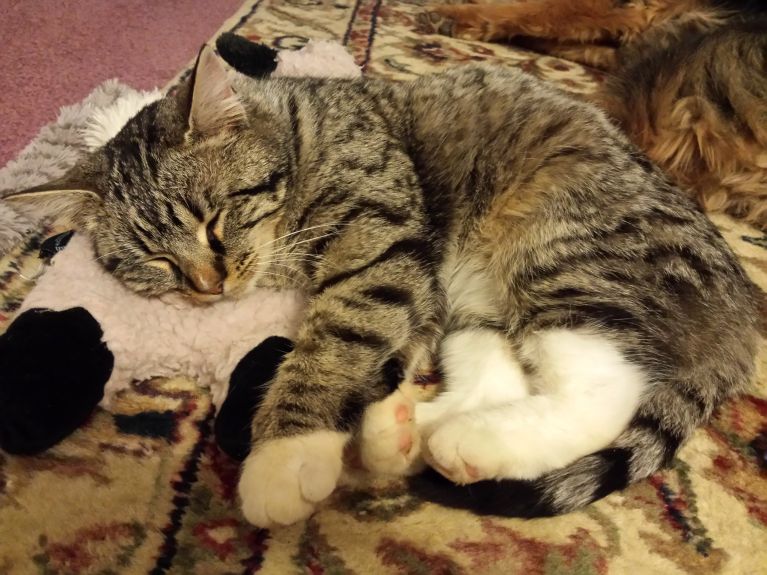 Here's how Oscar's story begins:
Oscar is a kitty who values his independence and still loves to curl up on the couch with his humans.  He is, in his heart, a lover.  He loves "big pets" as my husband says and thinks nothing of sleeping upside down sprawled out on your lap for hours.  In comparison to the other two kitties, who are most interested in which human is going to feed them next; he just wants to know who is going to love on him.

Exactly one week ago, my husband woke me up Saturday morning and said simply and calmly, "You need to get up.  We need to take Oscar to the vet; his leg is banged up a little bit."
To read about Oscar's brand new three-legged journey, check out his blog and hop over his first Tripawds Discussion Forums post too. We know you'll love this sweetie!
Share Your Story on Tripawd Tuesday
Each Tuesday, Tripawds from around the world can enter for a chance to be "Tripawd of the Week." Just share your Tripawd's story and you're entered to win! On every Tuesday of the week, tell us about your three-legged hero here in the Tripawds Discussion Forums or on the Tripawds Facebook page. Just follow these easy steps:
In a few short sentences, describe your three-legged hero's story.
Include a photo or video.
Include a link to your Tripawds Facebook page, Forum topic and/or Tripawds blog (if applicable)
All entries must be received by Saturday at 11:59 pm. One Tripawd story will be selected at random to be featured the following Tuesday.