When osteosarcoma strikes dogs and cats, it usually occurs in the leg bones. Rarely does this malignant bone cancer originate in other places and when it does, it's only natural to feel all alone. For anyone who is in this scary situation, we hope you are inspired by today's story about Baron, a ten year old German Shepherd who beat the osteosarcoma odds after a tumor appeared in his muzzle near his brain.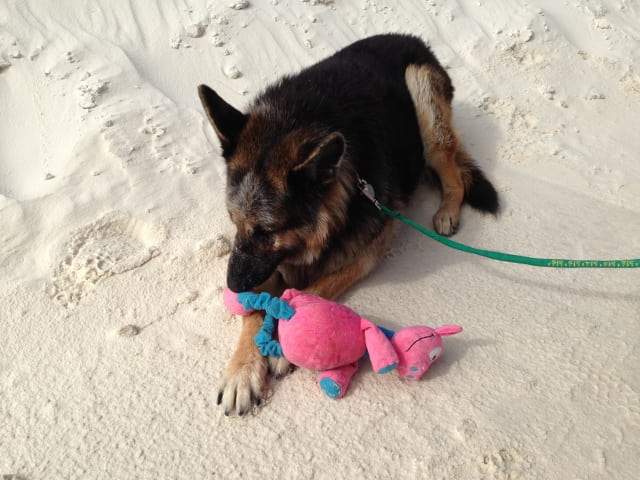 His parents, Rose and Major Glen Porter of Southern California, never gave up when vets relayed the bad news about Baron's osteosarcoma skull tumor. Their persistence, love and dedication paid off: thanks to the skilled team at Colorado State University's Flint Animal Cancer Center who performed stereotactic radiation therapy on the tumor, and Baron's regular vet, Dr. Huber at Desert Veterinary Specialists in California, Baron beat the canine osteosarcoma odds for 16 beautiful months. We had the honor of meeting this heroic pack last year in Colorado and instantly knew that although Baron wasn't a Tripawd, his battle would still be an incredible source of hope for our community.

Sadly, just two weeks ago Baron unexpectedly passed away after a happy day doing what he loves best. He's an angel now, but his life story will always be a legacy that gives anyone the courage to fight a pet cancer diagnosis no matter what the odds say. Here is his story as told by his dad, a decorated Vietnam war hero, shortly before his beloved pup became an angel.
When we received Baron's diagnosis, we were devastated to say the least.  Our vet, Dr. Norm Smith is a 30-year family friend and a fellow pilot.  We had initially treated Baron's problem as a persistent nasal infection.  When the lump started to appear we thought perhaps it was a dental infection and Norm referred us to Dr. Yee, who is Dr. Huber's wife and the local Dental Surgeon.  Then we got a call that our appointment had been switched to Dr. Huber who is the Cancer and Orthopedics Surgeon (at Desert Veterinary Specialists).  We were terrified at this point because we knew what the change meant.
When we met Dr. Huber he put us at ease very quickly.  We discussed Baron's case and that we only had a few options and the percentage (5%) for success was not very good.  In part I think the 5% call was to see just how serious Rose and I were about treating Baron's cancer.  We discussed how difficult an OS was to treat in any bone but nearly impossible in the muzzle.  On the other hand, we would not cure him, but if we were serious about treatment, we might be able to keep him comfortable for some time.
Dr. Huber said there were only two place with the equipment (sterotatic radiation) that could treat him.  One was CSU the other Florida State.  We told him that we would be ready to go shortly, get us an appointment at either location and we are going to buy a new motor home for the trip.  I think he was initially a bit awe struck at our response and had a hard time taking it seriously.   A few days later we announced that we were ready to go and the new motor home was being prepped for delivery.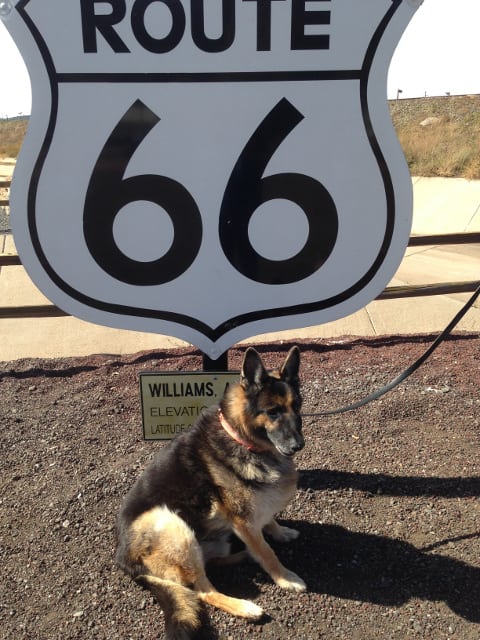 Now that Huber knew we were serious he set about convincing CSU that we were real.  The standing joke become "we had to buy a motor home…the family jet was down."  No we don't own a jet, but one of Huber's other clients threw their furpanion in the family jet and headed to CSU.
First we did a bunch of tests to make sure that his cancer had not spread.  Several trips to Palm Springs for tests then two trip to San Diego for a CT Scan and Baron was otherwise clean.  We had just enough time to load the motor home, close the house down and hit the road.  We arrived at CSU on the afternoon before his first appointment.
CSU did not hold out much hope for Baron due to the location of his tumor.   The conversation kind of went that treatment was expensive and there were no guarantees.  Generally  we got the idea that we should make him comfortable and enjoy our remaining time with him.  I told him Baron was a "trust fund puppy", and that cost was not an issue.  He likewise told us the chances were very small as the tumor was close to his brain. We said if we can keep him comfortable and his quality of life remains high, we'll take 5% and run with it.
We just passed Barons 15 month anniversary of completing his first radiation therapy program.  That's 15 months on being thrilled with new toys, going new places, enjoying new experiences and for us learning new things about Baron.
Life is a gamble.  If you don't try you'll never know if the doctors were right or wrong.  If I were asked by another parent facing the same type of furpanion cancer I would highly recommend they give treatment a try.  It's expensive, but if you have the means, that life is far more irreplaceable that some cash.  But that also is dependent on how the treatment facility views the attitude (do they have the will to survive?) of the furpanion or are they simply present and accounted for?  The same goes for the parents, they have to demonstrate a willingness to follow through and complete the treatments and stay with the aftercare program.  If either part of that formula is short I don't think that an animal would be accepted into a program where doctors and treatment space and time are at a premium.
I think the eyes and tail say it all…Baron is thrilled every time Rose or I come home.  When the pack (his family) is short, he constantly looks for where they are.  When he gets a new toy his eyes light up…the tail goes into motion and you can see his enjoyment with the fact that he despite the odds is alive, comfortable and thrilled that he has seen a new day.  So I think his comment would simply be,  "thank you, I am so glad that I came to join this family."
Life is a gamble. Had we simply accepted their concept of keep him comfortable and enjoy the remaining time with him, Rose, myself and Baron would have missed out on so many adventures, and finding out new things about each other. That would have been terrible!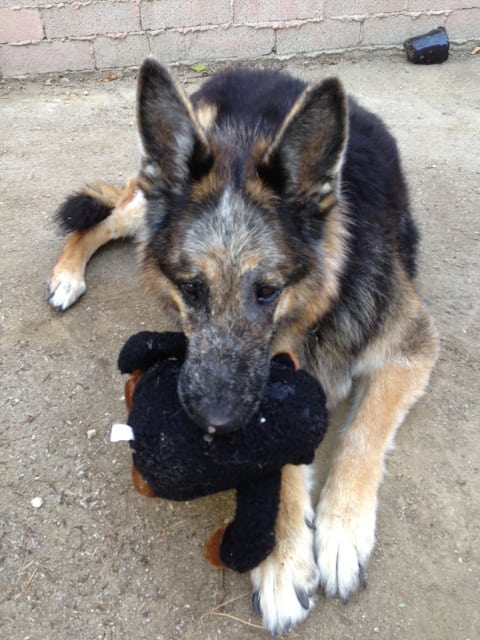 Recommended Reading
Read more about Baron's cranial osteosarcoma fight in the Summer 2014 Colorado State University Flint Animal Cancer Center Newsletter PDF download.