Our weekly Tripawd Tuesday feature lets the world know that dogs and cats can have great lives on three legs — even ones with extra challenges. Take Bonz, for instance: he's a blind doggie who just lost his leg to cancer.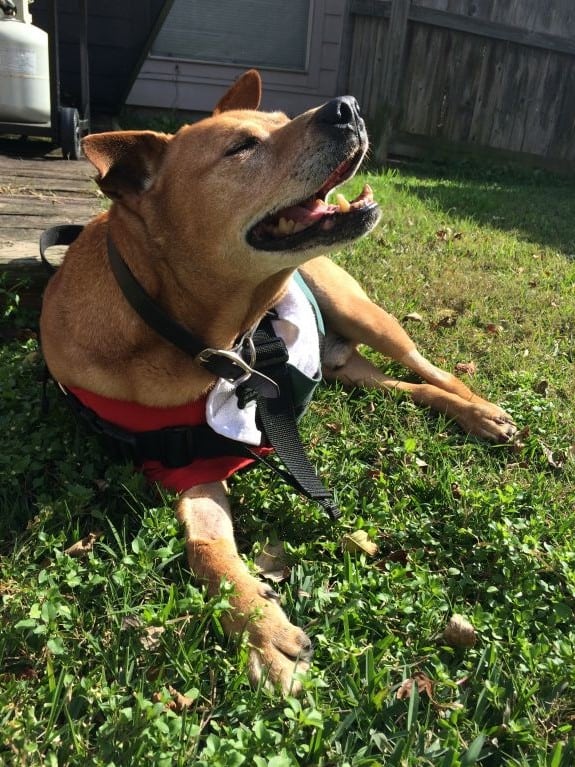 Bonz (aka Bonzai, Bonz Bonz, Boo Boo, Boo, Buddy) is in the spotlight today in case you've missed his excellent blog, "Too Many Questions and Just Not Enough Time." Here's what his humans have to say in his first Discussion Forums post:
About 3 years ago we woke up to Bonz squinting one eye. We took him to Dr that day as it was getting worse. Dr said it was conjunctivitis. By that night both eyes were closed. We took him to the ER where they said there was extreme pressure in his eyes and his retinas had detached. All they could do was inject his eyes with a powerful gentamicin to basically kill his eyes to prevent the pressure from giving him headaches. In just under a day he had gone from seeing to completely blind.

Bonzai remained tough. He adapted. he loved life and his yard where he ruled. Then two months ago on a walk he stepped on the curb and yelped. I thought he had sprained something. His elbow swelled huge in a day. We found out it was Synovial Cell Sarcoma. he became a Tripawd alumn Friday Jan 9th.
One week after his amputation surgery, here's some of the excellent insight his people shared in Bonz' blog post: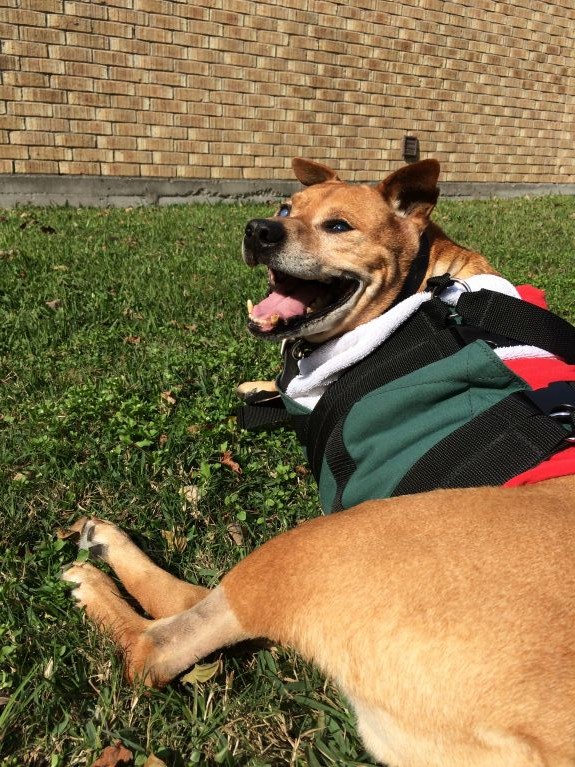 Well one glorious week from surgery and I wanted to publish things we have learned that might help others along the way.

Tshirts.. you can never have too many. The drainage from his wound has us changing his tshirt every HOUR.
Towels.. Cause the drainage soaks through the shirt and all over the sofa and bed and carpet lol.
Bed sheets. Did I mention the drainage soaks through the shirts? Well it goes through the towels as well.
Laundry detergent. Man that is a lot of shirts and towels and bed sheets to wash.
You could never imagine how a picture of dog doodoo sent to your phone with the words "HE POOPED" can make you smile with relief =P
The vet will hate you with the 214 "Can you have the Dr call me" calls to check in to see if something is normal.
If we ever do this again we will check the weather first for the upcoming week. The rain and mud have truly been a night mare.
You would think nobody would be scared of a 3 legged blind dog but when he growls if we move him we jump lol.
Us and him BOTH are tired of eating the meatballs we have to hide his pills in.
Though the week was hell. the mud and rain and cold was nasty and the exhaustion at times for us and him was hard to fight through. To see the rain clear. To see the sun come out. And to see the boo feel the sun on his face. To find HIS normal spot on the grass and see him smile as we have seen him done every day for the last 8 years gives us great hope that though rough. He would thank us for helping him.
This kind of pawsitive insight is what gives new Tripawd pawrents the hope they need to embark on this journey. Bonz and family, your contribution is priceless, thank you for taking time to share with us.
How to Get Featured on Tripawd Tuesday
Each Tuesday, Tripawds from around the world can enter for a chance to be "Tripawd of the Week." Just share your Tripawd's story and you're entered to win! On every Tuesday of the week, tell us about your three-legged hero here in the Tripawds Discussion Forums or on the Tripawds Facebook page. Just follow these easy steps:
In a few short sentences, describe your three-legged hero's story.
Include a photo or video.
Include a link to your Tripawds Facebook page, Forum topic and/or Tripawds blog (if applicable)
All entries must be received by Saturday at 11:59 pm. One Tripawd story will be selected at random to be featured the following Tuesday.