Preventing pain in our three-legged pets is our ongoing responsibility but with pain management techniques constantly evolving, it's hard to know where to start. This Sunday on Tripawd Talk Radio, you can learn the latest ways to help avoid, treat and prevent pain in your three-legged hero!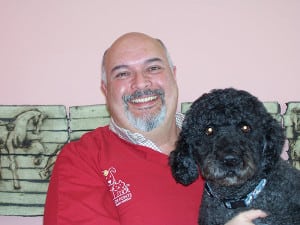 On Sunday January 25th we are honored to welcome Dr. Mike Petty, DVM, CVPP, CVMA, CAAPM, CCRT. As a world-renowned expert on veterinary pain management, founder of Arbor Pointe Veterinary Hospital in Michigan, a faculty member of the Canine Rehabilitation Institute, immediate-past president of the International Veterinary Academy of Pain Management (IVAPM) and co-author of the 2014 American Animal Hospital Association Pain Guidelines (among many other distinctions), Dr. Petty's steadfast and heartfelt dedication to pain relief is creating better lives for pets and humans alike.
On this episode we will discuss Dr. Petty's upcoming book, Dr. Mike Petty's Pain Relief for Dogs, and how the insight it provides can help Tripawd dogs lead a long, happy, pain-free life.
For more info see: Vet Expert Dr. Mike Petty Shares Tripawd Amputation Pain, Rehab Care Tips
*Dr. Petty's upcoming book is titled Pain Relief for Dogs. While this show will primarily focus on canine pain management, he is a veterinarian and welcomes questions about cats.
Guest: Dr. Mike Petty, DVM
Date: Sunday, January 25, 2015
Time: 6:00pm EST (3:00 Pacific)
Duration: 30 min.
Call In Number: (646) 716-5450*
Tune In Here: http://www.blog…..f-for-dogs
Call in with your questions or post them here no later than Friday, January 23. Join us in the live Tripawds Chat room during the show!*You do not need to call in to listen to the show. Only call if you have questions you would like answered live on the air.
The podcast will be posted here as soon as it is available. Hear all previous Tripawd Talk Radio podcasts in the Downloads blog, or see the program archives and schedule on BlogTalkRadio,