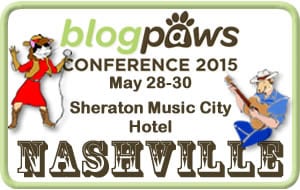 The Tripawds Nation will once again be represented at the annual BlogPaws conference, this year being held in Nashville, TN, May 28-30. Your very own Admin will once again be speaking, and spokesdawg Wyatt Ray will be helping us spread the word about the new Tripawds Foundation!
Anyone interested in attending the conference can save on registration with this promo code: BP15-Speaker-10off
Register online here and tell all your blogging friends or pet-industry pals!
Nominate Tripawds for Nose To Nose Awards
Got a favorite pet blog? We know you do!

Please consider nominating the Tripawds Blogs Community or the new Tripawds Foundation Blog for one of the following categories in the 2015 Nose To Nose Awards competition!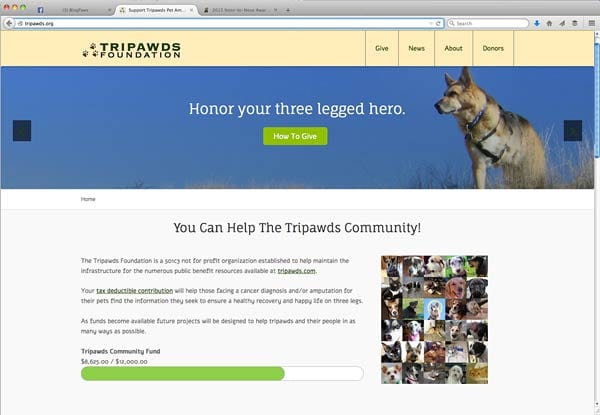 Just imagine hearing Wyatt cheer as they announce…"And the winner of Best New Pet Blog is: Tripawds.org!"
Admin is quite proud of the new Foundation website so maybe it deserves accolades for Best Pet Blog Design.
Of course, either tripawds.com or tripawds.org might deserve the Best Cause Blog About Pets Award. You decide!
Got a favorite photo or video in the Tripawds blogs? Let the judges know!
Our suggestions follow, but we are biased…
Tripawds Foundation (tripawds.org)
Best New Pet Blog
Best Cause Blog for or about pets
Best Pet Blog Design
Tripawds Blogs Community (tripawds.com)
Best Cause Blog for or About Pets
Best Written Pet Blog Post
Best Pet Video
Best Pet Photo
Find more information about the Nose To Nose awards and the conference on the BlogPaws website. Stay tuned for updates as the event draws near. Thank you for your support!