Puppy Up everypawdy! What an honor it was to to walk alongside Luke, Indiana and Hudson last Sunday as the trio completed their final mile of an amazing 2,000-mile epic hike along the West Coast from Canada to Mexico.
Luke and the Boys reach Mexico border after 2000 mile walk.
As founder of the 2MillionDogs organization (now The Puppy Up Foundation), Luke just completed his second 2,000-mile journey to raise awareness about canine cancer research, which began in May of this year. Do you know anyone else who has walked this far, for this long, all for one cause that they believe in? We sure don't!
Team Tripawds walks The Final Mile with Luke Robinson.
We've been long-time admirers of "The Big Dog" and his efforts to put canine cancer in the public eye, ever since he took the first steps of his "Austin to Boston" canine cancer awareness walk back in 2008. That year we were fortunate enough to help host his Austin send-off party with our fearless leader and Tripawds Founder, Spirit Jerry.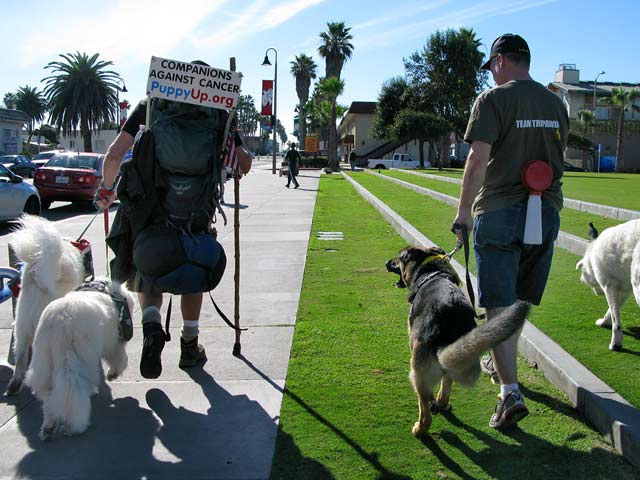 Tripawds spokesdawg Wyatt Ray cheers on Luke and The Boys.
Luke lost his Great Pyrenees dog Malcolm to cancer in 2006. And since that dreadful day he's been more passionate than anyone we know to help fund research for canine cancer causes and prevention. The incredibly tough times that Luke and his dogs have endured on his two epic journeys leave us awestruck. Nobody we know has that kind of guts—and this time Luke proved it while wearing a skirt rockin' a kilt on his entire walk!
Fans gather to celebrate another 2 Dogs 2000 Miles journey.
As Team Tripawds walked The Final Mile with Luke, Indiana and Hudson and a happy group of Southern California dog lovers and admirers, we really felt Jerry's presence alongside us—even as Wyatt Ray loudly led the pack the whole way!
Jim, Luke, Wyatt, Indiana and Hudson rest and rejoice after The Final Mile.
The Puppy Up Foundation which Luke founded has directly given over a quarter of a million dollars to studies that search for the links between cancer in pets and people, and contributed another $100,000 in education and awareness initiatives. It is one organization we strongly support through events like the nation-wide PuppyUp Walks.
Wyatt and 2 Million Dogs fans say, Puppy Up!!!
The foundation is committed to discovering the common links between canine and human cancers and the causes of these cancers through comparative oncology research. The organization accomplishes that mission through a variety of ways including education and awareness, empowerment and mobilization, and investment in research. The field of comparative oncology is relatively new and Puppy Up continues to educate people about its tremendous potential through its global campaign of strategic partnerships, seminars, speaking engagements, social media, events, broadcasts, nation-wide PuppyUp Walks, and other activities. For more information about the Foundation, visit www.puppyup.org.
To learn more about Luke and his mission check out the above video interview from our meeting back in 2008, or listen to our podcast interview with the Big Dog on Tripawd Talk Radio.