Once you walk down this journey, the Tripawd Spirit is always in your heart. Many pawrents find that loving a three-legged dog or cat is something they want to keep doing even after their three-legged hero becomes an angel. Take Tripawds Community Member Karma, for instance. She's an amazing help to this community; you'll often find her in the Tripawds Chat Room, comforting new members with stories about her own Tripawd experience with not one but two three-legged dogs!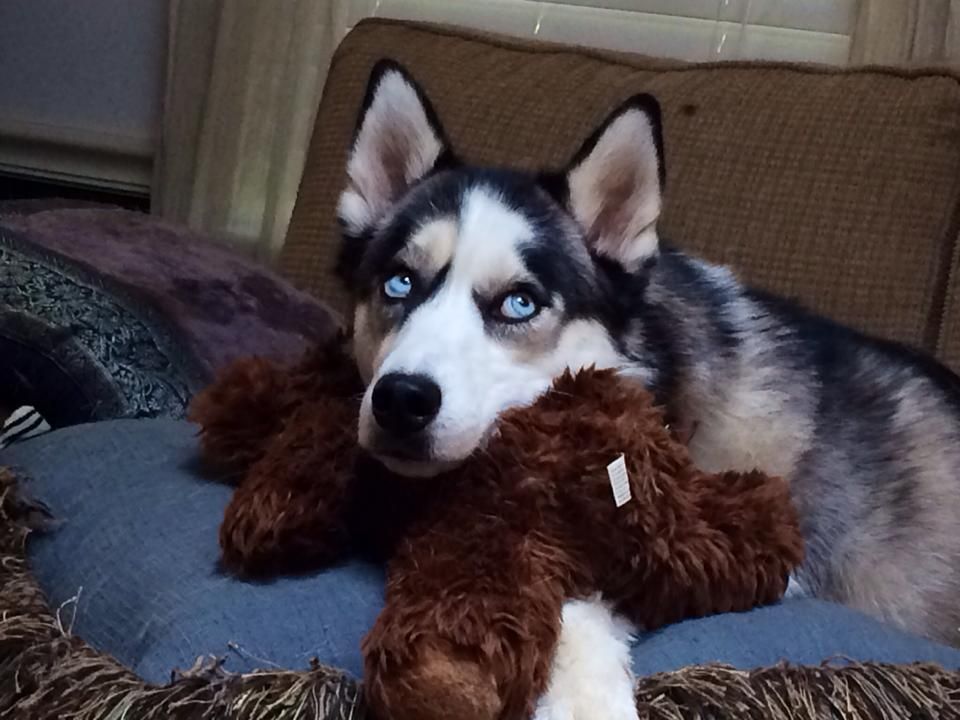 Today's Tripawd Tuesday feature is all about Karma's "Adelaide," a sweet front-leg amputee Husky who found her furever home through the Tripawds Rescue Forum after Karma saw this energetic puppy needed a family.
A Tripawds Community Rescue Success
Karma and her sweet Brendol joined us when Brendol was diagnosed with osteosarcoma in January, 2013. As this strong, beautiful girl kicked cancer's butt on three legs, in March, 2013 Karma spied this post in the Tripawds Rescue Forum:
Atlanta, GA: Young husky tripawd needs home with playmate
About Murphy:
Breed: Siberian Husky
Gender: Female
Age: we are estimating about 10 months old
Date of Amputation: October 1, 2012
Missing limb: front left leg
Special Needs: she is 100% healthy, but she needs a home with another dog that she can play with.
It didn't take long for "Murphy" to win Karma over. She met this three-legged dynamo, brought her home, gave her the lovely name of "Adelaide" and the rest is Tripawd history! Here's how Karma tells it in Addy's blog:
"Fortunately for Miss Adelaide, a nice couple heard about her and decided to take her in from her previous owners. Adelaide is retaining her first name, Murphy, as her middle name in their honor. They had friends that got together and raised money to help Addy get her leg amputated. They did look into getting the leg just fixed. However, the surgeries that were going to be required were very extensive and were not considered a very good option because they had a low success rate estimated.
On October 1, 2012, Adelaide underwent surgery and the leg was removed. The couple that was taking care of her, Tiffany and Blake, did a great job with her during her recovery. They really loved Adelaide and were considering keeping her as a part of their family. However, their older dog, Heidi, was just not adapting to having a young spirited girl in the house. So, fortunately for me, they posted on the tripawds forums that they were looking for a home for this sweet girl.

Miss Addy was adopted into my home on Tuesday, March 19th. She was welcomed by her new sisters, Brendol (who is a recent tripawd due to OSA), Aissa, Mathilde, and Morrigan."
This is just a little bit of the fun that happened when they became a family:
[youtube]http://youtu.be/z-CkJaztxkk[/youtube]
So far Addy's life has been a non-stop adventure and Angel Brendol is now watching over her little sister, making sure she doesn't get into too much trouble when she does crazy things. She is one energetic puppy dog who loves day care, her pack mates and of course her Mamma Karma. Follow along with her adventures at Awesome Adelaide.
[youtube]http://youtu.be/f4yNLWtfIbc[/youtube]
How to Get Featured on Tripawd Tuesday
Each Tuesday, Tripawds from around the world can enter for a chance to be "Tripawd of the Week." Just share your Tripawd's story and you're entered to win! On every Tuesday of the week, tell us about your three-legged hero here in the Tripawds Discussion Forums or on the Tripawds Facebook page. Just follow these easy steps:
In a few short sentences, describe your three-legged hero's story.
Include a photo or video.
Include a link to your Trpawds Facebook page, Forum topic and/or Tripawds blog (if applicable)
All entries must be received by Saturday at 11:59 pm. One Tripawd story will be selected at random to be featured the following Tuesday.