Three legged dog Smudge inspired the non-profit "specially abled" dog rescue Lovey Loaves, Inc. so we are honored to share his story here on Tripawd Awareness Day!
Smudge is our 14 year old Beagle/Shepherd mix. His right rear leg was amputated in April of 2011 after a misstep in the back yard caused him to tear his ACL. Two separate surgeries were unable to correct the damage, so it was decided that amputation would be best for him. This was of course much more traumatizing on us as his human parents than on him, and Smudge embraced his new three-legged status quickly and happily.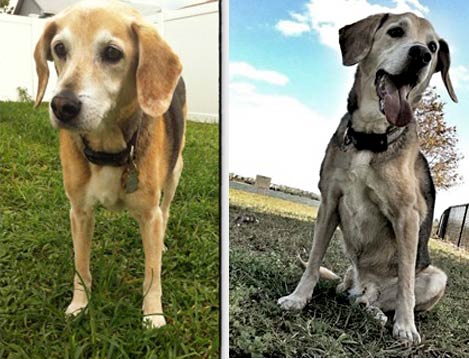 He still runs after the ball, and his smile lights up every room. He is our inspiration everyday, and he was an integral factor in our decisions to begin our own special needs dog rescue, LoveyLoaves.
Please share Smudge's story using the buttons below then check out all the other amazing Tripawd Awareness Day stories and share them to to help us spread the word!