"Living in the Now" is common advice here at Tripawds, and this week we had to do our best to walk the talk after a huge lump appeared on Tripawd Spokesdawg Wyatt Ray's amputation site.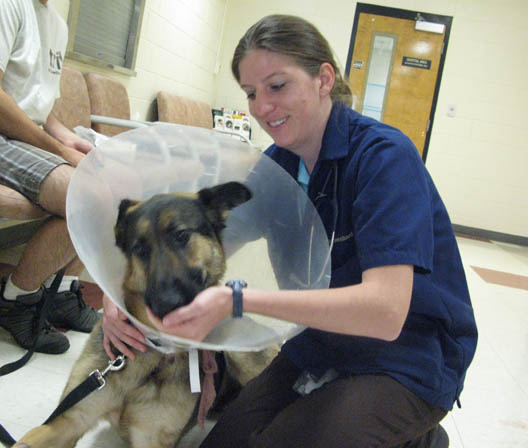 Wyatt isn't a Tripawd because of cancer, but when the lump appeared last Saturday, we couldn't help but have flashbacks to when Tripawds Founder Jerry was diagnosed.
Wyatt is only 2.5 years old, but we've seen Tripawds as young as 15 months get diagnosed. After his local vet couldn't diagnose the swelling, we feared that this awful disease was happening to us again.
Old Shoes Hurt
Fortunately we're only an hour from one of the best veterinary teaching hospitals in the world, Colorado State University. That's where Wyatt had three of the hospital's most experienced soft tissue surgeons looking at his stump this week, trying to figure out where the swelling was coming from.
The wait was excruciating and put us right back into the shoes everyone wears when they first join this community. Wearing them again was painful.
Good News: No Cancer
Tests confirmed he didn't have cancer, so Wyatt went into surgery on Wednesday for 2.5 hours to uncover the cause. After digging and probing, surgeons concluded that Wyatt's amputation site was infected from "foreign material" that was trying to work its way out of his stump. The material and infected tissue is being sent out to a lab for evaluation and a final diagnosis.
Wyatt is finally home, high as a kite on Tramadol and looking very spacey, nervous and tired. Here we are once again, taking care of a post-op Tripawd.
We're a little smarter than we were last time, but it's still nerve wracking. Wyatt's wearing a surgical drain that been stitched into his side. The drain looks like a hand grenade and we're supposed to empty the fluid as it accumulates. This is something new to us.
He's also on pain pills and anti-biotics, has post-surgery bruising and we need to watch him carefully until we take him back to CSU on Monday to have the drain removed.
The Bad News: Hip Displaysia
We're thrilled Wyatt doesn't have cancer, but at the same time, we were devastated to hear the surgeon tell us that he definitely has a good case of hip displaysia.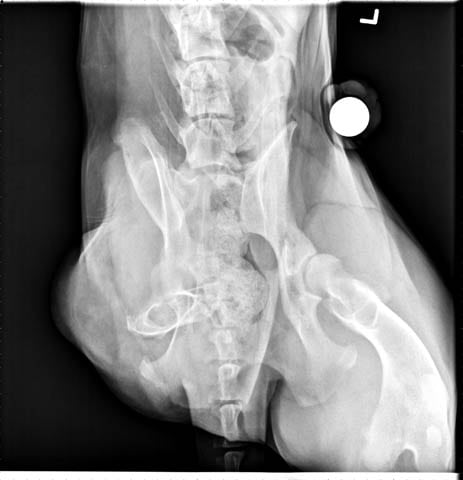 As a rear-leg amputee, hip displaysia is not going to be easy for Wyatt to cope with as he ages. Some day far in the future, the condition will impact all of us in a big way.
But for now, we are going to take things one day at a time, and enjoy every minute of our young, wild and vibrant Tripawd's life.
Thank you everypawdy for your concern about this crazy kid. We'll keep you posted when we have the lab results next week.