Post-amputation suture reactions in dogs are rare. But, as we found out yesterday during our visit to Colorado State University's Veterinary Teaching Hospital, some dogs do experience a reaction to stitches at the amputation site, which can occur even a year or more after surgery.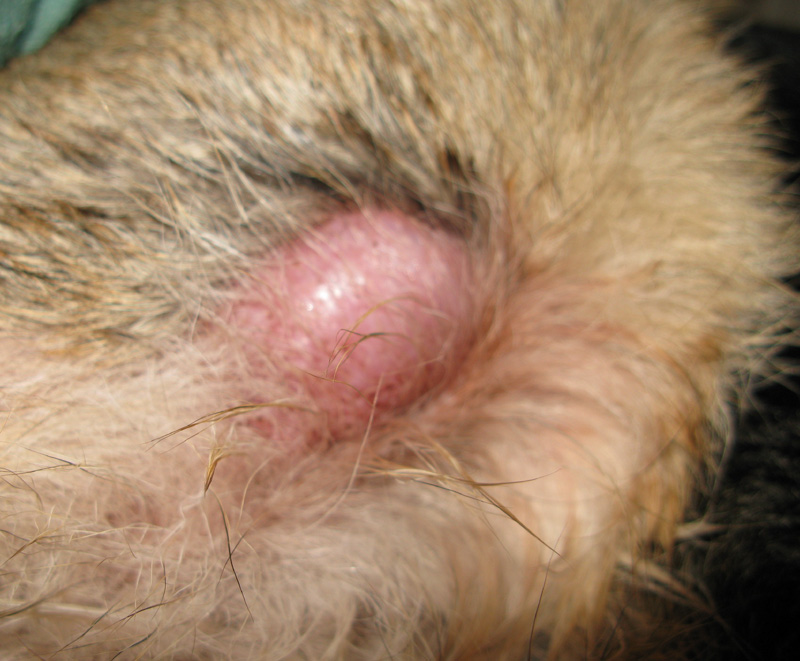 As we wait for news about whether or not Tripawds Spokesdawg Wyatt Ray is having a suture reaction (nearly two years after his amputation), let's talk about this impawtant topic:
Amputation Incisions: A Primer
Amputation sites are closed off using a combination of internal and external stitches, staples or even glue.
These diagrams and descriptions give a detailed outline of how the incision and stitches are made, but in short:
Three layers of a canine amputation incision area must be sutured closed: muscle, subcutaneous layer, and skin
The type of suture material, method and length used depend on the incision location
Internal sutures made deep in the body are typically performed using synthetic or natural material that gradually absorbs back into the body (which can take up to several months)
External sutures on an amputation site usually must be removed by hand
The kind of suture material and brand used by a vet is chosen according to the procedure being done and the material the vet was trained to use at school and in practice.
Most dogs do not have an allergic reaction to suture material used on their amputation site, but some dogs do.
Breeds more susceptible to skin sensitivities, like German Shepherds, may be more prone to suture allergies than others. Some brands of suture material cause a more severe allergic reaction than others.
Unfortunately one of the only ways to tell if your dog is allergic to a type of suture brand is by having surgery.
Symptoms of Suture Reaction in Dogs
If a sudden lump, rash or infection appears at the incision site, it could be a suture reaction. Signs include:
A sudden lump on or around the incision area
Irritation, burning or slight fluid drainage on the lump
If a lump suddenly appears on your dog's amputation site, even months after surgery, have your vet look at it. An allergic reaction to sutures could lead to a staph infection, so get it looked at as soon as possible. In some cases, the incision will need to be re-opened to have the internal sutures removed.
While the lump could be a seroma, remember that seromas appear immediately post-op and often have slow but constant drainage. You'll also see a large, puffy area directly underneath the skin.
Finally, if your dog is having a suture reaction, get the name of the suture material used by your vet. Then, if your dog ever needs surgery again, make sure the vet uses a different type of material.
Recommended Reading
About.com: Veterinary Medicine: From the Forum Veterinary Q & A: Suture Site Healing
Incisions and Healing in Animals, Veterinary Services Department, Drs. Foster & Smith, Inc., Holly Nash, DVM, MS
An Overview of Suture Materials Used in Surgery
Tripawds.com Discussion Forum: Ask a Vet: Suture Reaction
DobermanTalk.com: Discussion Forum: Doberman Health: Dang! Staph Infection
Principles of Veterinary Suturing