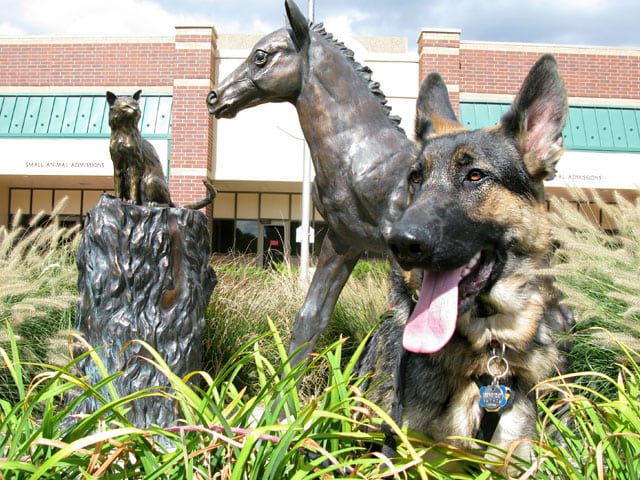 When my pawrents landed at Fort Collins, Colorado in July, they couldn't wait to take Wyatt Ray to check out the Colorado State University (CSU) Veterinary Teaching Hospital and Animal Cancer Center (ACC).
If you've been affected by canine cancer, you've probably heard all of the great things about CSU's cancer care and research. During my cancer battle, I was fortunate enough to have an oncologist who was trained at CSU's Animal Cancer Center.
This is the first in a three-part series about the amazing work being done at the ACC. Our first look here is an overview of the groundbreaking services offered to clients. In our second post, we discuss the ACC's clinical trials. And finally, we'll share what we learned about CSU's Argus Institute, one of the few organizations in the world offering free support services to pawrents making critical decisions about their pet's medical care.
Colorado State University's Animal Cancer Center
CSU's Animal Cancer Center has a reputation for providing the most advanced cancer treatments and research anywhere on the planet. Each day, pawrents from all over the world entrust the care of their beloved furry companions to CSU's world-renowned clinicians.
Our tour guide at the ACC was Dr. Christine Hardy, Director of Operations. Dr. Hardy graciously showed us around, and explained some of the incredible work that happens at the Center every day.
The Robert H. and Mary G. Flint Animal Cancer Center (ACC) opened in 2002, as an addition to the CSU's James L. Voss Veterinary Teaching Hospital. This state of the art facility was built with $10 million dollars, $9 million of which came from private donors, including notable dog lovers like U.S. General H. Norman Schwarzkopf, and renowned Weimaraner photographer William Wegman, whose own dogs were treated there. The building is named for lead donors Mary and Robert Flint of Michigan. Their two golden retrievers, Anna and Eve, were both successfully treated at the ACC for a total of 7 cancers between them and went on to pass away of old age. The Flints believed in the mission of the Animal Cancer to help all species with cancer, recognizing that cancer is one disease that affects many species.
About 1500 new patients walk through the clinic's door each year, accounting for over 6,000 individual appointments. If your Tripawd is a patient, he can receive some of the most advanced cancer diagnostic treatments in the world, and play an integral role in groundbreaking research that helps canines and humans alike.
The ACC's level of care is unprecedented anywhere else in the world. The clinical team includes 3 medical oncologists, four surgical oncologists, a team of dedicated nurses, medical oncology residents, a surgical oncology fellow, veterinary students, and numerous researchers and associates.
If your Tripawd has seen an oncologist, chances are that oncologist studied at ACC. Over 90 percent of oncology surgeons in the U.S. complete their residencies there!
Dr. Hardy says "Our mission at the CSU Animal Cancer Center is to improve the prevention, diagnosis and treatment of cancer in pet animals, translating our research and knowledge to also benefit people with cancer. We do this by offering the latest and most advanced diagnostics and treatments in surgery, chemotherapy and radiation therapy. We attain our mission through an innovative study of cancer, thoughtful and compassionate care, specialized treatment options and procedures."
The ACC offers the world's most advanced diagnostics and treatments in surgery, chemotherapy and radiation therapy. Among their radiation therapy capabilities, one stands out among the rest; the Varian Trilogy Linear Accelerator.
Advances in Radiation Therapy with the Varian Triology
The Varian Trilogy is a linear accelerator that provides radiation therapy with far greater accuracy than ever before. The CSU Animal Cancer Center is the only veterinary institution in the world (they cost ~$4 million dollars!) to have one of these machines.
The Trilogy delivers targeted radiation therapy to tumors at higher doses, with far fewer side effects or damage to surrounding healthy tissues. For some tumors, treatment that used to be spread out over weeks, can now be performed in a matter of days.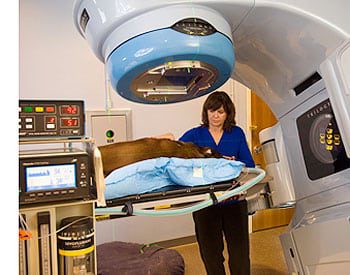 The best part about the Varian Trilogy is that some previously inoperable tumors are now treatable because of the very specific dose of radiation that can be targeted to just the tumor, sparing surrounding normal tissue.
This machine has also allowed the specialists to treat tumors, like osteosarcoma, with a new non-invasive technique called Stereotactic Radiosurgery. At the CSU Animal Cancer Center, dogs with osteosarcoma are being treated with this new method, which can potentially spare them from amputation.
For Tripawds battling bone cancer, CSU offers the most advanced options for treatment.
Dr. Hardy explains; "One of the most common tumors we see here are the Animal Cancer Center is osteosarcoma, which is a type of bone cancer. We see approximately 250 new cases of osteosarcoma in dogs every year through our clinical service. It is a common tumor in dogs over about 50 pounds in size and very similar to the same type of cancer that develops in children. Depending on the specific case, location of the tumor and if it has spread to other parts of the body, treatment options can include surgical amputation, surgical limb spare, stereotactic radiosurgery, chemotherapy, and/or pain management.
Also, because of the similarities between dogs and kids with bone cancer, what we learn treating dogs benefits both species. For example, a limb sparing surgical technique was perfected in dogs by Dr. Stephen Withrow, a surgical oncologist and Director of the Animal Cancer Center, and is now the basis of the surgery performed in children. "
ACC Takes a Holistic Approach to Cancer Care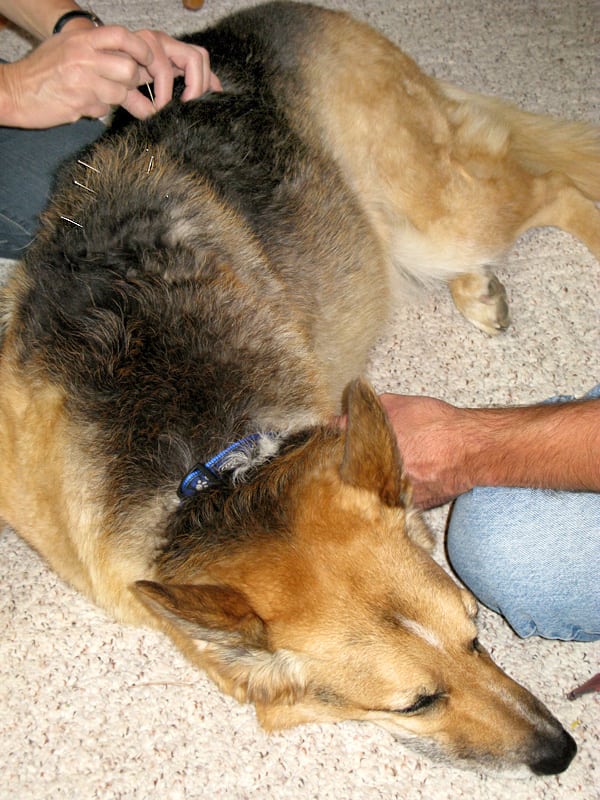 Unlike most university clinics and research facilities, the ACC is going beyond the standard allopathic chemotherapy, radiation and surgical treatments for animal cancer patients. In a forward-thinking, holistic approach to cancer therapy, the ACC is now home to The Charles R. Shipley, Jr. and Lucia H. Shipley Center for Complementary Medicine and Natural Healing.
The Shipley Natural Healing Center is dedicated to the scientific study and application of natural cancer therapies and treatments. Animal cancer patients of the Shipley Center are treated by clinicians who deliver natural therapies that can enhance their quality of life, such as acupuncture.
In our next look at the ACC, we'll discuss clinical trails, and bone cancer specific ones currently being offered to canine cancer patients. And don't miss our final story about the ACC"s Argus Institute, which offers emotional and decisionmaking support people facing serious medical decisions for their animal companions.