Yesterday, a Tripawd pawrent who hasn't posted in the Forums for a while, told us; "I really like the "feel" of the forums lately. There seems to be quite a bit of humor which I think is needed to help balance out the inevitable sadness."
How beautiful that our Tripawd family is there for eachother to offer support, love and humor during good times and bad!  And right now, we are so honored that the momentum continues rolling along with the Tripawds Community Campaign.
Tripawds Campaign Update: Week 3
We've got cause to celebrate this weekend, because we reached 30 pawcent of our goal, bringing us to a whopping total of $2,475!

This week, we received generous assistance from:
Jennifer, in honor of Spirit Hopalong Harley, said:
"To call him a dog hardly seems to do him justice, though inasmuch as he had four legs, a tail, and barked, I admit he was, to all outward appearances. But to those who knew him well, he was a perfect gentleman." — Hermione Gingold
Big Boy Fortis and his Dad, Brett, helped us reach 25 pawcent of our goal with their gift, which qualified him for a Custom SmartyPants Production Video!
And Spirit Cherry's pawrents, Bob and Emily, put us at 30 pawcent of our goal, with a very special contribution to the cause!
Our long-time Tripawds friend and top poster Kim, Mom to Spirit Buster, gave a gift in memory of her handsome boy.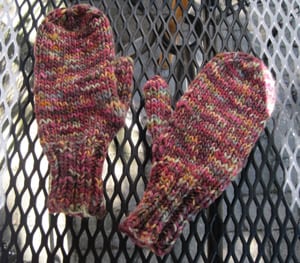 Rockyandme (aka: Michelle) and Dyre's mom (Kimberly) also qualify for a Smartypants video thanks to their generous gifts.
Gayle and Holly's Moms, Charon and Susan, are all knitted out! Their special edition socks and mittens are all gone, thanks to everypawdy's generosity.
Get a Custom SmartyPants Video
CometDog is itching to make pawents custom videos of their Tripawds. She's jealous about the knitting dogs, Gayle and Holly, so she has decided that she will make a free custom video for anyone who contributes $50 to the campaign.
She promises to be nice and won't cut and paste Tripawd pawrent's heads onto alien lifeforms or sea creatures.
Tasha's Challenge
Trucker Tasha just contributed her second installment for The Tasha Challenge!
Remember, Tasha is challenging everypawdy  to contribute $ 50 dollars a month for the next four months. Admin Guy has made it easy for all Tripawds supporters to do this. All you need to do is subscribe for an auto-renewing contribution at levels to meet your budget; either $25, $50 or $150 per month. This safe and secure PayPal subscription will end after four months.
Take Tasha's Challenge Today
!
Take the Pawty Pledge on July 10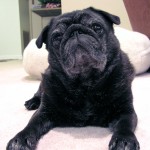 Hey all you cheeseheads, don't forget that Gerry and his Mom are going to pledge to give $10 to the campaign for each pup that attends their
next Tripawd Pawty in Madison, Wisconsin on July 10!
Thanks for Another Great Week!

We hope you and your family have a fun-filled weekend. We really appreciate all of your support and thoughtfulness during this campaign. Thank you all for your continued support!
For anyone who can help with a token of appreciation, remember, the sooner we reach our goal, the sooner we can call this campaign done. Or you can tell every single person you know to vote for Tripawds in the .com contest and if we win the ten thousand bones, this campaign is over!
And finally, Tripawds now has a Tripawds Facebook Cause Page, in addition to our Tripawds Fan Page. Take a look, and then urge your friends and family to join! It costs nothing but it can help the campaign by building awareness of this community and our mission.