Many of us joined this community because we've been affected by canine cancer. It's an awful disease, and we all want it stopped. One easy way we can make a difference is by walking, virtually or in pawson, at the Morris animal Foundation's K9 Cancer Walk in Estes Park, Colorado.
Why We Believe in Morris
Join us in Estes Park Colorado on Saturday, August 21st for a beautiful day in the park. There will be lots of dogs, playtime, speakers, goodies, music, contests and more!
Sign Up Today! Join Team Tripawds Here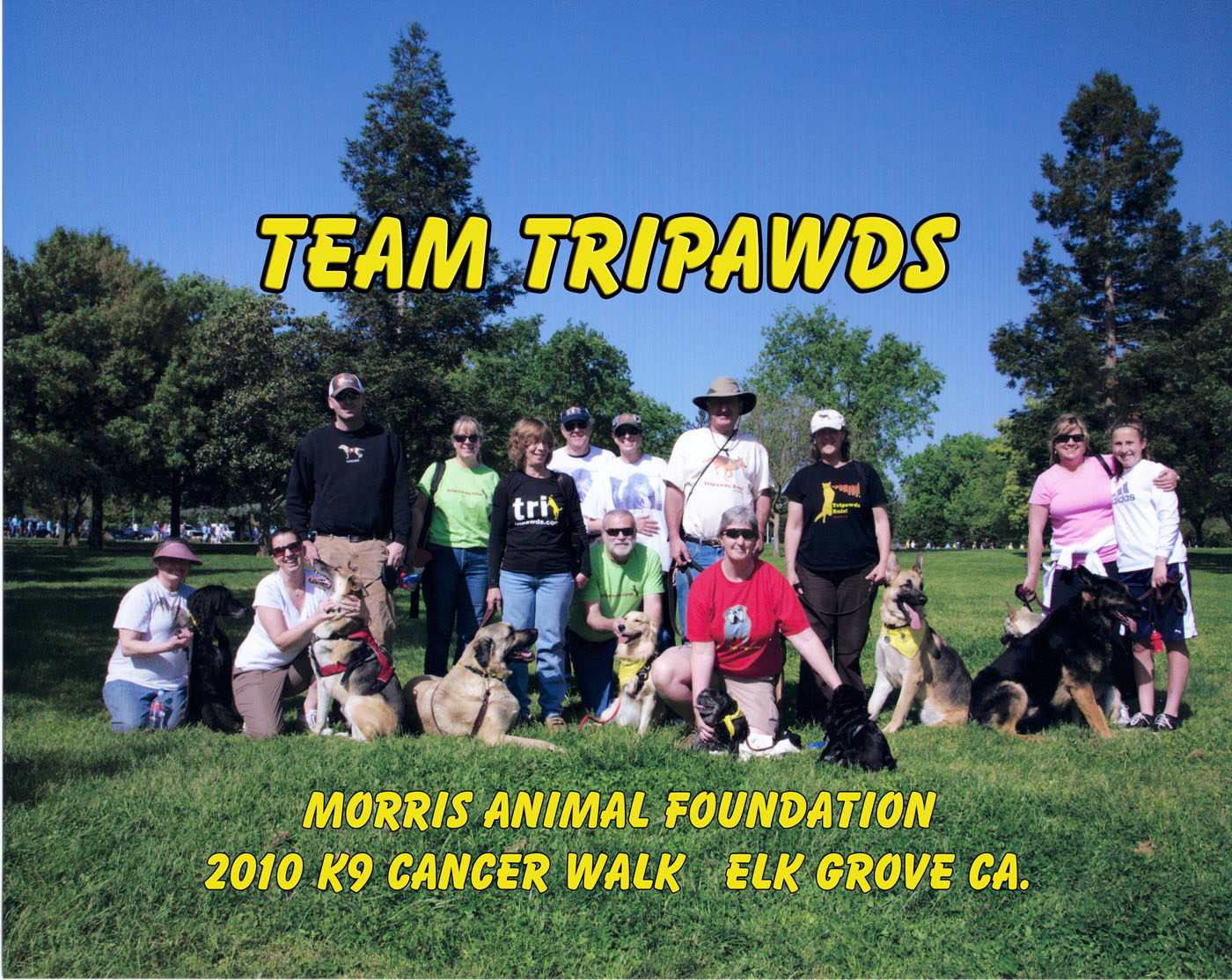 Twice a year we participate in this event, held in Sacramento in spring, and Estes Park, Colorado in summer.
We really believe in the Morris Animal Foundation. They're the oldest and most respected organization on the planet that is helping to end canine cancer.
Morris Animal Foundation launched the Canine Cancer Campaign to help scientists worldwide prevent, treat and, ultimately, cure cancer in dogs. The K9 Cancer Walk program helps fund research that will develop prevention strategies, test new treatments, establish tools for cancer researchers and train new scientists specializing in cancer research.
Let's Do it Again!
In Spring, our West Coast Team Tripawds members walked in Sacramento at the Morris K9 Cancer Walk (photo above). That walked raised over $61,000! We hope this event is even more successful.
Please join us on August 21st in Estes Park, in your hometown, or in your PJs at home! If you can't be wish us in pawson, remember, you can walk "virtually" and be on our team too. Just sign up here to join, it's just $30 per adult.
Can't make it to Estes park for the walk? No problem! Select the Sit and Stay option to support team Tripawds from the comfort of your own dog bed.
Or how about hosting a Tripawd Pawty in your hometown on the same day, and walk virtually with us in Colorado? Imagine, Tripawds all around the country, walking in spirit, together, to help end canine cancer.