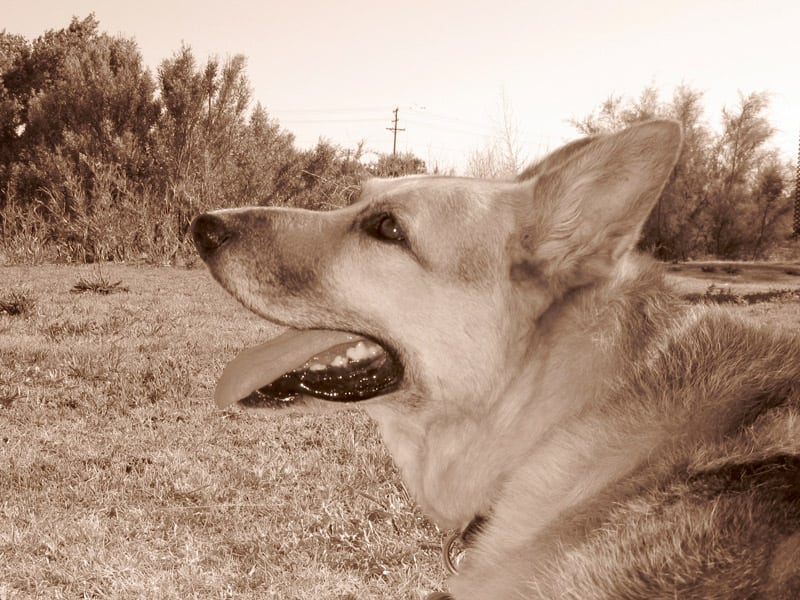 My Soul Is Set Free
The next day we headed north to Yellowstone. It was just like the old days, traveling and hanging my head out the truck window.
I even made it up to the Continental Divide, for about the eighth time in our journey. Only this time, walking a few yards to the sign was all I had in me.
We took lots of pictures. As we got to Yellowstone, I was feeling OK, but very subdued from the bad episode the day before.
When we first started traveling with Jerry, we knew that his time would eventually come. If it happened while we were on the road, our biggest nightmare was that we would have to cope with it in some place we didn't want to be in, some busy city with an unsympathetic vet who didn't know anything about Jerry.
A few days before we got to Yellowstone, I called Calpurnia's Mom, TC., whose sister lives just outside the park. She gave me the name of a vet there, in McAllister, Montana. I tucked it away in the "just in case" file.
That night, my breathing was a little raspy, and my heavy panting continued. My legs felt like jelly, and I was having a harder time getting up and turning around in bed.
Mom and Dad slept in the next morning. At 8:30 am when Mom woke up, she thought it was strange that I hadn't made noises to go outside. I heard her get out of bed, and as she walked over to me saying "Morning Jerry!", she looked down, and saw that I had wet my bed.
"Oh nooooooo! Jerry, baby!" Mom cried out. Our eyes met, and as I lay there, I looked up and told her; "Mom, I'm so sorry, I just couldn't get up to tell you. Mom, I'm tired."
Dad got up to see why Mom was crying. She hovered over me, tears running down her face. I was still laying there. I could not find it in me to get up out of my wet bed.
"It's time," Mom said to Dad. "This is it."
We knew it. This was the sign that we needed to know that his dignity was slipping away.
We always knew that if Jerry's health was going to decline because of this stupid cancer, we would measure his dignity by whether or not he could get up to go potty on his own.
We realize there are many dogs out there that need help in this area, but are still living otherwise healthy, happy lives. In Jerry's case, we felt that if the cancer's effects coincided with incontinence, he would not be living the kind of life he was born to live.
The events of the previous few weeks, along with the incontinence, was the sign that we needed to call the vet in McAllister.
Making that call to the vet was the hardest thing we ever had to do. Explaining our traveling situation to total strangers. Detailing Jerry's health problems coherently, without going into hysterics. Asking them to help us say goodbye. Luckily, Dr. Cashman was incredibly sympathetic, and agreed to help us that day.
We cleaned up Jerry, put him in the truck, and drove away from Yellowstone. It took everything we had to stay calm and centered, for his sake.
We drove quietly for two hours through the beautiful mountains. The vet's little office was located at the end of a rural country road, in a setting that felt like home. Puffy white clouds floated across the big blue sky. This was the classic picture of Big Sky Country, Montana.
We went inside to meet Dr. Cashman. Our fears were put aside as we met a wonderful group of women who run the Meadow Creek Vet Clinic. Showing a great deal of compassion, they understood our situation as traveling fulltime RVers, and took the time to explain the euthanasia procedure to us.
Dr. Cashman would use two injections: one to sedate Jerry, and then a second drug which would be responsible for saying goodbye. She gently suggested that we allow her to use a catheter for the injection (a nominal extra fee) as dogs who have been on steroids typically have collapsed veins that are hard to locate. A catheter would make the injection go a little smoother, and be less stressful for everyone involved. We are so grateful she told us about that, and followed her advice.
Mom and Dad went inside for a while, then came outside. I was surrounded by an adoring fan club, and Dr. Cashman was one of them. She was wonderful!
Dad helped me get out of the truck, and got my Barney blanket and some of my favorite stuffed toys. I plopped down on the lawn next to the office, and everyone loved and cuddled me.
Some dogs were barking out back, in the boarding kennels. I hopped over to them, and said "See ya on the other side, guys." I plopped down tired, then went back to lay down on my blanket with my Dad's help.
We spoke to each other in dog, that language that only pawrents and their furry kids understand. Mom and Dad's eyes were all watery, and they thanked me for all that I'd done for them. We made promises to meet up again some day.
Then, Dr. Cashman and her assistant held me close, and gave me lots of love. I felt a tickle on my leg, but I wasn't scared at all. I was just so tired.
One needs to be totally prepared for the final vet visit when the time comes. There is no second guessing at this point. We decided to remain with Jerry during the procedure, keeping our promise to be with him until the bitter end. Not knowing what to expect, we did the best to prepare ourselves for the worst. And though the tech had a difficult time finding a good vein for the catheter, once it was in, his passing was quick and peaceful. 
"You're going to be OK," Mom told me. "Thank you Jerry," said Dad. Tears began to flow, but they feigned strength as they stroked my fur and held me close.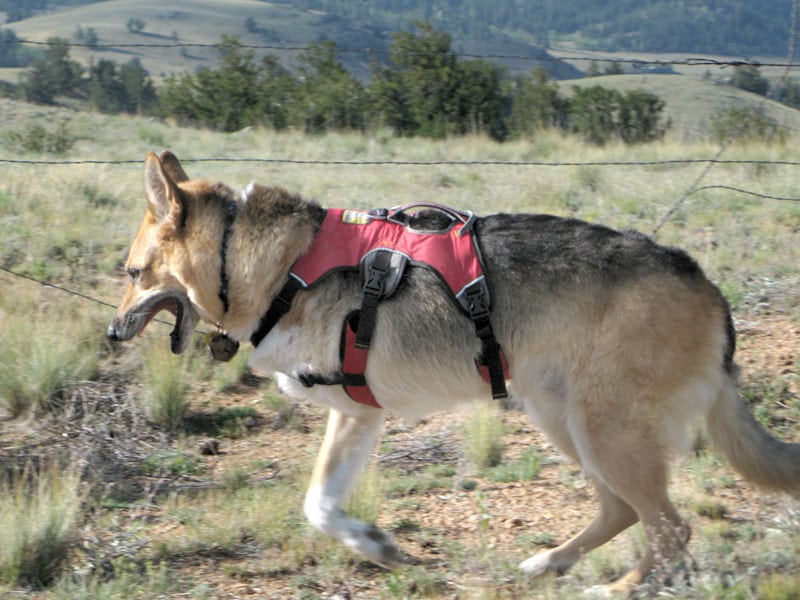 Within a minute or two, I felt so much better. All of my pain was gone, and I was free again!
Up I went through the sky, my spirit soaring high above the big puffy clouds! I was running again! Chasing rabbits and chickens! Swimming! And then I saw Lalla . . .
Some harsh realities do exist that one must also be prepared for, if they choose to know. Being the first time for us, we found it therapeutic to know.
Once  I was released from my broken body, my pawrents laid with me quietly for nearly a half hour. My muscles didn't move as the vet mentioned they might. But my eyes didn't close either, as she said they wouldn't.
In search of total closure, my dad requested that he carry me inside. The vet cautiously told him that I would be kept in a freezer until the funeral home could pick me up the next day. He acknowledged the fact, and also understood my limp body must be put in a bag. He helped the vet do this, then gently laid me to rest, knowing that at this point I was free and my body was but a shell. A broken shell at that.
My pawrents made the smart decision to pay for the visit up front so they could just leave afterwords. And it was probably the least expensive vet visit I ever had! While they silently drove back to Yellowstone, my dad swears he sensed me running through the sky along side the truck, all the way.
As hard as it was, we were extremely fortunate for this to happen in such a beautiful place, with such wonderful people. Even the sweet folks from At Home on The Range pet cemetery helped make this more bearable than we ever thought it could be.
We said goodbye to Jerry on a Friday. When we inquired on Monday about his remains, they said he was ready and offered to meet us as we passed through town to deliver a beautiful tin in a velvet bag.
Jerry will keep traveling with us until we find that special piece of land with the large shady tree to call his forever home.