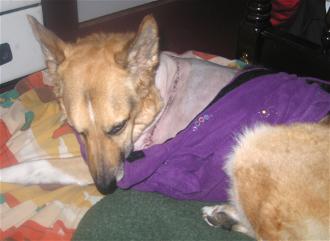 It may not look so much like it but I am really glad to be home, even if there are no turkey leftovers this year. I can tell Jim and Rene are happy that we're all finally home too!
They took more pictures of me but you'll have to check out the Photo Album to see the gory ones. Rene thinks they're gross, and she wouldn't even let Jim get a copy of the CT scan from Dr Stipnik … she said he was kind enough to go in to the hospital on Thanksgiving day to discharge me so I could come home.
The scar may look bad but I sure like it. You should've seen the mass they took out with my leg. It was huge!