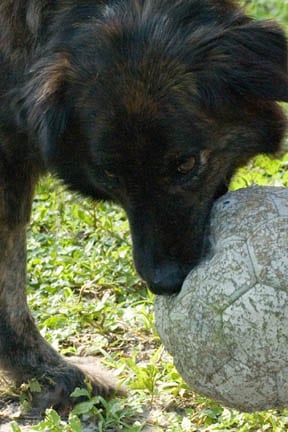 We got the sad news that our friend Timber lost her fight with osteosarcoma. Timber was a beautiful nine year old girl who became a tripawd last July.
Being a tripawd didn't change Timber's quality of life. She used a doggie door like a champ. She still played fetch with her favorite soccer ball, and loved pushing around her 13 pound bowling ball.
Her Mom, Crystal, deeply saddened by the loss of her beloved family friend, wants to remind us:
My advice to those that have any animals not just tripawds or cancer survivors, don't take any day you have with your pet for granted. Their lives are so short and it is our job to make sue they enjoy every day they have.
Even if you are not feeling up to a walk when they want to go for one take them; it will put a smile on your face to see them enjoying themselves. Play their favorite game everyday, at least twice a day. Never be too busy to sit on the floor with your animal to brush, pet, hug and kiss them. Take lots of pictures and video.

Another thing I learned was that you need to make sure you have a good vet that will come out to your house if need be to ease the passing of your pet. Timber hated the vet office and we could not find any vet willing to come to our house no matter how much money we offered them. They all said they were to busy with their regular practice and were unwiling to come out after hours or just never do house calls period. Be prepared and make sure you have a good vet willing to do what is best for your pets comfort."
Our hearts to out to The Grange Family (Brad, Crystal, Timber, Scrappy, Gizmo, Hendricks) and Timber's Grandparents, Ed and Sherryl Socie. We hope that time will ease the pain of losing such a great family member.