Join The Discussion
Learn about life on three legs in the forums below. Browse and search as a guest or register for free to take advantage of member benefits:
Instant post approval.
Private messages to members.
Subscribe to favorite topics.
Join the Live Chat and more!
Tripawd Heroes Book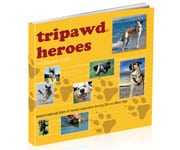 Tripawd Heroes books feature inspirational stories and photos of dogs loving life on three legs!
A
A
A
Bella is doing just fine!!
Yeah, the earplugs sound like a really good idea…..for when you go to the hospital!!! Don't listen to those stories…..Bella sure isn't!!!
As far as "living a long time". Days on a calendar mean NOTHING to Bella!!! Every moment Bella spends with you by her side IS a lifetime of joy for Bella!!! Make each moment count!
Lots of love
Sally and Alumni Happy Hannah and Merry Myrtle and Frankie too!
Happy Hannah had a glorious additional bonus time of over one yr & two months after amp for osteo! She made me laugh everyday! Joined April's Angels after send off meal of steak, ice cream, M&Ms & deer poop!
Hi everyone,
Bella had her second chemo yesterday and all is well.  Her blood counts are good and so far no side effects.  She also started rehab last week, she had a rough time there, they are treating her hind legs with cold lazer,( she had both knees done in the past) so a little arthritis and they feel she will do really well with it.  I have noticed when she comes home from that she is limping a little but the next day she is great.  They have worked out a whole program for her so some weeks she goes once a week and sometimes twice depending on what they are doing.
 She is still not very mobile, she gets up to go outside but that is about it.  We try to get her outside and stay out with her on nice days to encourage her to move around a little more.  They are saying she is most likely depressed and probably grieving we just need to keep encouraging her.  On her good days, she will come to whatever part of the house we are in and lay there, she also still does not want to stand up to eat.  When I go to work I put her water in her dish one of those raised trays so I know she is drinking when we are not there, but if we are home she won't getup to drink or eat.  (I don't know if she is being stubborn or if its too long to stand) when I take her for chemo, they come out with a stretcher, its a pretty long walk back to the room and she is just not doing it.
There is no way she wants to go for any kind of walk.  She gets outside lays down and we have to keep telling her come with us as we move around, some days she does, she will play frisbee with us but she can actually lay there and catch it, but seems to be excited to play.  Sometimes she just has to lift up a little to catch it.
Getting her in the car is still a little tricky, I bought a folding ramp but she slips on it, even with us holding her, any suggestions what I can put on it so she is able to get a better grip. It's one of those plastic ones that folds in 3, it is 72″ long.   I've thought of a couple of things, but it still have to fold to fit in my car.  My husband built a ramp in the back for the deck and she has no problems with that one.
I am anxious for her to be up and moving around acting like a dog again, its a little discouraging that its taking so long.  Any tips I would appreciate it.

Michelle
I had to chcuckle at the vision of Bella happily catching her frisbee laying down! 🙂 Smart girl!! 🙂
Is Bella in any pain med at all? You may try a daily dose of Tramadol (with Vet approval of course). Some dogs need pain meds much longer than others. In my unprofessional opinion it seems she srill is experiencing some pain.
The fact that she prefers to eat laying down indicates to me (again, my unprofessional opinion), she is experiencing some neck-back-shoulder pain.
I can't recall who at the moment, but a dog on here was showing some of those exact same symptoms and it ended up being a hidden neck and shoulder issue. Once it was properly diagnosed and treated, walking improved, eating standing up returned, etc.
You might try PAWZ on her feet for the ramp issue. Very inexpensive booties thst are basically rubber balloons that fit over their paws. Also may try cutting a rubber yoga mat to fit the ramp and see if that helps.
Now, as far as the comment about Bella "grieving" or being depressed". Respectfully disagree! Dogs don't "grieve" the @oss of their leg or feel "depressed" about it. She may be in pain or maybe drawing off any "sad" and depressed energy surrounding her.
This nkur ey can be so emotionally exhausting for the humans. It's hard to realize sometimes our own energy may be having a negative effect. What is your energy like? Is it confident and strong and positive and enthusiastic?
And I may be way off base in this, okay?? But something else that concerned me is that she comes home lame for a day or so after Rehab. To me that sounds like too much physical therapy too soon and too often!!! ESPECIALLY IF she may have a shoulder or neck issue, or disc issue,…or whatever.
Thanks so much for checking in and giving us insight into what's going on. YOURE DOING A GREAT JOB!!!
We would loooove to see a video of her catching the video whily laying down! 🙂 🙂 🙂
Lots of hugs!
Sally and Alumni Happy Hannah and Merry Myrtle and Frankie too!
PS. Stubborn Pug Maggie didnt like change and it took her about six weeks bedore she got on with getting back to her normal routines.
Happy Hannah had a glorious additional bonus time of over one yr & two months after amp for osteo! She made me laugh everyday! Joined April's Angels after send off meal of steak, ice cream, M&Ms & deer poop!
Thanks for the input.  She is on Gabapentin daily and I spoke with the Dr. yesterday about the Tramadol, he said if I think she needs it to go ahead and give it to her.  They did another exam on her and find nothing, however, the therapist said she has a pulled groin muscle, I am thinking from the couple of times she has fallen.  So they are also treating that, her therapy is only 2-3 min of each specified therapy per session, I think the lameness happened from the cold lazer therapy, because the following day she was fine.
Our energy is positive, however, neither one of us pushes her to do much walking or standing because she then whines, so I think it might be some pain.  They said she could possibly have phantom pain , but I don't think so based on when it happens.
I will check out PAWS thank you and also try put the yoga pad on the ramp, great idea, that should fit and still be able to fold.
I will get a video next time and try to post it.
THANK YOU AGAIN..
Michelle & Bella

The Rainbow Bridge

Forum Posts: 23781
Member Since:
25 April 2007

Offline
Hi Michelle,
I'm glad that overall, Bella does sound like she's on the mend. Going through amputation and chemo isn't easy and even strong doggies need the R&R. What concerns me are a few things that Sally has also pointed out:
First, what kind of rehab therapy is Bella getting? As in, what else besides cold laser are they doing for her? Is the practice run by licensed practitioners with a "CCRT" or "CCRP" after their name? What concerns me is that I've never heard practitioners cite depression or grieving as a potential cause of mobility issues. Rather, they would do more definitive diagnosis to pinpoint the issue.
Also, PT should not hurt and a patient should not ache after it's over. It can make a dog tired when they return home, but it shouldn't ever hurt. As Sally mentioned, Bella could be getting too much or the wrong kind of PT. 
When it comes to Frisbee, it makes me really nervous when I hear about a Tripawd playing with one. This recent Tripawds blog post explains why.
As for the ramp, does Bella have a Ruffwear Webmaster harness ? Most dogs have a hard time with ramps if the pitch is too steep, especially a Tripawd. I've found it easier to skip ramps and just use the handle on the Webmaster to help our Wyatt Ray into and out of our vehicle.
Laying down while eating could be a sign that she's really hurting. Did the therapist say anything about that? From what I've learned in talking to therapists, if a dog doesn't want to get up and eat or drink it can be a couple of things: 1) they are in pain or 2) their human has been babying them too much by bringing food and water to them and now the dog expects it. This video interview with a rehab vet explains what I mean:
I hope this helps. Remember all dogs are on their own recovery timeline, but if you know in your heart that Bella should be further along, and if she's giving you pain indicators even after you've tried the vet / rehab therapist's suggestions for a reasonable amount of time, it's probably time for a second opinion elsewhere.
Yes, we are taking her to a certified therapist, and they are basically starting with this lazer therapy for 2 min, then some stretches and exercises and water therapy for 3 min. doesn't seem to be much at all, they did say she has a pulled groin muscle.  I will speak with them again before next appt. 
The oncologist student is the one who said Bella was grieving and depressed, so I just figured if we are upbeat about it she will be too.
Yesterday they did say that all dogs are different and it may take her a little longer, some of the problem may be my husband tends to baby her and I told him that isn't helping so he has been better about telling her to move.  She does stand to drink when we are not home because that is how I leave her water in the stand. and I have seen her do it. but eating if I put her dish in the stand and walk away she just waits.
We do not have that harness yet, right now we use the one from the hospital but she doesn't have a problem using the ramp in the backyard, so again, she can do it.  The ramp for the car is plastic and its a little steeper but we do help her get in just slippery, I am going to try putting the yoga mat on it and see if that helps.
Thanks for all the tips.
Forum Posts: 208
Member Since:
23 December 2016

Offline
It sounds like we have the same ramp – sandpaper-like surface? Mosby hated it, struggled and slipped down it. I peeled the sandpaper off, put some two-sided carpet tape on it, and attached some carpet remnants that I trimmed to fit, and Mosby LOVES it. I have to tell him to stay when I'm putting the ramp down so that he doesn't leap onto it before it's ready.
Mosby is now almost 5 months post-amp and through with his carbo treatments. It wasn't until maybe the last couple of months that he seemed to get over the hump and start feeling better. It took him longer than most dogs to adjust. While I definitely don't agree that dogs "grieve," Mosby absolutely knew something was different, and I could tell he was frustrated that things weren't as easy to do as they used to be. He's finally to the point now that he's adjusted to the "new normal." He struggles with pain in his back and neck, and we can only do very short walks. But he loves sitting and watching the world go by outside, and he still goes to daycare, they just have a special bed for him, and he can happily watch his friends all day and get up to play if he wants. Mosby, like Bella, preferred to eat and drink lying down for a while, too, but he's eating and drinking standing up now. For us, we actually realized that we needed to put the bowls on the floor rather than the raised feeder, because the way he had to bend his neck to eat from the raised feeder was hurting his neck.
Long story short, Mosby is a good example of a dog who took longer than most to adjust, and his mobility is definitely not what it used to be, but he's happy and doing well now. We got there, and he's a happy boy now. I'm sure your Bella will get there, too. It sounds like she's well on her way.
Thank you for the encouraging reply.  I try not to get nervous that it seems to be taking a long time for Bella, but I do believe some of it is that she is simply a QUEEN.  She definitely knows that something is different and not able to do what she did, I am hoping the warm weather will make a difference once we can be outside again.
So happy to hear Mosby is doing well, and I am going to take all these suggestions and work on this ramp this weekend, It does sound like the same one.
Our Bella is the most loving girl, she adores us as much as we do her, it just breaks my heart the way she looks at me as if to say what the heck is happening to me.  I talk to her and tell her its getting better and soon she will be having fun again.  I can't wait for these treatments to be behind us, she appears to be doing well with them, with the exception on the first day after treatment she doesn't want to eat but other than that, they say all is good.  I am hoping that the therapy she is in will help and we just found a place by us that does salt water swimming so we are going to take her there.  She absolutely loves to swim.
Anyway, my best to all that are going through this and love and positive thoughts.
Michelle & Bella

The Rainbow Bridge

Forum Posts: 23781
Member Since:
25 April 2007

Offline
Michelle thanks for clarifying everything, it definitely sounds like you are on the right track with her. She's seeing all the right vet people and has a great team on her side. Something you might want to do is keep a journal of her behavior, so that way when you visit the vets you can let them know exactly what's going on at home.
Otherwise, yeah, some dogs do take longer than others, but we've seen time and time again that the majority do overcome these hurdles and go on to have a great quality of life. Stay strong and lean on us, we're here when you feel discouraged. And don't forget to share some photos and videos of your gorgeous girl, we'd love to see 'em!
Good Afternoon Everyone,
Well Bella has her 3rd chemo treatment just about 2 weeks ago, this one was a little rough in the sense, she really wouldn't eat for about 5 days, pick a little here and there but no substance.  Tried everything, by day 5 we cooked up some chicken and she finally ate.  Fortunately she has not had diarrhea or vomiting, but it appears most likely an upset stomach.  I did speak with the vet and he was ok with that, saying it is pretty normal.  But this time she was really wiped out for a few days.  And I also noticed some urine leaking, I think it might have been because they had to catherise her, she had a bad UTI that we could not clear up and had to be treated with some nasty anti biotics by injections for 14 days.  On the plus side, that is finally gone, all her blood tests were good and clear xrays.  SO HAPPY FOR SOME GOOD NEWS

, not only has this been hard on her but us as well.  We changed her gabapentin(because she doesn't seem to like it) to pregbalin but I don't think its working as well as the gabapentin so when we go back next week we will see what they say about that.
We go to therapy once a week and it really wipes her out.  I think the water therapy is doing her good but when you have nothing to compare to it is hard to say.  She also has some cold laser therapy to help the arthritis in the back legs as well as strength exercies. AND THE GOOD NEWS TRIPAWDS SENT ME A CHECK!  How great is that?  So nice to have a little help, it is so appreciated!!
Now some good news, we have been sleeping in our living room with Bella since all this happened, so yesterday we brought our king size mattress down to the living room, she looked as if to say, finally you brought my bed down, she had no problem getting on the bed in her spot between the two of us.  It felt really good to have some normalcy back.

Will post again soon.  Trying to figure out how to post some pics
Michell & Bella

Here and Now

Forum Posts: 11434
Member Since:
25 April 2007

Offline
mbutterw said
AND THE GOOD NEWS TRIPAWDS SENT ME A CHECK!
Hooray for the Maggie Moo Fund for Tripawd Rehab!

Bella's rehab post and video are scheduled in the Tripawds Foundation blog for later this week.
Trying to figure out how to post some pics…
Here are detailed instructions for adding photos to forum posts . You can upload the photos to the Media Library in Bella's blog and grab the image file link there, to include in your forum post here.
Need further help? Post in the Tech Support forum and we'll be happy to help!
It is with much sadness that I tell you Bella crossed the Rainbow Bridge on Dec. 30, 2017. She was our LOVE, the most loving, loyal and smart dog we have ever had, her loss with be with us forever but I do believe she is at peace and no pain and someday we will be together again.
As many of you know I had a hard time with all this, we still cry all the time thinking of our beautiful girl so I was not up to being on the site,. this is my first time back in many months.   I am so happy to see that so many have had wonderful results.  It makes me happy for all.
Bella had a good summer, she loves swimming and we were able to take her almost every day.  It was just amazing to see her swim, and she was so at peace doing it.  We really miss this big girl being in our bed (sure is different to have room to move).  We had made plans to take her to Florida this winter but unfortunately it didn't work that way.  They told us from the start we might only get 6-9 months and that is just how it was. I had a beautiful memorial made with her ashes they I can display so she is always with us.
I want to thank everyone for all the support and kind words.  It was wonderful and I truly wish for all going through this that you get many happy times to spend with each other.  Treasure every day.
Michelle

Forum Posts: 90
Member Since:
31 December 2017

Offline
I am ao very, very, very sorry.  My heart just breaks for you and I, and all of us,  cry with you.  We all fell in love with her and followed her journey and cheered for her with every post.
Bella had a "slpwe" recovery than some, but she fought through the haze if receovery at her own pace and got to be Bella again!   I'm pretty sure a turning point was when you  oved HER mattress downstairs so she could sleep in HER bed!
We KNOW how much you love beautiful Bella AND how much she loves you!   You gave her sooooo much care and left no stone unturned when it came to her well-being.

And when you needed to give her the gift of release so she could run free, she knew you @oved her enough to do that.  I know the coid has been unbearable and your heart hurts from crying so much.  I also know the thousands of happy memories will continue to push the sadness further I to the background.
Ypu also gave Bella the gift of extended time so she could be spoiled and loved more than anynother dog in the Planet coukd possibly be! 
It made me soooo happy to read she was able to take up swimming again!   Bella was able to be Bella!  You made every mome t with Bella be a lifetime of joy and happiness.
And as she got closer and closer to the Bridge, she saw all the dogs playing frisbee and immediately joined in!  She is pain free and is the Champion Frisbee Catcher at the  ridge!!  And oh my goodness, she foes swimming two and three times a daynin pristine clear laes and then takes lazy napx basking in the warm sun.
Have you gotten messages/signs from Bella that she is still present with you??  You will if you haven't so pay attention!
Bella will show any newbie that, no matter the hurdles of recovery, maturity, arthritis, knee issues, etc, you can get through it a d their sparkle will come back in their own way and at their own pace. She's oourhero!! 
When you can, we would love to hear more about your earthly life with Bella.  And if you need any help.losti g pictures or video, just PM any of us and we can help.
Surrounding you with Bella's eternal presence and "swimmer's wet dog smell"
Sally and My Chunky Spiritual Being Happy Hannah and Merry Myrtle and Frankie too!
Happy Hannah had a glorious additional bonus time of over one yr & two months after amp for osteo! She made me laugh everyday! Joined April's Angels after send off meal of steak, ice cream, M&Ms & deer poop!
Forum Timezone:
America/Denver
Most Users Ever Online: 597
Currently Online: paws120, kbp0419
61 Guest(s)
Currently Browsing this Page:
1 Guest(s)
Devices Used: Desktop (53), Phone (9), Tablet (1)
Member Stats:
Guest Posters: 1005
Members: 12590
Moderators: 2
Admins: 3
Forum Stats:
Groups: 4
Forums: 23
Topics: 14970
Posts: 210770