Join The Discussion
Learn about life on three legs in the forums below. Browse and search as a guest or register for free to take advantage of member benefits:
Instant post approval.
Private messages to members.
Subscribe to favorite topics.
Join the Live Chat and more!
What Is The KillBarney Tour?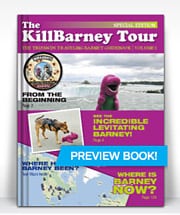 Get the KillBarney Tour Book for photos and stories of Tripawds members around the globe!
A
A
A

The Rainbow Bridge

Forum Posts: 23923
Member Since:
25 April 2007

Offline
Thank you so much Dr. Pam, your input is priceless!
tazziedog said
Regarding CBD oil it should not be an issue for your vet to give you some help but I would say when you are researching a product make sure you can find how many mg of CBD (active product) per ml or drop.  That is how I will determine how much to give.  I always recommend just a few brands that I have researched so I do not know every product out there! There is a wide range of suggested doses depending on what condition you are treating and severity of the problem.

Pam  
Jerry, I also find this information to be priceless! Dr Pam, I do know the mg CBD/ml that I am giving Spike and I'm not sure if you can even answer this for me…is there a certain amount that I should be looking for, as far as the active amount of CBD/ ml? I realize that you can not tell me any kind of dosage, but this is further information that I can take to the Dispensary on Tuesday. 
I am keeping my vet informed, but she is not able to give me any guidance at this point. She is a new vet in town and I understand that she wouldn't want to take any risks outside of her legislation. My vets that recently retired would certainly have been more helpful, but they knew us well.
All this knowledge is super helpful! Thanks for allowing this conversation to keep going!
Petra, Stewie and his Pride



Forum Posts: 1896
Member Since:
22 August 2008

Offline
The oil I use has 30 mg/ml or 1 mg per drop and Julian is a large dog about 220 pounds or 100 kg and he gets just about 1 ml twice daily for his arthritis.  His minimum starting dose was 10 mg and his maximum dose is 50 mg twice daily but he is doing well on the intermediate dose.
All products have a different concentration so what your vet needs to know is the mg per ml or drop in order to tell you how much to give for your dog at his current weight.  This is for CBD oil only as I have no experience using the medical marijuana product with THC.
Pam
Dr Pam
thank you so much for sharing this information with me! I am going to get some answers from the dispensary and then we will go from there. I am hoping to get a much clearer view as to where to start with Stewie. 
Spike our 19yr old cat is still doing very well and seems to be in far less pain! He is moving around very well and jumping down from his chairs with no problems! He has gained 0.02kg in the last week and Paul and I are loving the results thus far! Just to reiterate that Spikey is on a low dose of CBD oil only and has been on it for about a month now.
All thevery best to you
Petra, Paul, Stewie and his Kittens


Virginia


Forum Posts: 16472
Member Since:
22 February 2013

Offline
Kist wanted ro add a link to a great post Michelle  made on this
Happy Hannah had a glorious additional bonus time of over one yr & two months after amp for osteo! She made me laugh everyday! Joined April's Angels after send off meal of steak, ice cream, M&Ms & deer poop!
Thanks Sally! Great links to some hope that our governments are going to get their poop in a group and start some proper studies on the benefits of CBD oil for our fur babies! 
Spikey is continuing to do super well on his CBD oil and Super Stu has just started on his dose!
Here's to quality and hopefully an extended quantity of life!!!
Petra, Super Stu, Spitfire Spikey, Chester McCool, Snoozin Lily and wannabe (no) wandering Ted! 😉




Livermore, CA

Forum Posts: 3245
Member Since:
18 October 2009

Offline
…are going to get their poop in a group…
My new favorite phrase!!! I can't wait to use it  



Karen
Tri-pug Maggie survived a 4.5 year mast cell cancer battle only to be lost to oral melanoma.
1999 to 2010
I am cheating right now folks, as I am just copying a reply from another post, I hope you don't mind as most of you have already read this update…
Everypawdy is doing great here! We have had Spikey, our 19yr old cat on CBD for close to two months now and he is doing fantastic on it! He is far more comfortable looking and he is sleeping more soundly. He is still King of the house enough to tell visiting puppies to back off and stay away from bugging an old man! He has is hungry all the time and is gaining weight little by little! Dr Laurie got to see him last week and is super impressed with his body weight and at how well he did at the vets! (It was so lovely to have the opportunity to meet our new vet with Dr Laurie doing the introductions!) 
Stewie was started on his program on May 8th and the best way for me to explain how well he is doing, is to explain that we have just had a house FULL of 4 Dawgs, 4 Catssss and 5 people! He played, he protected, he taught lessons to a puppy and he came down to the beach with us on the first day. And then just relaxed when we were away from him. He had no set backs what so ever. No stiffness of his neck and is sleeping soundly! As some of you know, Stewie has over done it in the past and has been crippled up for two to three days at a time. Not this time! There is another puppy we went to see on Monday, a very bossy Pitbull/Husky cross and with a little guidance from me, he did fantastic and the other dog got bored with bugging him and all was fine within no time at all! 
Our new vet has been made aware of the doses that we are working on with both of our special fur babies and is thankfully, behind us all the way!
Much Ruvin fromSuper Stu and his very happy Kittens




The Rainbow Bridge

Forum Posts: 23923
Member Since:
25 April 2007

Offline
 will you be going to the June oncology conference in Seattle?
No, we won't be going. You're talking about the ACVIM right? It's not an oncology-specific conference. Bummer we aren't going since we are actually in Washington right now, but the fees aren't in our budget. It does look interesting though.
Would one consider cbd thc a if there is no pain present?   For the other reasons besides pain?
It is often given for other conditions like anxiety. You may want to review our CBD / cannabis articles in the Tripawds Nutrition blog.
Forum Timezone:
America/Denver
Member Stats:
Guest Posters: 1005
Members: 12749
Moderators: 2
Admins: 3
Forum Stats:
Groups: 4
Forums: 23
Topics: 15021
Posts: 211486