Caring for a Three Legged Dog or Cat
Tripawds is the place to learn how to care for a three legged dog or cat, with answers about dog leg amputation, and cat amputation recovery from many years of member experiences.
JUMP TO FORUMS ↓
Join The Tripawds Community
Learn how to help three legged dogs and cats in the forums below. Browse and search as a guest or register for free and get full member benefits:
Instant post approval.
Private messages to members.
Subscribe to favorite topics.
Live Chat and much more!
Find out in Be More Dog: Learning to Live in the Now by Tripawds founders Rene and Jim. Learn life lessons learned from their Chief Fun Officer Jerry G. Dawg! Get the book and find fun gifts in the Be More Dog Bookstore.
3 1/2 year old lab diagnosed with osteo, so conflicted on what to do, advice?
Add Reply
Add Topic
Suki
Hey everyone! I stumbled upon your community after getting the terrible news that my baby yellow lab, suki, of only 3 and a half has osteosarcoma in her front right wrist area. She begin limping after an intense playing session of a few hours with the neighbors dog. We took her to the vet the next day, they said it could be a fracture that didn't heal correctly and we were going to get a biopsy to make sure it wasn't a tumor. To our complete shock we receive a call with the worst news possible. The next step they suggest is amputation and chest x ray. Obviously, all of you in this group are tripawds, so I need your encouragement and advice and anything you can offer that amputation is the way to go. Suki just seems very happy still, just bored that she can't go out on walks or play because of her limp and fear of breaking her leg. A concern with the amputation would be her weight, she is 80 lbs but also big boned and bigger than most other labs, she isn't lean but isn't obese either. What should I be expecting after the surgery? I know that it is in no way a cure, only a way to eliminate the pain and hope that she can still go on walks without being in pain and limping. Should I have a chest x ray first to see if it has spread and see if the amputation won't give her much time anyway? It's so hard to decide what to do, to know if you are doing it for her benefit or am I being selfish? How long is recovery for the amp and looking back, was it worth it ? Would i be getting a happy last few months instead of a few months with a dog in pain? Also if i do amputation, what are your thoughts/regrets for chemo? Thanks for any input, hardest week of my life.

Columbia, MO
Forum Posts: 483
Member Since:
10 December 2011
Offline
I'm so sorry to here that Suki has cancer.  She is so young!  What does your vet think about amputation?  Does he/she think she can handle it with her size?  My lab/wolfhound mix Daisy was 82 lbs at the time of her amputation.  She has done pretty well considering she has pretty bad arthritis (why she lost her leg).  The recovery period is normally 2-3 weeks.  Front leg amputees can still take walks (and run and swim, too).
I cannot speak to chemo as I was fortunate not to have to deal with cancer.  Hopefully those with cancer/chemo experience will chime in.
Best of luck...
Marla and Daisy
My Two Tripawds...Biscuit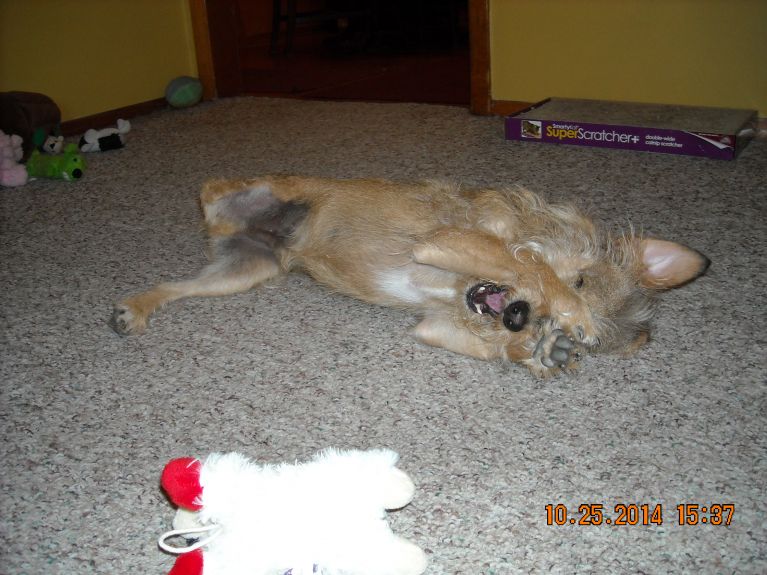 and Spirit Daisy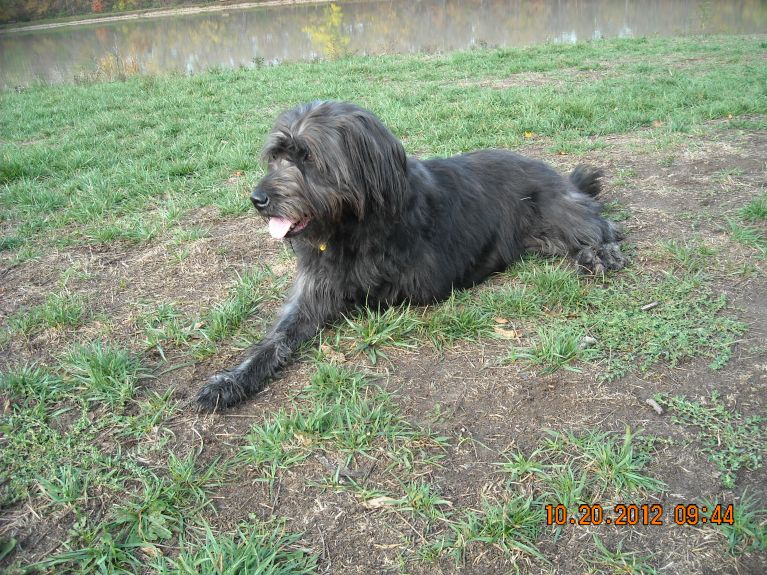 cherylg
I feel for you..It is such devastating news.  I have a 6 year old newfie who was 150 lbs. at the time that developed a bump in her back ankle back in July.  I went to the vet in August and it was diagnosed as bone cancer.  Her chest x-ray was okay.  I elected not to do anything right away as Mocha was doing fine, running, playing, walking, etc.  I started her on a new diet, no grain dog food, real chicken, spinach, yogurt, along with supplements.  She was doing extremely well for 2 months until literally overnight her ankle swelled up and she developed ulcers.  She also got so sick and was limping so bad and we knew she was in so much pain that she acted like she was in a comatosed state.  We practically got no response from her.  I called the vet who told me to bring her in.  I really thought the end was here and that we would have to put her to sleep.  Well, it turned out Mocha had a high fever which contributed to the comatosed state, so she got antibiotics but as for the pain that wasn't going to go away but only get worse.  Our choice was to put her to sleep or amputation. Our vet said she would do fine with amputation as most dogs adjust very well.  I was so worried the day of her surgery and couldn't wait to pick her up the next morning.  She came running out of the vet's office the next day to my surprise.  It has been 4 weeks since the surgery and i don't regret it one bit.  It's a long recovery, she isn't the dog I was used to and probably won't be ever again.  But at least she is here with us and we got to celebrate her 6th birthday last month. 
Your dog is young and should have no problems adjusting to 3 legs but just be aware that the recovery can be longer for some dogs than others.  Mocha is very hesitant to get up from a laying or sitting position but once up she can walk pretty good.  Does have to stop every few yards or so but gets up and walks some more.  My feeling right now is that she's somewhat depressed and maybe becoming a tad lazy about using her legs.  I'm thinking about physical therapy as they would know the right exercises for her.  We are not considering chemo as I don't want to put her through that at this point.  She's been through enough and I feel that amputation at least took her pain away and hopefully with time she will become a little more energetic.  But if you go into this knowing that the recovery isn't always a piece of cake and can be quite frustrating for both you and her, it will be easier to get through this.  I found this website after Mocha's amputation because I was so confused about whether Mocha's recovery was normal or not.  Nobody had informed me that it would be challenging at times.  But is it worth it?  You bet!   To have more time with Mocha is priceless. 
I wish you all the best in your decision making.  It is a hard decision to make but amputation really isn't as bad as it sounds.  As for chemo, I can't help with that.  Definitely get the book Dog Cancer Survival Guide by Dr. Dressler.  It is invaluable and very encouraging.  I read it over and over again.  We are all here for you...

Orange County, CA
Forum Posts: 1185
Member Since:
28 November 2008
Offline
Hi there.  Sorry to hear about your pup's diagnosis.  My dog Max also had OSA, in his left front leg.  His leg was amputated in November, 2008.  Max was a good 75+ pounds at the time of amp; his weight never was a problem for him on three legs, he did just fine.  As for his recovery time, Max took a little longer than some of his fellow Tripawds did.  Physically, he was fine right after the surgery; the surgery site was sore, but he did fine.  Personality wise, it took him a little longer than most.  Max wasn't really back to his "normal" self until about 4.5 weeks after the surgery.  However, I think some of that time was probably due to his Mom (me) being depressed about his diagnosis in front of him.  Some dogs bounce back faster though.  We chose to do chemo with Max.  He had 6 rounds of carboplatin, and did pretty well throughout it all.  He had no real side effects until treatments 5 & 6, when he had some diarrhea and didn't feel like eating a lot.
As for chest x-rays, your doctor will probably suggest that.  But please keep in mind, it doesn't have to be bad news if something shows up on the x-rays.  I believe Zeus (zeuspod on the forums) had a spot on their x-rays, and chose to go forward with the amputation.  Zeus did really well for many many months. 
I don't regret one thing we did with Max.  I know the amputation and chemo gave us extra time with him, and we all lived a lifetime in that extra time!
Good luck, and please update what you decide to do!

New Jersey
Forum Posts: 501
Member Since:
27 December 2011
Offline
Hi, I am so sorry about Suki's diagnosis-I know how devastating it is. My Greyhound, Lily, is about 70 pounds and she is 9 years old. She was diagnosed December 2011. She was limping one day, diagnosed with osteo the next day, and two days later had her amp. We opted for 5 rounds of chemo-carboplatin. The recovery was about 3-4 weeks. She did hop out of the vets office, wagging her tail. She has clear lungs, moves slower than she used too, and I don't regret one single thing we have done so far.
We are coming up to her one year ampuversary, and I feel so blessed to still have her. This website is such a wonderful support; I don't know what I would have done without all the beautiful people that are always here for you. 
We are here for you--it's such a difficult and confusing time.
Joan and Lily
Our beautiful Lily was diagnosed with osteosarcoma in her front leg on 12/14/11 at age 8 and had amp on 12/16/11. She completed 5 rounds of carbo. She was so brave and kicked cancer's butt daily! She lived life fully for 4 years, 3 months, and 15 days after her amp. My angel is a warrior princess. I miss her so much.

Sydney, Australia
Forum Posts: 628
Member Since:
13 September 2011
Offline
There are no guarantees with cancer. But, amputation will provide immediate relief from the terrible pain.  My understanding is that most vets do an xray to check for spread to the lungs. If the lungs are clear then amputation is generally recommended (if everything else is OK with health etc).  
Magnum was 40kg (about 80 pounds) rottie who had her back left leg amputated.  She took about 3 to 4 weeks to recover completely from the op.   She got another 8 months of "extra time" after the amp.  She didn't make the 12 month "statistical" average but it was 8 incredible months during which she really enjoyed life and in which our bond strengthened even more than I ever thought possible.  I would do it again in a heartbeat.
We did 6 rounds of Carboplatin chemo.  It did knock her around a little bit, mostly with the final two treatments. But only for a few days at a time. The biggest thing we noticed was that she got nauseous in the car so I had to drive more carefully
 and she got to stick her head out the window (something I'd never allowed previously). She loved it! If it had knocked her around too much I would have stopped it. Would I do chemo again?  I think so.  I think she would have got mets sooner without it (but we'll never know!).
The best advice I can give is plan to get years of extra time BUT live each day completely "in the moment".  Enjoy the extra time that you have with your dog because you can never know what is around the corner.  Cancer is a sneaky, insidious disease. While the focus is on it turning up in the lungs it can turn up again anywhere, anytime.
I have no regrets about the amp or the chemo.  For Magnum and I they were the right decisions. Her quality of life was still good until the bone mets started to impact too much.
Good luck.
Karen and Spirit Magnum
Magnum: 30th May 2002 to 5th May 2012. Lost her back left leg to osteosarcoma on 5th Sep 2011. Lung mets found on 20th Mar 2012 but it was bone mets in the hip that ended her brave battle. Magnum's motto - "Dream as if you'll live for ever, live as if you'll die today" (James Dean). Loyal, loving, courageous and spirited to the end. My beloved heart dog, see her memoirs from Rainbow Bridge ...... http://princess.....pawds.com/
Suki, welcome. This is the club nobody wants to join, but rest assured there IS HOPE! We have known many dogs who have beaten those depressing odds, so we all have our paws crossed that your girl will be one of them too. 
Have you checked out our Required Reading List or our eBook, "Three Legs & a Spare"? Most of your worries will be eased by checking these out, and whatever we didn't cover let us know how we can help ease your fears.
You're wise to be concerned about her weight. Although she isn't the biggest Tripawds, as you know, Labs have a tendency to become, uh, stocky! So do make keeping her leaner than average a priority. Our Tripawds Nutrition blog has lots of great ideas for doing so.
When is her amputation scheduled, or are you still debating the idea?
San Diego, CA
Forum Posts: 2503
Member Since:
29 October 2010
Offline
Sorry you and Suki had to find us here. Our Abby was also very young when she was diagnosed. We did the amp as soon as possible after xrays showed what we thought were clear lungs. A month or so later we knew there was a very small met in her one lung, but we still had over a year with her (15 months total) and it was a wonderful, amazing, unforgettable time.
We did 6 rounds of carbo, and Abby handled it well, but I'm not 100% sure I'd go that route again. Hard to say... We did a mix of holistic/traditional stuff, and of course I wonder what would have happened if we'd gone holistic from the get-go. It's hard to know what to do - but you can make that decision later. The important thing now is to decide about the amp, and if you go forward with it, to get through the recovery.
I know it's all very overwhelming at the moment, but there can still be lots of good times ahead for you and Suki and your bond will grow even greater.
Hang in there and keep us posted on what you decide to do. (There are no wrong answers!)
Jackie, Angel Abby's mom
Abby: Aug 1, 2009 – Jan 10, 2012. Our beautiful rescue pup lived LARGE with osteosarcoma for 15 months – half her way-too-short life. I think our "halflistic" approach (mixing traditional meds + supplements) helped her thrive. (PM me for details. I'm happy to help.) She had lung mets for over a year. They took her from us in the end, but they cannot take her spirit! She will live forever in our hearts. She loved the beach and giving kisses and going to In-N-Out for a Flying Dutchman. Tripawds blog, and a more detailed blog here. Please also check out my novel, What the Dog Ate. Now also in paperback! Purchase it at Amazon via Tripawds and help support Tripawds!
Forum Posts: 5
Member Since:
28 November 2012
Offline

Southwestern Ontario, Canada
Forum Posts: 555
Member Since:
22 November 2012
Offline
I too was in the same boat as you.. not sure what to do.  My Franklin is almost 13 years old.. and has osteosarcoma in his left knee.  When we were advised that in September, I said. no way!  Nope.. not going to amputate, let's just take him home and let him be a dawg.  Well.. he is still so full of energy, life and farts that I could not digest the fact of only have a month of two left without even trying.  
We could let him go with the knee swollen, on pain killers so that he doesn't feel it.. and eventually the knee will blow.  At that time, we would have two choices... amputate.. or euthanize.  Well.. if we chose amputate, then I figured.. why let the happy guy go through the pain of blowing his knee?  
Right now, this very moment, he is at the vets office after having his left leg amputated.  We had the chest xrays done as well and he was clear and clean and good to go!
I have talked to so many people, and read so many posts and watched so many videos here that I believe that is what helped me make the final decision.
Your dog is young, and you will probably have many more years of enjoyment together.  My Frankie could have a few months, a year or maybe a year and a half of spoiling, playing and loving to receive.  After all.. even if it is only a year left for my Frankie.. that's 3 in doggie years!!
I'm about to make the phone call to make sure that everything went ok... crossing my fingers..  please cross yours too!
Christine & Franklin
Franklin, he was the Happiest Dog on Three Legs! Diagnosed 09/26/2012 with Osteosarcoma, amputated 12/4/2012.  Had a wonderful 5 1/2 months painfree until he ran for the Bridge on 5/15/2013.  Always in my heart, and always a guardian angel of my pack...   You can follow his Tripawd Adventures, before and after, in my blog, Frank'n'Farter!
Suki
Hey there all!  Thank you soooo much for all your replies and help.  I've never posted on a forum in my entire life and I never expected so much love and support from complete strangers, you have no idea how much it means to me...and Suki!  We have decided to go through with the amputation, it will be this Thursday morning.  We will have an xray that morning to make sure she has clear lungs first, and as long as they are clear we are good to go.  So many feelings keep going through my head, but mostly I'm just excited that we are going to give Suki a chance to live the rest of her life without the horrible pain and annoyance of the evil growth on her paw. We are also so scared of what it is going to be like when she gets home though.  If everything goes according to plan, we will probably also go through with the chemo.  My husband and I were a wreck all week, but after deciding to go through with the surgery, I feel as though we both have become more at peace with all of this.  I know we have a long road ahead of us, but Suki is worth fighting for.  After all, dogs are people too.
 Sending love to all those tripawds out there! 

Here and Now
Forum Posts: 12472
Member Since:
25 April 2007
Offline
Best wishes for Suki's speedy recovery!
Please consider registering to take full advantage of these forums. For starters, your posts will not require moderation.
I'm glad we could help Suki. Most dogs do just fine, and although there can be bumps on the road to recovery, for the most part, dogs handle it better than the humans do.  Ultimately, no matter how much or how little time you get after recovery, what matters most is remembering that dogs don't mark days off the calendar; all they want is to make the most of every day with their people.
Good luck tomorrow and please keep us posted on how things go. We'll be thinking of you.
suki
Suki came home today and she is already doing amazing. I was so surprised at how well she has already adjusted. I thought I would be so sad when I saw her after the surgery but it was the complete opposite. She is already way happier than she was the week before her surgery. She is loving all the attention, food, and toys she is getting already. She had a little incident when we picked her up when she tried to jump into the back of our SUV like she usually does, she was a little freaked out after she failed at that, but was really happy riding in the car after. I am already so glad that we went through with the surgery, and her pre surgery x-ray showed clear lungs too! She has been whining a little but we think she is just so tired, she is just so excited to be home that she won't sleep! I thought when I saw her I would feel guilt and sadness, but all I can feel now is happy and ready for her to start her new life as a tripawd. I know this recovery won't be easy, but it truly has shown us that everything does happen for a reason and we already feel closer as a family because of it.
krun15
Thanks for registering, your future posts will not require moderation.
Good to hear the surgery is over and Suki is home. And you sound like you are ready to face your new Tripawd life together. As you know, the first couple of weeks can be full of ups and downs. And sometimes we see here that pups come home from the vet feeling pretty good with all the meds, then crash a little. Don't get discouraged! Suki is already surprising you- wait until she is healed up and she will be amazing you!
Keep us posted on her progress.
Karen and the pugapalooza
Forum Timezone:
America/Denver
Most Users Ever Online:
946
Currently Browsing this Page:
1
Guest(s)
Member Stats:
Guest Posters: 1167
Members: 14071
Moderators: 2
Admins: 3
Forum Stats:
Groups: 4
Forums: 23
Topics: 17330
Posts: 242006
©
Simple:Press
—