Caring for a Three Legged Dog or Cat
Tripawds is the place to learn how to care for a three legged dog or cat, with answers about dog leg amputation, and cat amputation recovery from many years of member experiences.
JUMP TO FORUMS ↓
Join The Tripawds Community
Learn how to help three legged dogs and cats in the forums below. Browse and search as a guest or register for free and get full member benefits:
Instant post approval.
Private messages to members.
Subscribe to favorite topics.
Live Chat and much more!
Get the new book by the Tripawds founders for life lessons learned from their Chief Fun Officer Jerry G. Dawg! Download the e-book, and find fun Be More Dog apparel and gifts in the Be More Dog Bookstore.
Monkeybutt-Bunny Vampire
EXTRA EXTRA EXTRA!!!
Monkeybutt Bunny Vampire Pirate has an update!
Mommy spent money on me!  Let me repeat!…….mommy spent money on me! 
She got me this really Neat-O charm!  ……..And she even bought me another collar from Food 4 Less grocery store!  I'm feeling pretty special these days!!!
I think the charm had some Wyatt, can't be quite Ray Dawg's spit on it.  I think he licked it.  I made mommy put some Purell on it.  I can't be having any Tripawd cooties on my stuff!
You are on notice Wyatt Ray Dawg!!!!
Here's a  pic of my charm – you can see me taking the photo!!!

Forum Posts: 14
Member Since:
16 April 2012
Offline
Oh, MBBunny Rocket! You are going to look so handsome with your charm on! (But you always know how to turn on the charm!)
Good call on the Purell.
Nose pokes,
MBBunny Rita
I am a Monkeybutt Bunny. I used to live on the beach in Mexico. Now I have it good. Well, mostly good anyway. My mama tells me about my angel big sister, Abby, all the time. Apparently she was like a big deal or something....

knoxville, tn
Forum Posts: 1705
Member Since:
12 February 2010
Offline
the charm is nice….but that hair is just CRAZYYYYYY!!!!!
Life is good, so very, very good!!! Gayle enjoyed each and every moment of each and every wonderful day (naps included).  She left this world December 12, 2011 – off on a new adventure.
Love Never Ends

El Dorado Hills, CA
Forum Posts: 181
Member Since:
13 April 2012
Offline
Rocket, MBBeans here…..Nice charm…..I told MBSophie about it since she's blind and she said she doesn't really care. But I do. Do you really think Wyatt licks every one?Gotta go…..Beans
Jack Russell born in 2001. Mast cell cancer found Dec 2009 and right rear amputation. Five rounds of chemo done before all treatment stopped. Living life to the fullest!! Read my story at http://rizzo.tripawds.com
Yo dude, what's up with the '80s hair? Are hair bands back?
Hey man, I gotta lick those charms, they need my Tripawd magic touch before they go out, or else the US Postal Service might mess up and lose them.
You know you love it!
Wyatt Ray Dawg . . . The Tripawds Leg-A-Cy Continues!
Read all about my adventures at my Tripawds Blog
Monkeybutt-Bunny Vampire
See! I knew Wyatt, 'mouth wide open' Ray Dawg slobbered all over my stuff!  He may have even licked the stamp and envelope….so I threw all that away, but not before I rubber gloved it!
Thank you, my Sweeta Rita!  I think I'm always charming….I try to be!   And Auntie Charon,  if only we owned a brush at our house…it would do wonders!   You should see mommy's hair too!  I think a brush would do her wonders too!
MBBeans….thanks for noticing me in all my MBglory!  You are the best!  Sorry that MBSophie can't see my new charm and hair shadow.  But I betcha if MBSophie could feel my hair, she'd be glad she can't see!!!!!   Bwhahahahhahahhahahhahahhahhahhahha!
One for the road….
Bwhahahhahahhahahhahahhahhahahhahhahaaaaaaaaaahaaaaaaa!
-MBBVP out
Today is the 3rd. It's a special day for my peeps, not just because three is the magic number, but because it's also the anniversary date of when my spirit buddy Jerry G. Dawg, earned his wings and became an angel dawg.
In honor of this day that means so much to my peeps, Tripawds wants to give you
30 pawcent off your Tripawds Etsy Shop order 
when you buy any two jewelry pieces
USE COUPON CODE "

TRIPAWDS30

" at CHECK OUT
Check out our kewl Tripawds bling for dogs and peeps and see if there's something you or a friend like!
Remember we do custom work too!
All proceeds help support the Tripawds community! 
Wyatt Ray Dawg . . . The Tripawds Leg-A-Cy Continues!
Read all about my adventures at my Tripawds Blog
Hey Tripawders! Just a quick announcement: 
Enjoy Free Shipping on All Tripawds Etsy Shop Purchases.
USE COUPON CODE "TRIPAWDSFREESHIP" AT CHECK OUT.
From now until 8/31 at midnight Pacific Time, the shipping is on us! This is for anything in our store for the three-legged dog or pet lover in your life, so shop away!
Visit the Tripawds Etsy Shop for great jewelry items like these. All purchases go toward helping to support the Tripawds community!
Have you picked your Tripawds bling yet?
Just four more days to get FREE SHIPPING on all Tripawds Etsy Shop items!
Use Coupon Code TRIPAWDSFREESHIP
Hey folks, check out our new charm bracelets! The stamped charms can be customized just for you, so be sure to ask about that option.
This month only, Save 10 Pawcent on any charm bracelets!
Use Coupon Code "TRITEN" at checkout
Visit our Etsy shop today!
The Tripawds Etsy Shop elves are gathering their jewelry tools and gearing up for what we hope will be a busy holiday season.
If any of our personalized metal jewelry gifts caught your eye throughout the year, now's the time to place your order.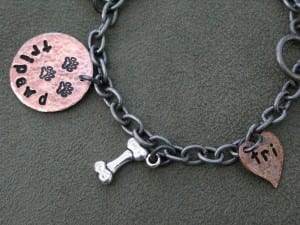 We create keepsake metal jewelry for both pets and people, and can turn any of the designs you see in our Metalwork jewlery into something special for you or someone you care about.
Also be sure to check out our Custom Metal Jewelry selections for pre-designed pieces just waiting to be personalized with your loved one's name.
Shop Early and Save
Place your holiday order before December 1st and save 20% off any custom jewelry valued at $35 or more.
Use Etsy coupon code "ShopEarly."
Here's a Cyber Monday Special for Tripawds Fans:
Spend at least $25 in our Tripawds Etsy shop, get a FREE pink or blue "Tripawds Rule!" Bandanna!
Plus, you can still save 20 pawcent on any metal jewelry with coupon code "SHOPEARLY".
Check out our latest offerings, or contact us for a custom order!
All the items are very neat. Like I can't pick one I like most. Nice work. I was wondering if there was a charm with a cancer ribbon and a pawprint in it that can be engraved in the back?
Dogs: Friends for life, faithful and true.

Courage is being scared to death... but saddling up anyways.- John Wayne

bikeintime.wordpress.com (will soon have Hank story)
Oooh now that's a good idea! I'll start looking. Stay tuned!
I can't wait to see what you can find

Thanks Jerry
Dogs: Friends for life, faithful and true.

Courage is being scared to death... but saddling up anyways.- John Wayne

bikeintime.wordpress.com (will soon have Hank story)
Forum Timezone:
America/Denver
Most Users Ever Online:
946
Currently Browsing this Page:
1
Guest(s)
Member Stats:
Guest Posters: 1094
Members: 11077
Moderators: 2
Admins: 3
Forum Stats:
Groups: 4
Forums: 23
Topics: 16343
Posts: 229581
©
Simple:Press
—