Caring for a Three Legged Dog or Cat
Tripawds is your home to learn how to care for a three legged dog or cat, with answers about dog leg amputation, and cat amputation recovery from many years of member experiences.
Learn how to help three legged dogs and cats in the forums below. Browse and search as a guest or register for free and get full member benefits:
Instant post approval.
Private messages to members.
Subscribe to favorite topics.
Live Chat and much more!
I would like to introduce myself and our "pack"  My wife and I have been married for 29 years,all but 3 of those years we have had dogs in our life. We live in a small rural community in the eastern sierra mountains ( Cal.) . Gunner our 9 year old black lab recently sired a litter of pups, we received one of the pups as compensation. Sadie our new addition to the pack is just now 16 weeks old. On Feb 10th 2012 our lives together changed she suffered a severely fractured left rear leg, this accident has resulted in the amputation of her left rear leg. I have read several topics on this site regarding recovery and care and such, but don't seem to see a bunch about trying to keep up with a 16 week old puppy who is going through this. any comments or direction to topics I may have missed would be greatly appreciated. This is a wonder full site and I am happy I have found it


Columbia, MO
Member Since:
10 December 2011
Offline
Welcome Sadie and pack.  I don't have any experience dealing with a tripawd puppy but others on here have.  Hopefully they'll chime in soon.  My girl is a (almost) 7 year old lab/wolfhound mix that lost her leg to arthritis so she wasn't really active pre-amp (definitely not puppy active anyway).
Marla and Daisy
My Two Tripawds...Biscuit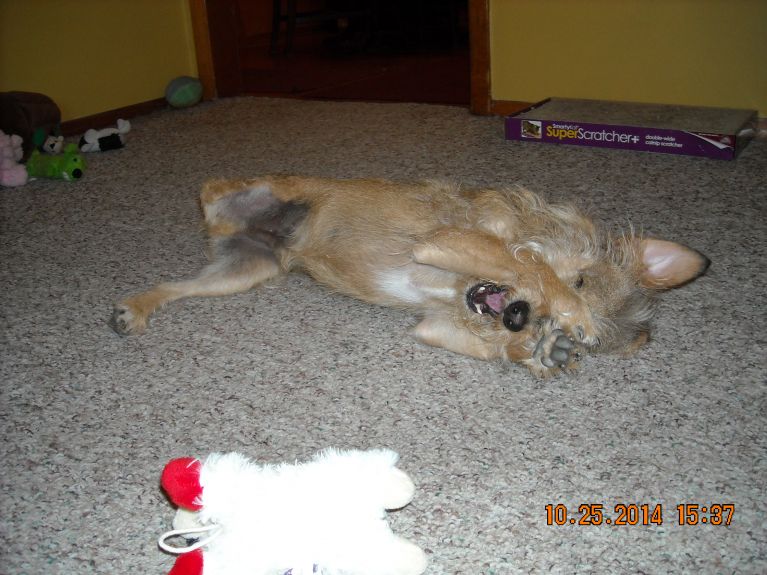 and Spirit Daisy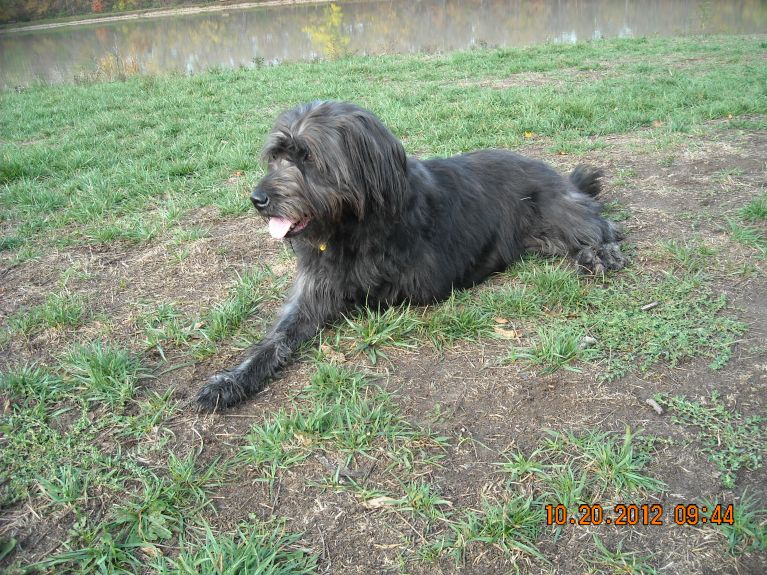 krun15
Welcome to Tripawds,
Your future posts will not require moderation.
Sorry to hear about Sadie's accident.
While most here have older dogs, and many of us dealt with cancer, there are several dogs here who lost a leg due to an accident.  There are a few tripawds here who started as puppies as well.
I can think of two right off the bat- Dante, a pitty (or mix?) who is missing a front leg.  His mom posts as munko, HERE are some of their posts.  They don't have a blog- you could try sending them a private message (PM).
Also- Hurricane Rosie was a puppy when she first came here- she might even hang out in your neck of the woods!  You can read Rosie's blog here.  Rosie's mom posts as janeothejungle.
And if you are wondering about how your Sadie will get along later you can talk with Admin guy or Jerry, the site founders.  While Jerry their first pup has earned his wings, they adopted a young GSD missing a back leg.  The Oaktown pack currently have 3 GSDs that are all rear leg amps.  I'm not sure how old Codie Rae or Travis Ray were when they became tripawds.  You could PM FeartheEars to talk to the Oaktown pack, and just wait a bit and I'm sure Jerry and/or Admin will post here.
And if you ever venture to the Bay Area there are a few of us who get together for Tripawd Parties in Mill Valley- next one is April 14th.
My pug Maggie lost her left rear leg, and was a tripawd for almost 4 years.  She did fine all that time, never really had any other orthopedic issues as a result.  Of course as a 7.5 year old pug at the time of her amp she didn't have quite the energy of a 16 week old lab!
Again, welcome. I look forward to hearing more about your pack and following Sadie's adventures as she grows up!
Karen and the pugapalooza

On The Road
Member Since:
24 September 2009
Offline
Howdy! We're so glad you found us, thanks so much for sharing Sadie's story. I hope you don't mind my moving your post but since we're talking about age related matters I thought it fit better here.
We're so sorry about her accident. But as you can see there are many, many Tripawds who were three-legged from birth or shortly therafter. As Karen said, our Wyatt Ray Dawg became a Tripawd quite young, at 8 months old, but like a lot of large dogs, he had the energy of a 2 month old! It was a challenge to make sure he got enough exercise to wear him out but not so much that he became sore. Come to think of it, this is the case with all but the most senior dogs. All pawrents walk a fine line between too much exercise and not enough, but you'll find your normal routine soon. Wyatt's friends, Codie and Travis were also Tripawds from about the same age.
The same guidelines that apply for most Tripawds will also apply to your girl. Here are a few off the top of my head.
Keep her weight down. She should weigh slightly less than what's typical for her breed. This decreases the risk of joint stress.
Long walks are good but mind games are also just as exhausting. See today's gear post about the Twister game!
Avoid excessive, explosive activity like long periods of chase with other dogs, ball throwing on concrete, and excessive jumping on hard surfaces
The body of a Tripawd will compensate for that lost leg as s/he ages. This means that spinal stress will likely occur when they get older. Learning how to perform dog massage and gentle stretches will go a long way toward alleviating any aches and pains.
You may want to check out these California Animal Rehabilitation Videos that discuss these topics and how you can give your pup a hoppy, healthy long life!
Thanks again for joining us, we can't wait to follow along with your adventures.
Welcome Sadie and Family!
So very sorry to hear of the accident!  How terrifying!  It's heartbreaking but not to worry, dogs do fine on 3 legs.
I had a deformed front leg dog.  She was about 6mths when we got her.  I played it by ear since that was 13 years ago and there's was no where to turn!   I honestly didn't treat her like she was handicapped.  She was special, but not handicapped!  I think growing up with a sibling that had a handicap taught me to ignore defects! 
However, the one thing I would highly suggest is putting down rugs or runners in places of your house that has slippery floors.  It's terrifying to watch them fall (FOR ME - because I terrify easily

)!   Comet cracked 2 or 3 teeth over her lifetime (I forget how many).  It seemed every time we did a dental she had a cracked tooth!  And out it came.
An ACL tear is something you have to watch out for also.  (back knee area ligament)  It's common in 4-legged middle-aged (mostly overweight) dogs - so it happens in 3-legged dogs too.  Comet wasn't overweight at the time but I think the wear and tear caused hers to tear.  So, keeping the weight down is so crucial.  And not stressing out the remaining back leg, while keeping it strong is crucial too.  Water therapy is great for that.   Even with my now 4 legged athletic smaller dog, I make sure he has warmed up a bit before he can run and, in his case - JUMP!  I don't know if it helps, but it makes sense to me to stretch the muscles beforehand.  Repairing an ACL is a brutal 8-12 week recovery!  (especially on a 3 legged dog)
Hope that helps a bit!  Don't be afraid to ask questions!
We'd like to see pictures when you get the chance!
Sending tons and tons of good thoughts!
Comet - 1999 to 2011

She departed us unexpectedly  January 23, 2011 at the age of 12 1/2.

She was born with a deformed front leg and a tripawd all of her life.


New Zealand
Member Since:
6 November 2011
Offline
Hi
Our wee girl (well not so wee now) Kayla was 13 weeks old when she shattered her front leg. Keeping her calm was our biggest problem, we had to stop the pain meds after a few days as she thought she was bullet proof. 🙂 the other thing we have found to be a issue is when she has a growth spurt her muscles take awhile to catch up, which is normal in four legged dogs aswell but as she only has the three she can't do the same amount of exercise for a little bit and gets tired easier then everything evens out again in time for the next growth spurt!!!  Kayla is a bit of a mix up but she has alot of Mastiff in her so she is getting really big really fast.
We have been amazed at how quick she recovered and got on with life on three legs. The day after the surgery she was chasing the cats round the house at top speed and four days later starting digging holes in the garden again. She has also learnt how to use her missing leg to her advantage when playing with our other dog Sarge.
Its been just over 3 months since Kaylas amputation and she is a normal, naughty and VERY energetic puppy with a great deal of attitude thrown in.
Good luck and if there is anything I can help with just PM me.
Sarah, Kayla and Sarge
PS and rugs on slippy floors are definatley a good idea

Dang, how did I forget Kayla?
'Cause your old....like me! 
Comet - 1999 to 2011

She departed us unexpectedly  January 23, 2011 at the age of 12 1/2.

She was born with a deformed front leg and a tripawd all of her life.


Oaktown
Member Since:
16 July 2009
Offline
The Oaktown Pack currently has three tripawd German Shepherds in residence. Codie Rae, the leader of the pack is 6 years old and had her right rear leg amputated in July 2006 at about 8 months. Travis Ray is now 3 years old and lost his left rear leg in October 2009 at about 10 months old. Austin Ray is about 4 years old and we do not know when he had his amputation (right rear), but the way he moves he probably lost his leg at a young age. With young dogs the biggest problem after amputation is keeping them from over doing it. We also fostered Wyatt Ray Dawg before he was adopted and he and Codie Rae star in this video of him at three weeks post amputation and her at three years: http://tripawds.....raydawg/22
All the advice you have received so far is great. The ones we stress are keep the weight under control, and don't over do the exercise (young dogs will want to go longer and harder than they should). My theory is you want enough exercise to maintain goo muscle tone, but not so much exercise you are wearing out and stressing joints. You no longer have a spare leg! Also look into supplements to maintain strong joints. Glucosamine supplements (we use Dasuquin with MSM, but there are other good ones) and fish oils (we use salmon oil we pump onto food) are the most important.
Sadie looks like a sweet pup and we look forward to hearing about her adventures!
Ralph

Sunshine Coast, QLD, Australia
Member Since:
6 May 2010
Offline

Sorry to hear of your accident, hope Sadie is recovering well though.
Not as young as some, but my boy was 8 months old when he first dislocated his right hip, and after a failed operation to fix it (as he was still fairly young the bones were still growing despite being half cut off) subsequently had it amputated. As he is an Australian Kelpie (VERY high energy dog) keeping him still was extremely hard, he lived in a crate for a few weeks to give his leg time to heal, but in saying that, the day after the amp when I got him home, he tore around the yard after the cat and raced up the front stairs with no trouble at all.
As others have said, glucosamine or joint supplements can help, I have started both my kids on fish oil capsule as well as glucosamine chews (2.5 yr old Kelpie tripawd and 8 yr old Lab) to ease the arthritis in my old girl as well as help prevent it in my boy for as long as I can.
Other than that, I'm just making sure he has a fun and fulfilled life really. He goes sheepherding every week, and he gets to run on the beach almost daily. He enjoys life and I think that's all I can ask for.
Amy & Zorion
Zorion – my 3-legged Kelpie. Joined the world of Tripawds on May 6th after a bad dislocation and failed FHO. Loving life as a Tripawd. Still capable of working sheep (and horses unfortunately) and loving having a sister now.
Jenny – my 4-legged Labrador. Obedience titled and loving being part of my family again, and enjoying teaching Zorion some manners.

San Diego, CA
Member Since:
29 October 2010
Offline
Welcome to you and Sadie,
Sorry to hear about her accident, but you'll find lots of good info and great support from the folks on this site.
I don't really have any advice to add to what others have alreayd said other than once she is a little older and has her stamina fully back, you might find it easier to walk/exercise her off-leash. Tripawds tend to go at a pretty quick pace, which can be tiring for you if you are trying to keep up with them, or tiring for them if they have to slow down to your pace. We are lucky to live near a huge dog beach/park so we took Abby there most days and let her go ahead at her own pace. She could run ahead, then wait for us to catch up.
Good luck trying to keep her from over-doing it!
Keep us posted on how she does,
Jackie, Angel Abby's mom
Abby: Aug 1, 2009 – Jan 10, 2012. Our beautiful rescue pup lived LARGE with osteosarcoma for 15 months – half her way-too-short life. I think our "halflistic" approach (mixing traditional meds + supplements) helped her thrive. (PM me for details. I'm happy to help.) She had lung mets for over a year. They took her from us in the end, but they cannot take her spirit! She will live forever in our hearts. She loved the beach and giving kisses and going to In-N-Out for a Flying Dutchman. Tripawds blog, and a more detailed blog here. Please also check out my novel, What the Dog Ate. Now also in paperback! Purchase it at Amazon via Tripawds and help support Tripawds!
Forum Timezone:
America/Denver
Most Users Ever Online:
946
Currently Browsing this Page:
2
Guest(s)
Member Stats:
Guest Posters: 1254
Members: 17237
Moderators: 5
Admins: 3
Forum Stats:
Groups: 4
Forums: 24
Topics: 18408
Posts: 254008
©
Simple:Press
—