If you've often thought about helping your Tripawd to relax through gentle massage but aren't sure where to begin, here's a great place to start.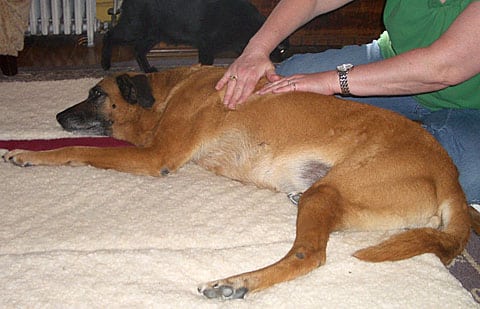 Learn the basics about how to give your pet a massage in this two-part Tripawd News series, courtesy of Tripawd Isabelle's animal massage therapist, Pam Kuhn, CAMT in Chicago, Illinois.
Part One: The Essentials of Pet Massage
Touch is essential to every living creature. When we touch our pets, we are making a connection and strengthening the bond that we share. Since you are already touching your pet, why not do something more beneficial? Massage.
Massage has numerous benefits for animals of all ages and breeds, whether they have four legs or three.
Massage improves circulation, speeds healing, increases flexibility, relieves stress, aids socialization, relaxes the body, enhances the human/animal bond, and feels great!
There are benefits for you, too. When you massage, your heart rate will slow down, and you will feel just as relaxed as your pet.
Where to Massage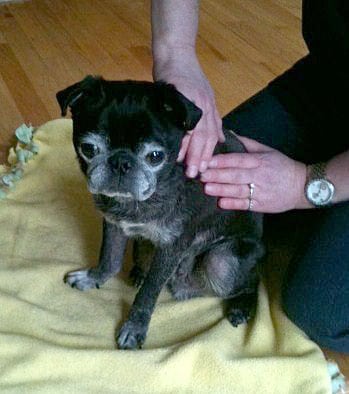 You don't have to have a special area set up to do a massage. I never use a table, and often find myself sharing a dog or human bed. A sofa works just as well. It's all about your pet relaxing, so wherever they like to sleep is where you should be.
When to Massage
Bedtime is usually the most relaxing time for you and your pet. Do you sit on the sofa and watch TV together at night? Does your pet sleep with you?
Try not to alter your routine.
How Long Should A Massage Last?
I would start with ten minutes, progressing to half hour. Petting feels different from massage, and your pet will notice this.
They will never feel sore after a massage, but you want to leave them begging for more!
Is There A Difference Between Massage On A Quadpawd versus a Tripawd?
The simple answer is no. The more complicated answer, it depends on the animal.
If your pet was born with three legs, their body has had time to adjust and distribute their body weight to compensate for the missing limb.
If your pet has recently lost a limb, then they are learning to re-distribute their weight, and their muscles are readjusting, accordingly.
Read more! In Part Two of Pam's Dog Massage Tips series, you'll learn specific techniques for doing your own pet massage at home and watch a how-to video demonstrating Pam's techniques.

Pam Kuhn, CAMT (Certified Animal Massage Therapist) was certified as an animal massage therapist through Pet-ri-ssage LTD in 1999 and is currently a massage therapist at an integrative veterinary/rehabilitation practice and makes home visits.
She is the primary instructor for Animal Career Academy's Pet Massage School and has experience as a veterinary technician and trainer. She aids many rescue organizations and animal shelters by donating her time (and hands) to help animals in need. Pam lives in Chicago with her husband, Ed, and sweet, black Pug, Rugby.
Download Loving Life on Three Legs for more professional tips and how-to videos, now available in the Tripawds Library!