Caring for a Three Legged Dog or Cat
Tripawds is the place to learn how to care for a three legged dog or cat, with answers about dog leg amputation, and cat amputation recovery from many years of member experiences.
JUMP TO FORUMS ↓
Join The Tripawds Community
Learn how to help three legged dogs and cats in the forums below. Browse and search as a guest or register for free and get full member benefits:
Instant post approval.
Private messages to members.
Subscribe to favorite topics.
Live Chat and much more!
Find out in Be More Dog: Learning to Live in the Now by Tripawds founders Rene and Jim. Learn life lessons learned from their Chief Fun Officer Jerry G. Dawg! Get the book and find fun gifts in the Be More Dog Bookstore.
Hi everyone, I posted about Lacey's story on the hopping around forum awhile back and I have been browsing through all the posts and it seems like most amputations are due to cancer. Lacey was hit by a car in December 2011 which injured her radial nerve, our vet wanted us to give her some time so we didn't have the leg amputated. The feeling/use in her leg never came back but since the leg wasn't bothering her we just left it alone until the end of summer when she started getting sores on it. We kept it wrapped with medication and had her on antibiotics a bunch of times but it just wouldn't heal. By fall she started to REALLY bother it so we ended up deciding to amputate on Halloween. Since she had been used to living on 3 legs the adjustment was pretty easy for her and now she is about back to herself.. We actually are wishing we amputated a lot sooner because she looks better than she has since before she got hit, it seemed like for awhile it was hard to keep weight on her but she looks 100x better now. Anyway, I was just wondering if there are any other amputees out there due to radial nerve/brachial plexus injuries?? Also, how common is it for use of the affected leg to come back??
Hey it's good to hear from you again, I'm glad to hear things are going well.
I might have mentioned this in your original post, but I believe Dr. Wookie says she likes to give it at least 30 days before making an evaluation about whether or not the leg will work again, but it also depends on the exact type of injury (correct me if I'm wrong Wookie). We were also told by rehab vets that anywhere from 3 to 6 months of extensive rehab therapy should be enough to know whether or not the leg will work again. So I guess the answer is, it depends.
In our 2010 Tripawds Amputation and Cancer Care Survey, we found that about 70 percent of members here are Tripawds because of cancers, and the remaining 30 percent is split between accidents, abuse and birth defects. You can read about a lot of these stories in our Beyond Cancer Forum, and here are some member posts about Tripawds who had radial nerve damage like Lacey but I know there's more in the forums, I just can't find them right now.
It's great news that Lacey is doing so well! How is she doing as far as regaining strength and her activity level and such?
Hi Jerry,
Her strength and activity level are about 100%. We are still holding her back a little as far as activity goes, she's 1/2 plott hound so if she picks up a scent she is GONE!! And she absolutely hates being tied or walked on a leash so were still trying to be somewhat cautious with her, but if it was her way she'd be running around everywhere. She isn't back to chasing cows yet (mostly just because my boyfriend hasn't gotten any calls on loose ones) but the other day our neighbor couldn't catch this really mean rooster he wanted to get rid of so Lacey was right there to help with that. If I didn't think she'd go on a chicken killing spree I'd say she'd have an awesome career as a rooster dog. But, we can tell she feels great now, which is a little sad for us because seeing her now she obviously hasn't been herself for a few months before the amputation, despite us treating her with antibiotics. What's crazy is she clearly has a good, happy life and when she got hit we took her to an ER vet and they pretty much told us we might as well just put her to sleep. I was reading the paper work from them the other day and I don't know how many times its written in there that her outlook is "very poor". I told my boyfriend I would really love to bring Lacey back down there so they can see what a happy dog she is. I don't want to knock them because they kept her alive until we could get ahold of our vet, but I think her life is just as good as it would be if she had 4 legs. I think her recovery was a LOT easier for her because she hasn't had use of that leg for so long.
Wow! Lacey really is a miracle on three legs! 
It's hard not to fault a vet who writes "poor prognosis" on a dog's file, but you have to just forgive them because they don't know your dog the way you do. You listened to your heart and took a chance, because you knew what she is really capable of. And I'd say that rounding roosters is pretty darn capable!
Her story gives hope to others who are just now embarking on their journey. If you would ever like to write a guest blog post about her recovery, we would love to publish it. Pictures of her rounding up livestock would be sooo cool too!
And oh yes, good idea to do your best to modify her activity as much as possible. We always encourage people do do this but we also realize that for some dogs, "slow down" isn't in their vocabulary.
What a great update on your miracle girl.

Orange County, CA
Forum Posts: 157
Member Since:
14 August 2012
Offline
So happy Lacey is doing so well. And yes, I'm sure the fact that she was used to walking on 3 legs helped her a lot in the recovery process... who needs four?!?
Whether the function comes back after a brachial plexus injury depends on the exact nature of the injury. Sometimes the nerves are just stretched and eventually return to complete function. Sometimes they are actually torn and will never heal. And sometimes it's the grey area in between.
With nerve injuries, as a general rule, I want to see SOME improvement in the first 6 weeks. Usually if there is sensation, the motor function will eventually return. Having no sensation is a poor prognosticator, but some lucky dogs will still make a complete recovery.
As far as the "poor prognosis", we are required to give a prognosis. Sometimes it may feel very cold and clinical. After Wookie's first chemo appointment, I cried when I saw the "poor prognosis" comment, even though I knew it to be true. Vets cannot predict the future, but are required to give a prognosis at the time they are seeing the animal. But recommending to euthanize an animal with a brachial plexus injury... well, that I would never do. I don't know what other injuries or medical problems Lacey had going on at the time, but the important thing is that she is HERE and HAPPY!
Right hind limb amputated 7/3/12 for OSA, started on alternating cycles of Carboplatin and Doxorubicin and oral Palladia. Single lung met 9/1. Met in the neck muscle removed 9/30. Large mass in sublumbar lymph node 10/2. Rescue chemo with ifosfamide 10/6. Mets to the rib and axillary lymph node 10/21. Started Leukeran and Pred 10/25. Wookie left this Earth for a far better place on 12/4/12. I miss you, Boo, you were my heart.
I guess in the vets defense she was in pretty bad shape... My boyfriend found her in a pool of blood in the road with no cuts on her, we brought her in unconscious and she had little improvement for the first 24 hrs. They said that its usually not a great sign when a dog is unconscious like she was with no obvious injuries because then it's usually internal, luckily she had no damage to any major organs but then they thought she had brain damage, a spinal cord injury... She finally regained consciousness and then was pretty immobile, our regular vet said it was because she was so drugged, regardless though she was in pretty bad shape for the first few days!! I'd love to write a guest blog about her recovery. She got hit by the car 12/8/11 and has come such a long way since then.
wookie524 said
As far as the "poor prognosis", we are required to give a prognosis
Wookie, you always have something to teach us. That never occurred to me.
So it's been 2 months since Lacey's amputation and she's doing great! She looks almost as good as she did before she got hit a year ago!! She gets around great, we were nervous she might have a hard time in the snow but it hasn't slowed her down at all. She is back to trail riding and chasing things she isnt suppose to!! I have tried and tried to post pics but I can't get it to work. I think because I'm using an iPad! I just wanted to check in!

Columbia, MO
Forum Posts: 483
Member Since:
10 December 2011
Offline
Glad to hear Lacey's recovery is going so good and she's back to doing her normal activities.  I'm glad she still likes the snow.  My Daisy hates it now because of the snowballs on her paws and she thinks she can't walk LOL.
Marla and Daisy
My Two Tripawds...Biscuit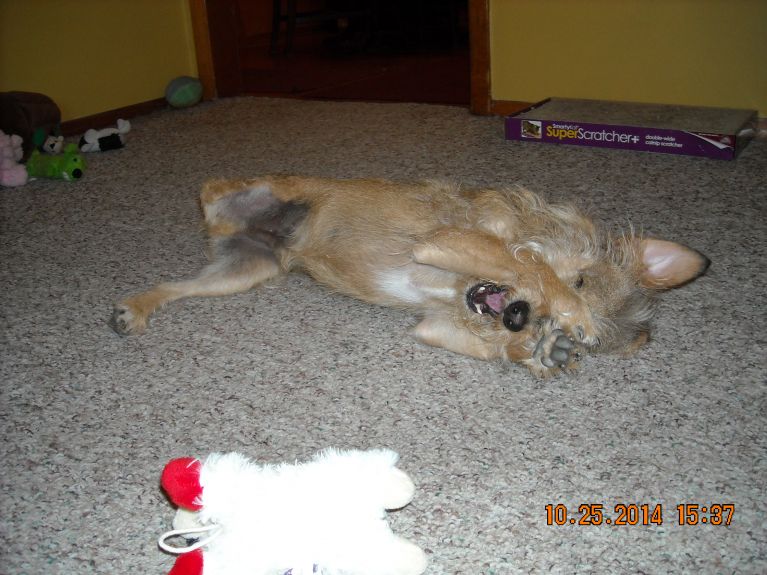 and Spirit Daisy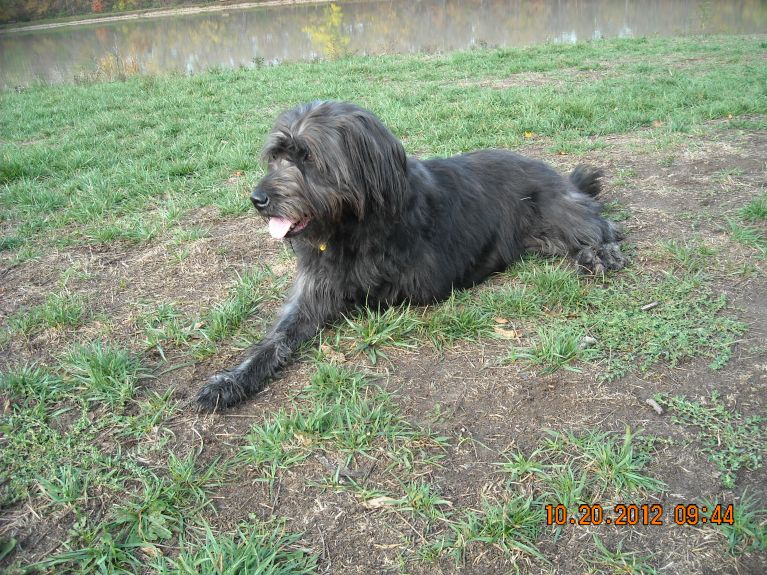 Two months already? Wow! This is a wonderful update, and we're so glad to hear she's loving life. Thanks so much for letting us know, it's always so good to hear from members when they've been away for a while.
Oh sorry you're having problems posting pics, it could be an iPad thing. If you can't post them PM me one or two, I'd be happy to do it for you. And if you wouldn't mind, can you describe what kind of iPad issues you're having in this Forum topic we started?
Forum Timezone:
America/Denver
Most Users Ever Online:
946
Currently Browsing this Page:
1
Guest(s)
Member Stats:
Guest Posters: 1167
Members: 14071
Moderators: 2
Admins: 3
Forum Stats:
Groups: 4
Forums: 23
Topics: 17330
Posts: 242005
©
Simple:Press
—