Caring for a Three Legged Dog or Cat
Tripawds is the place to learn how to care for a three legged dog or cat, with answers about dog leg amputation, and cat amputation recovery from many years of member experiences.
JUMP TO FORUMS ↓
Join The Tripawds Community
Learn how to help three legged dogs and cats in the forums below. Browse and search as a guest or register for free and get full member benefits:
Instant post approval.
Private messages to members.
Subscribe to favorite topics.
Live Chat and much more!
Find out in Be More Dog: Learning to Live in the Now by Tripawds founders Rene and Jim. Learn life lessons learned from their Chief Fun Officer Jerry G. Dawg! Get the book and find fun gifts in the Be More Dog Bookstore.
YAY STINKY BOY! That's wonderful! And pretty awesome that he's already done the 3 things that many dogs don't do right away. YES!!!!
Rest up and enjoy the cuddles. He's a rock star and so are you
Good Morning,
Ludo is doing soooo well, everyone! Since we picked him up on Tuesday he's had no trouble eating or peeing. He has been hopping around pretty successfully and has been figuring out how best to sit down and stand up. When he lays down on our bed he kind of plops his face down first. Rather than telling him to "put your butt down" we might need to start telling him to "put your face down!" Our last big post-surgery milestone was for him to take his first poop. Being that he has been eating pretty normally, we had been hoping this would come soon. After a little shart accident in bed last night, we were thinking today was the day! First thing this morning we took him out and he started hopping all around the yard looking for the perfect spot, only to get tired and just lay down. Shortly thereafter when I was in the kitchen making breakfast, Ludo let us know he needed to go out and he took his first poop! Just after his poop he was back inside begging for the eggs I had to abandon to take him out! 
We are both so proud of him and how well he is doing in just this short time. His wound is looking good and he is acting more and more like his normal, silly self! It's so nice to see him being able to get comfortable again and not cry out in pain all throughout the day/night. All the way up to dropping him off for his amputation, Tessa and I were so scared we were making the wrong choice for him. Even just these couple days post-surgery it's clear we made the RIGHT choice! He may look a little bit different now and walk a little funny, but he is still the same good boy he was!
YAAAAAAY FOR 💩💩     WE LOVE CELEBRATING 💩💩! 
Ludo really is doing extraordinarily  well this early in recovery!  Sometimes the pain prior to the amputation is greater than the major surgery pain itself.  Ludo seems to be a great example of that.before and after differemce.
Continue the slow and easy path for now.  You are doing a great job of monitoring  him.  Yes, you are able to see you did this FOR  Ludo and not TO him👍👏   That's  the outcome  that Ludo wanted too!
Hugs
Sally and Alumni Happy Hannah and Merry Myrtle and Frankie too!
Happy Hannah had a glorious additional bonus time of over one yr & two months after amp for osteo! She made me laugh everyday! Joined April's Angels after send off meal of steak, ice cream, M&Ms & deer poop!
Awww good boy Ludo! This just made my morning!
I know YOU knew you had this covered, but you had to show your peeps you did, and now they know it too. YAY!
Agree with Sally, take things slow even though he may want to do so much more. Stick to the pain management program too, even if you don't think he needs it. Most dogs are on meds for at least 10 days or more. Try some interactive brain games to keep him busy and prevent boredom. Stitches removal day will be here before you know it!
Great job you guys
Thanks for the encouragement everyone! It's nice being able to celebrate Ludo's successes with people who know what we're going through! He is still doing very well this morning. He had a 72 hour nerve block that we think is pretty much fully worn off now. He seemed to be a little more uncomfortable this morning than he has other mornings. So we are definitely keeping up with his meds and managing his pain! Still much better than pre-surgery pain though. He hasn't had any poops since yesterday, so our next goal is to get a little more consistent with that! 
I also wanted to show off how handsome our sweet boy is. Tessa snapped this photo of him yesterday after his big achievement. Note the cool new haircut and stylish UMN bandana: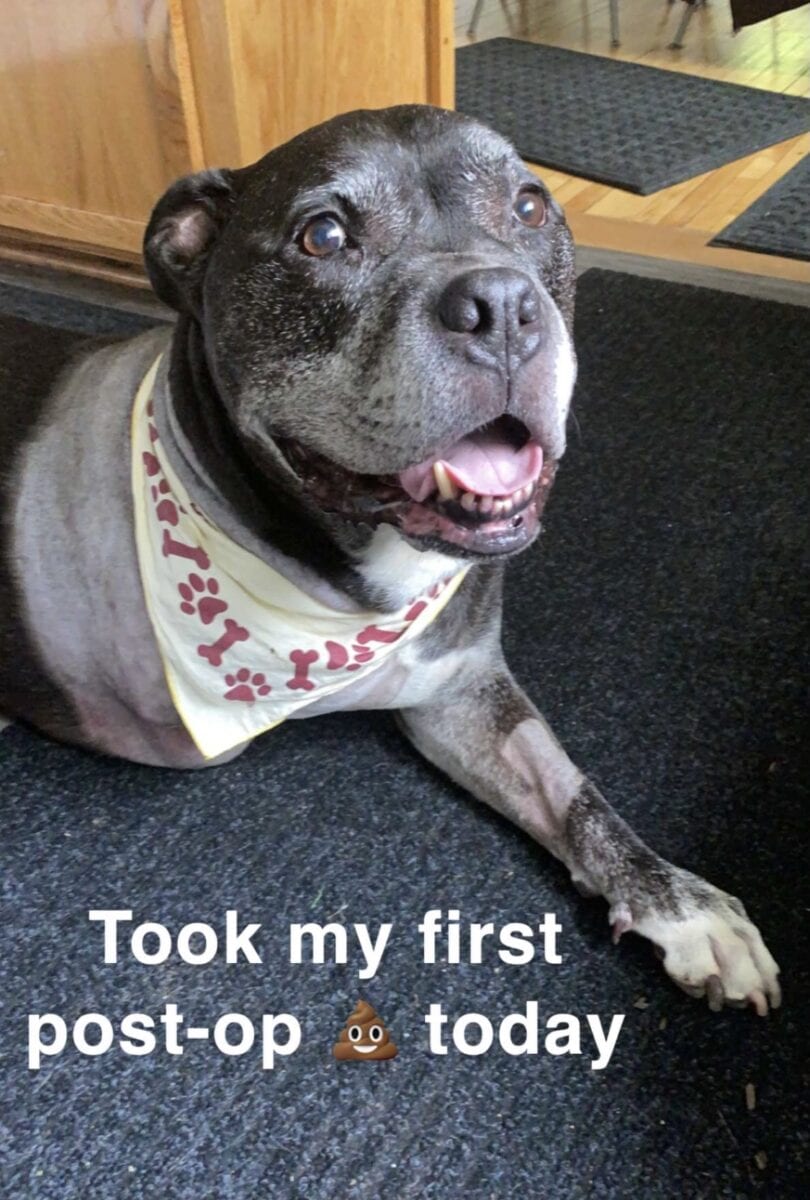 Awwww sweet pupperz! You look fantastic and soooo relieved 😉 Eat more pumpkin pulp and you should get back on a schedule.
Oh yeah Scott we totally know what you guys are going through. It's a joy to see Ludo making progress. You and Tessa are doing such a fantastic job caring for him. And THANK YOU for becoming a Tripawds Supporter ! I think Ludo needs to add to his bandanna wardrobe, PM me your address 😉
Cheers to a lovely, snuggly, happy weekend together!
Smooching  that handsome boy's mug right through the screen!  Looooove  him!!
And I love the caption declaring what day it is!😎😂🤣
Yeah, once all the strong hospital  meds wear off, you'll see a little bit of a crash like you are seeing today.  Sometimes  pain meds need additional tweaking, so just continue  to keep doing what you're doing and keep an eye on his comfort level.  And he's still ahead of the curve with his 💩 already👍
Can't  wait to see more pictures.  He makes me smile😊
Hugs
Sally and Alumni Happy Hannah and Merry Myrtle and Frankie too!
Happy Hannah had a glorious additional bonus time of over one yr & two months after amp for osteo! She made me laugh everyday! Joined April's Angels after send off meal of steak, ice cream, M&Ms & deer poop!

Forum Posts: 57
Member Since:
10 February 2021
Offline
Tony, I just watched Sadies hiking video and it looks like she is doing wonderful! I'm so glad she is recovering so well!
Ludo is still doing really well too! He's doing all his things like eating, drinking, going potty and everything pretty much like normal. He even successfully snuck down our back two stairs without issue when we were distracted!
He does still seem to be in some pain though. It's been about 9 days since his surgery and he will still wake up to cry in the middle of the night. Not nearly as frequently or severe as pre-surgery pain crying, but typically one or two times. Additionally, he sometimes lays down and his incision area is shaking. The incision itself looks just fine. It's not hot and does not have any weird discharge or coloring. Is it normal for him to still be pain 9 days after surgery? 
WOOHOO! Ludo that's wonderful, I'm so hoppy you figured out the stairs. Smart boy!
As for his pain levels, those pain signals aren't too unusual and you can do something to help him not be in pain. I would definitely let the vet know the best way to continue with his pain management . Some dogs can be on meds for 2 weeks, occasionally longer. Don't panic, we've seen it before. As for the shaking around the incision, is it more like a twitch? I think what you are describing is a misfiring of the nerves and brain trying to connect to one another. It sounds like he has some phantom leg pain happening. Gabapentin and sometimes acupuncture is a helpful combo to get it under control. Definitely mention these symptoms to your vet so you guys can help him feel better.
Phantom limb pain is what we were worried about. It seems to be more of a shaking, but I have seen his muscles around the amputation area twitch on occasion. He is already on Gabapentin and reading through some of the phantom limb pain relief treatments (wrap, massage, warm compress) on here it looks like the recommendation is to wait until the wound is completely healed. I would imagine we would also want to wait until the wound is healed to start acupuncture? He is getting his stitches out this upcoming Tuesday, but between now and then do you know of any other relief measures we could take? He yelped today when he was readjusting on the bed and once when he was laying on his incision side. He had been laying on the incision side with no issues prior to today too. He also seems to be a lot more lethargic today than he had been the previous post-surgery days. 
That's good he's on Gaba. There is no one-size-fits-all dosage for it, and many vets underdose this med. Usually there is room to go up and provide more relief. Call your vet asap.
What's his dosage and frequency for the Gaba? And remind me, what does he weigh? I'm not a vet but I can tell you that our Wyatt Ray was on 400 mg 3x daily for managing chronic pain during his old age. That worked perfectly, and he weighed 75 pounds. Don't give any more of a dosage until you talk to your vet of course.
Muscle twitches can happen even without phantom leg pain , but when it's accompanied by the yelping, that generally points to an untreated problem. Especially now that you mention the lethargy, that's another one of several pain signals .
The best way to know what to do next for him is to consult with a rehab therapist asap. Some even like to see a Tripawd within 72 hours of surgery to start passive range of motion exercises and gentle stretches, so it's not too soon at all. Does your clinic have a rehab team in the practice?

Forum Posts: 4
Member Since:
14 May 2021
Offline
Hello!
Tessa here. I decided it was time for me to get my own username
. Thanks for your support last night - it was a rough one. Ludo yelped several times throughout the night and into this morning, but he slept soundly in-between. It is, however, scary and discouraging to feel like we are getting back to where we were pain wise before surgery. I don't want that for him. 
Everything feels very overwhelming right now. We start chemo next week (yay!) and are on a waitlist for a nutritionist as well. I also looked into rehabs last night and e-mailed the only facility open in the state at the moment. Thanks, Covid... Hopefully I'll hear back from them soon. 
I plan to get on the phone with his vet as soon as they open this morning to see if they can check out his incision and to discuss pain management options. Increasing his gaba from 300mg 3x a day seems like reasonable place to start. Maybe a silly question, but is it normal for the incision to be very raised? His creates a ledge on one side, so part of me wonders if that is causing some discomfort. 
Keep us in your thoughts as we work to get this figured out. I know we've been very lucky with his recovery so far, and I'm hopeful we can get him back to his goofy self soon.
-Tessa
Forum Timezone:
America/Denver
Most Users Ever Online:
946
Currently Browsing this Page:
1
Guest(s)
Member Stats:
Guest Posters: 1154
Members: 13598
Moderators: 2
Admins: 3
Forum Stats:
Groups: 4
Forums: 23
Topics: 17187
Posts: 240534
©
Simple:Press
—