Join The Discussion
Learn about life on three legs in the forums below. Browse and search as a guest or register for free to take advantage of member benefits:
Instant post approval.
Private messages to members.
Subscribe to favorite topics.
Join the Live Chat and more!
Help Tripawds Everywhere!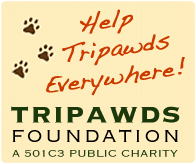 Help all amputee pets and their people with a charitable contribution to the Tripawds Foundation.
A
A
A
chickeyboom
People have been asking me lately what the first sign of Sparky's cancer was and I have been saying a temporary limp and then a lump on his leg.  But really thinking about it,  the first real sign was heavy shedding. Sparky has always been a shedder, but particularly so in the spring and fall.  This usually lasts about 2-3 weeks.  However,  this past spring,  his heavy shedding started in April (normal) and never stopped. So instead of three weeks,  it went on for three months.  Post amputation,  the heavy shedding has suddenly stopped.
I am posting this in case it might help someone else get an early diagnosis.  It is such a subtle sign,  and I don't think it would be easy for a vet to make the leap from unusual shedding to cancer, without any other symptoms,  but maybe in some of those breeds where cancer is always a concern it can at least put everyone on notice.

Mount Pleasant, Ia
Forum Posts: 984
Member Since:
27 October 2010

Offline

I would agree with that, Cooper also had heavy shedding  along with the limp, he also had always had fairly heavy shedding spring and fall being part Newfie, but when the bone cancer came he shed with a vengeance. After his amputation he actually came to the point where he shed very little at all and developed a beautiful shiny coat. Before he developed the cough he began to shed again, and in my heart I felt it was because the cancer was returning, so yes , if it helps anyone in diagnosis , I will say I think it was definitely a telltale sign. And this wasnt just long hair type shedding it was HEAVY shedding where you could remove handfuls of hair that just slid out of his skin. 
Coopsdad
Coopsdad/ Kenneth Blackburn
http://cooper.t.....ipawds.com
the monkeydogs only THINK they have invaded the tripawd state

  That same thing happened to my Chihuahua. I thought that his shedding had become unusually heavy and prolonged but he was always a heavy shedder so it was kind of hard to realize. He also had allergies his whole life and coughed alot when the pollen erupted each spring. So when he started coughing in spring of 2010 I thought it was his usual battle of the summer allergies. But only a few days after what became a persistent cough I realized that he was having trouble breathing ans so I took him to the vet. That is a whole other complicated story but what it came down to was it was just too late. His lungs were full of cancer and he was struggling so hard to breathe after just a few more days despite aggressive treatments we had to put him to rest. I did think it was a much larger amount of shedding but I did not realize until it was way too late. He was 12 years old and he had a good life and he was a wonderful Dog but I only wish I had known earlier.Good idea pointing this occurrence out.

Greater Western Washington area
Forum Posts: 1158
Member Since:
25 August 2010

Offline
I don't understand, and to be honest, you guys are scaring me a little.  What does shedding have to do with cancer?  My mastiff is shedding like he never has before, he has been blowing his coat for about 3 months now.  I noticed about 3 weeks ago how much different this year is with his shedding than all of the past years.
What does this have to do with cancer?  Please explain

Diagnosed with osteosarcoma in the right front leg 8/23/10,
leg fractured 8/27/10,
leg amputated 8/30/10
http://sammyand.....pawds.com/
I couldn't begin to say how special Sammy is to us.  Living and laughing with and loving this wonderful boy is priceless.
Golden Girls
Wow, interesting observation. I recall Skyler really shedding heavily (more than usual) before being diagnosed with MCT. However, Chloe didn't shed much – and she had a hemangiosarcoma near her heart. Who knows really whether this has anything to do with cancer, so please don't panic.
Cathy

Here and Now

Forum Posts: 11458
Member Since:
25 April 2007

Offline
Interesting indeed. If anyone finds any info indicating there actually may be a connection, please share the link.

Forum Posts: 147
Member Since:
27 May 2011

Offline
ok now i'm worried about my other dog Jasper has sed like crazy this year but i put it down to very changeable weather we are having here I can't go through it with him too. i will be interested to see if there is actual research showing it is actually a symptom
Dizzy diagnosed with osteosarcoma 24 may 2011 amputated same day doing fine hopping around on three legs giving the neighbourhood cats what for
littlemanjake
Dogs shed with different intensity for many, many reasons. Historically, the number of hours they are exposed to daylight regulated this process, with peak shedding occurring in the spring and fall. Since most pet dogs live inside, this cycle is generally interrupted and many dogs shed year round. Stress of any kind…..from an external or internal source, can cause excessive shedding. Diet is also a large influence. Thyroid issues as well as cancer have long been related to increased shedding and anecdotal references are easily found. It is also very likely that there may be no clinical signs of illness when a dog is shedding from an unknown internal stressor.
Trying to isolate one factor for any dog's increased shedding in varying environments and our ever changing climate, is a nearly impossible task. A valid, controlled study woud be virtually impossible and likely of very little clinical significance.
Our poodle neighbor even shed this year. My dog (and her young healthy lab friend) shed very little, primarily because they eat a raw diet, yet both are did so excessively this year, yet their coats are luxurious. It did not happen at the time either of her cancers were diagnosed, but both were found quite early, she has always had abundant immune system support and was in otherwise good health and lives a relatively stress free life.
It makes sense that Cooper was displaying rapid hair loss, and Ken's observation was an important distinction….loosing clumps of hair is not shedding, but Cooper was extremely ill. Humans often experience similar hair loss under stress or illness.
It is certainly prudent to investigate anything you feel is not normal for your dog, but also wise to step back, not panic and realize this has been a year of EXTREME climate change. I don't know any dog who followed their usual pattern.

Las Vegas, Nevada
Forum Posts: 4344
Member Since:
14 August 2009

Offline
Comet and Rugby who both had hemangiosarcoma didn't excessively shed. 
As Cynthia mentioned, my hair got very thin on the crown when I went through the death of my brother, Rugby and Comet.   I asked someone else and they too said they had hair thinning during a traumatic event.     
The only thing I can say that was out of the ordinary was 1 month before Rugby died and not knowing he had cancer, Comet started doing an odd thing of urinating over where he had urinated.  She'd do it immediately.  She had never done that before and I immediately noticed it and thought how weird.  It is my understanding now that it was to cover up the scent of a sickly dog in the yard.
Comet - 1999 to 2011

She departed us unexpectedly  January 23, 2011 at the age of 12 1/2.

She was born with a deformed front leg and a tripawd all of her life.

chickeyboom
I hope I didn't scare anyone with my comments. That wasn't my intention. I should clarify, the shedding Sparky experienced could be described as clumps. Huge amounts of shedding, far beyond his normal temporary seasonal changes.  He has a top layer of fur and an underlayer,  and it was the underlayer that was falling out by the handful.  Please bear in mind he is a 30 pound beagle-mix who, somehow has ended up with a very rare cancer (histiocytic sarcoma) that is normally only seen in very large breed purebred Bernese Mountain dogs, Goldens and flat-coated retrievers.  So nothing really makes sense about this.  The vet did confirm that in some dogs, unusual shedding can be a sign of internal stress, and cancer/pain from cancer can contribute to this.

  When my Chihuahua was shedding abnormally there was a point that it was just as Coopsdad described. The hair just sliding out of his skin by the handfuls. I thought it was so strange that I went and got my husband and I said  "Look at this, isn't this weird." "I don't remember him shedding like this before."  I thought that he needed brushing but the amount that just kept coming out was startling. All I can say is if you are questioning something out of the ordinary with your dog, consult your vet. Every Dog is different also with different kinds of cancer and each Dog's body may react in different ways. In my Dog's case I really do think his shedding was related to the cancer. But when other people read things like that it might be just like when you watch Mystery Diagnosis on the Health channel and think "Oh No do I have that?"  I do want to know though if it is a common occurrence. Valentina isn't shedding any more than usual and she has cancer.
Forum Posts: 152
Member Since:
11 April 2011

Offline
Now that you mention it, Percy was also losing his undercoat in clumps this spring, right before his diagnosis.  It seemed like no matter how much I brushed, more clumps would appear.  He had a hemangiosarcoma in his leg bone which apparently is also rare.  Another unusual thing that I noticed was, at the first appointment to check his leg, he had lost a noticeable amount of weight.  He weight has always been very consistent and all of a sudden he lost about 10% of his body weight.  The oncologist said that the weight loss was due to the tumor stealing nutrition from the rest of his body.  I had not made the connection between the shedding and his tumor before so I have not asked the oncologist about that.

Greater Western Washington area
Forum Posts: 1158
Member Since:
25 August 2010

Offline
I read all the comments and I guess Titan's shedding may have to do with him being sick and losing weight.  He has the trachial thing, and he lost about 12 lbs.  Maybe thats it.  He has clumps coming out too, he looks like a half plucked chicken, little tuffs are sticking out all over.  Is that what you guys mean?
Diagnosed with osteosarcoma in the right front leg 8/23/10,
leg fractured 8/27/10,
leg amputated 8/30/10
http://sammyand.....pawds.com/
I couldn't begin to say how special Sammy is to us.  Living and laughing with and loving this wonderful boy is priceless.
Forum Posts: 152
Member Since:
11 April 2011

Offline
Yes, a half plucked chicken is a good description 🙂  Little tufts of undercoat sticking out from under his outer fur.  Percy had them all over his butt and thighs.  I would pull at them and out would come giant tufts of fuzz.
I'm wondering if it was related to Percy's weight loss too.  The vet had said that Percy's weight loss right before his diagnosis was probably due to the tumor stealing the nutrition from the rest of his body.  I wonder if his hair loss might have been due to poor nutrition and weight loss which was due to the tumor.
Now that we are several months past amputation, Percy's weight seems to once again have settled in on a steady value, despite alternating days of not eating due to chemo and me letting him eat almost as much as he wants to make up for the days he does not eat.  He's always been skinny and is now underweight, which is why I'm encouraging him to eat.  I wish my weight were as steady as his!
Nancy Ricks
Thank you so much for helping me figure out what could possibly be causing these big clumps of hair from his coat. My 10 year old German Shepherd was diagnosed with hemangiosarcoma in his spleen about a month ago. The Xrays didn't seem to show it had spread into his heart and lungs, but like Doctor said it is difficult to tell. At first I also thought it was heavy shedding, since the weather was getting warmer outside. Finally, I realized this was NOT just shedding! For the person who jumped to conclusion earlier on this post, it is something you won't understand unless you experience it. My dog just walks along and clumps of hair literally fall out, I don't even have to pet him. If I pet him, the large tufts of hair just drop out even more. So you said, he looks like a chicken half plucked! He doesn't show alot of pain, however my Veterinarian felt his tumor last week and said it has grown about double in size. He did limp for a few days, so my Veterinarian prescribed him Tramadol, which is helping tremendously. I give him 2 pills about every 4-6 hours and 3 at night. Of course, when I notice he is in major pain, I won't allow him to suffer. I will put him at peace and help him be pain free. You have helped me understand his situation so much. I was at a complete loss of what was going on. I can't thank you enough. Hugs, Nancy
Forum Timezone:
America/Denver
Most Users Ever Online: 597
Currently Online: maniacmads, sebastiandoodle, beasleyk5
52 Guest(s)
Currently Browsing this Page:
1 Guest(s)
Devices Used: Desktop (52), Phone (3)
Member Stats:
Guest Posters: 1005
Members: 12752
Moderators: 2
Admins: 3
Forum Stats:
Groups: 4
Forums: 23
Topics: 15020
Posts: 211439