Join The Discussion
Learn about life on three legs in the forums below. Browse and search as a guest or register for free to take advantage of member benefits:
Instant post approval.
Private messages to members.
Subscribe to favorite topics.
Join the Live Chat and more!
Best Support Harnesses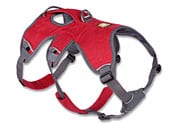 Visit the Gear Shop for the best harnesses and helpful products for Tripawds!
A
A
A
I have a 12 year old female dog who has a mass cell under her front left leg and chest.  She has had chemo since March and now the Dr. is saying chemo is not working.  Surgery option is to remove leg and as much of the tumor.  This would give us may =be another 6-8 months.  I'm not sure if I want to put her through the surgery and recovery, but I'm not ready to let go.   She is healthy other wise.  I have two other dogs and I'm worried about how she will be able to maneuver around them and also her recovery time.  I'm not sure what to do.
Hello Smiley's Mom, welcome. I'm so glad you posted here. Saw you were in the Tripawds Chat this morning, sorry I just missed you.
So it sounds like your vet thinks your girl (Smiley?) is a good candidate for surgery, which is great. As we say around here, only you know your dog better than anyone else, so aside from the cancer, how well do you think she could handle recovery? Is she pretty resilient? How did she do with going back and forth to the vet's for chemo? Do you think you'll pursue more chemo or other treatments like Palladia after the surgery?
Dogs are more resilient than we give them credit for and the vast majority bounce back no matter their age. We've had lots of dogs older than yours, it's really not unusual. Some dogs, large breed ones especially, may take longer than others to bounce back but for the most part they are feeling good and living life as normal within a few weeks. 
In a dog's life, age really is just a number provided that their health is otherwise pretty good. Is it the matter of the prognosis being "6 to 8 months" that's holding you back? If so, please try not to let it. Those prognoses are based on averages, and they don't take your dog into consideration. Yes, some dogs only live up to their prognosis, some don't come close and some go way, way beyond it. There's no telling. And like life itself, there's no guarantees how long they or any of us have to live on this earth. 
To a dog, whether they have 6 months or six years, the only thing that matters is each day is spent being pain-free, happy, loved and appreciated. It's humans that have the obsession with time and numbers. Never forget, your dog doesn't keep track of time.
I hope this helps. Please let us know what you decide, we are here to help however we can.
Forum Posts: 51
Member Since:
21 May 2018

Offline
Imagine the other two dogs as her helpers rather then worrying about how she will do around them.
if you decide on surgery they may encourage her to be more active and eat. My dog sometimes will only eat because the other dog is watching him.
I feel like dogs can tell when somedog is different and they will adjust. like how they are more gentle with kids sometimes. I would just talk to them all (I talk to my dogs all the time) and make sure to explain the situation. She is having surgery so you need to help her and such.
Ah thank you for offering insight about the other dogs in the pack! Since we only have one pup we don't have experience in that area and we are so grateful when others with more than one animal are able to chime in. Great input!

Livermore, CA

Forum Posts: 3208
Member Since:
18 October 2009

Offline
Hello and welcome.
What kind of dog is Smiley? How big is she?
Is this her first MCT? I had two Pugs who battled recurring MCTs. 
Maggie the TriPug lost a rear leg to a MCT that was in her knee.  Because of lymph node involvement discovered after the surgery (pre-surgery tests were clean) her prognosis with chemo was 6 to 9 months.  Maggie lived almost 4 years after her amp and did not pass from mast cell cancer.  You can read her story and about her amp and chemo if you are interested, the links are in my signature below. Of course not all are so lucky but if I had not done the amputation I don't think she would have even made 6 months.  It was her second tumor and was growing.
Was radiation offered as an option?  I declined rad with Maggie mostly because she had trouble coming out of anesthetic. 
If she is a good candidate for amputation then the recovery period wouldn't be long- most are back to themselves in 2 to 3 weeks.  Sometimes we see here the older pups take a little longer to get back to normal.  Maggie was a stubborn Pug who hated any changes to her routine.  She was grumpy for about 6 weeks post-op- waaaay longer than most here.  She had no medical complications and was hopping on her own the day after surgery.  In hindsight I realized that it was just her personality coming through- she got used to her new normal on her own terms! 
Karen and the Spirit Pug Girls
Tri-pug Maggie survived a 4.5 year mast cell cancer battle only to be lost to oral melanoma.
1999 to 2010
Thanks to everyone that commented.  Smilley is a mut but I love her to death.  She's about 35 pounds.  Found her when I was an animal control officer.  I have had her for 10 years so I'm not sure how old and just guessing 12.   I have made the surgery appointment, just hope I don't chicken out at the last minute.  I have had hundreds of dogs over my years of life but this one has hit me hard.  Please keep us in your thoughts.
Just catching up in time to join Smiley's Fan Club !   
This piece  of crap disease  puts us in a corner  where we have ro make  really hard forced choice decisions and it stinks!
Yoi are doing what needs ro be done ro give Smiley (love the name!) the  best chance possible  for a pain free quality  life for more spoiling and more loving!    And I'm  certain she applauds your commitment  to doing everything  possible for her!
Will she be spending  the night at an overnight  staffed clinic?  Sometimes  it takes mature dogs  an extra couple of days to get mobile.  They'll  have her on some good pain meds and seeing pink elephants, so you rest up while you can, okay?
Recovery is not picnicfor a week or two, so let us know if you have any  questions.  Remind yourself  you are doing this FOR Smiley and NOT TO her!  When you see her sparkle come back, and it will, you'll be so happy for her😁
STAY CONNECTED!   And we would loooove to see pictures of your sweet SMILEY!!  Try this link to help post them:  adding images
Extra hugs
Sally and Alumni Happy Hannah and Merry Myrtle and Frankie too 
Happy Hannah had a glorious additional bonus time of over one yr & two months after amp for osteo! She made me laugh everyday! Joined April's Angels after send off meal of steak, ice cream, M&Ms & deer poop!

Forum Posts: 10
Member Since:
21 January 2018

Offline
My dog Chance also had his left leg removed due to MCT. It was right under his armpit pushing against his chest wall as well. He had just turned 11 two days before amputation and I was worried it would be too much for him. A few months back I found out he was diabetic so I didn't know how that would effect him either. He was still so full of life (especially after he started on insulin, he was like a pup again) that I had to give him a chance. I tripled checked with the surgeon that Chance was a candidate, asked his internal medicine doctor who also gave the ok. 
Turns out I probably took the news harder than he did! Not probably, I did. We had some hiccups along the way but he's 5months into it and I couldn't be any more proud of him. It took a bit for him to start moving around on his own but he figured it out.
Being older didn't hold him back, he didn't know he was 11. I was wrong to hold his age against him since he didn't. Plus I could see how much the mass was such a bother to him. I didn't even realize until it was gone. 
Good luck to you and Smiley! 

Forum Posts: 1639
Member Since:
1 October 2017

Offline

Beautiful Avatar!
Thank you Chance's pawrent, awesome input!! I don't think many realize how many mature furbabies rock this stuff!
Smiley's mom… Hang in there, you will do what needs to be done, aren't mutts the best? I did animal control before I got into veterinary work as a tech. All the rescues make an imprint on your life. You found your heart dog… And you are doing the right thing. Period.
Would love to see more pictures! You know as well as I that for 35 pounds she may very well have a few good years ahead of her for the average dog. The doctors always give a "prognosis" based on averages but that IS NOT set in stone. Nopawdy knows how long we are here for. But for her size and shape I wouldn't worry so much about her getting around. She will just need to go slow and get lots of rest to begin with.
We have seen dogs much larger get around very well after recovery.                  ( Recovery can be difficult… Plan on it for a few weeks possibly, maybe not) but you have a ton of support here to help you through the hurdles. I don't think there is much that you will see that at least one of us hasn't dealt with. 
I would just go slow with your other pups. They will probably be just fine but sometimes the patient goes into self preservation mode. Stay calm and positive and see how they receive each other other. Most likely will be fine, sometimes they need a few days to themselves with limited observed visitation. Once the drugs are out of their system they are usually fine. Just watch them, you'll know.
I wish you good luck, and sending warm hugs your way. Hang in there, get your place tripawd friendly ie.. traction rugs for slick floors or stairs, raised feeding/water bowls, a safe place/large crate/safe room for for recovery, t-shirts to protect her incision… The home page here has tons of links with advice for recovery.
Hugs,
Jackie and Huckleberry ❤️
Hugs,
Jackie, David, Mitchell, Andy Oscar, and the coolest feral tripawd kitty Huckleberry

Awww….sweet photo…and with a Smile!!  Love the bit of "frosty mug" too😎
Happy Hannah had a glorious additional bonus time of over one yr & two months after amp for osteo! She made me laugh everyday! Joined April's Angels after send off meal of steak, ice cream, M&Ms & deer poop!
So for the past few days I have been going back and forth over the surgery.  They quote one price and now its higher.  I am on a fixed income.  Between possibly losing her because I cant afford this or just biting the bullet and doing it is a hard decision let alone the stress I have been going through on her condition and making a good decision for her.   I appreciate all the input and will let you know what happens.  Right now surgery is scheduled for the 11th.  Please say a pry for her.  Thanks.
I'm so sorry, I know how stressful it can be. Why did the price go up? Never hesitate to ask your vet questions.
You are both in our hearts and thoughts. Stay strong, we know you can do it!

Forum Posts: 6449
Member Since:
21 May 2016

Offline
Hi Smiley and Mom 🌸🐾
Surgery is always expensive …
So hope you can do this … 
Jerry has a point there, why did they quote a price and then a higher one?
Thinking about you both and sending a wave of hugs and cuddles 😘🐮💫✨🌟🌹
Eurydice 77kg/170lb Great Dane limping end of April 2016, amputation (right front leg/osteosarcoma) 4 May 2016 6 courses of carboplatin followed by metronomic therapy, lung mets found 30 Nov 2016. 3 courses of doxorubicin, PET scan 26 Jan 2017 showed more mets so stopped chemo. Holistic route April 2017. Lung X-ray 5 May 2017 showed several tennis ball size mets, started cortisone and diuretics. Miss Cow earned her XXL silver wings 12 June 2017, 13 months and 1 week after amputation and 6 1/2 months after lung mets, she was the goofiest dawg ever and is now happily flying from cloud to cloud woof woofing away :-) 
Forum Timezone:
America/Denver
Most Users Ever Online: 597
Currently Online: tinsch
37 Guest(s)
Currently Browsing this Page:
1 Guest(s)
Devices Used: Desktop (35), Phone (3)
Member Stats:
Guest Posters: 1005
Members: 12613
Moderators: 2
Admins: 3
Forum Stats:
Groups: 4
Forums: 23
Topics: 14974
Posts: 210886