Join The Discussion
Learn about life on three legs in the forums below. Browse and search as a guest or register for free to take advantage of member benefits:
Instant post approval.
Private messages to members.
Subscribe to favorite topics.
Join the Live Chat and more!
What Is The KillBarney Tour?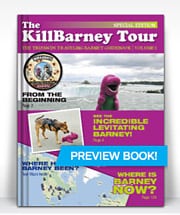 Get the KillBarney Tour Book for photos and stories of Tripawds members around the globe!
A
A
A
Forum Posts: 2
Member Since:
25 June 2018

Offline
I have a 4 year old Basset/Lab mix named Hoyt. In November 2017 he was diagnosed with Osteosarcoma and December 23rd he had amputation surgery. The first several weeks were rough and he struggled to learn his limits. We went through a lot of sore days where he wouldn't walk much and had to be carried up and down stairs, outside, etc. Then, once he adapted fully to his tripawd status, he did great, he thrived even! In May we decided to get a puppy because we don't have human children and our dogs are our children and we were ready for another. Hoyt was doing so well and our older English Bulldog (Riggs) doesn't really care either way because he's so lazy LOL. We got our new pup on May 7th (he's a Redbone Coonhound) and Hoyt didn't love him at first – he was very jealous. But it didn't take long before they were running and playing like best friends. After about 4 weeks I noticed Hoyt starting to favor his existing front (right) leg. I gave him some rimadyl that we still had left over from post op and hoped it would get better in a few days. I made an appt to see the vet on the 18th and he checked him out head to toe and said everything felt good, lymph nodes felt good, he felt he had just overdone it with the puppy and to keep giving the rimadyl and have him rest it. Well, all last week it got worse to the point he wouldn't even walk in the morning. SO, I took him back to the vet two days ago because it was worse, he checked him all out again, tested for Lyme just to be sure (negative), and said again he felt that xrays aren't necessary because he truly feels he just overdid it and wants me to keep him confined to his kennel as much as possible for 2 weeks and see if it improves. My question is…has anyone else had this happen to their tripawd? I'm so worried and thinking the worst (of course). Any advice or help would be much appreciated!

The Rainbow Bridge

Forum Posts: 23780
Member Since:
25 April 2007

Offline
Hello Hoyt and family, welcome. Your future posts won't need approval so post away.
You've got quite a fun pack there, the dogs sound like a neat bunch! 
We can't blame you for being worried, there's not a person here who wouldn't think the worst when osteosarcoma is involved. But as we like to say here, don't panic, breathe and let's look at things from all angles before thinking the worst case scenario.
First, it's totally logical that your vet would come to that conclusion, especially because Hoyt is a front-leg Tripawd. Losing a limb often results in muscle strains in the early days of being a Tripawd. I would have figured the same thing as your vet and it makes sense to take the R&R approach, it usually works. So you did good by being in touch with the vet and listening to your gut instinct to take him in again.
We aren't vets, but the two biggest factors that can contribute to pain symptoms like this, at least what we see here (and yep, it happens quite a bit with members' dogs) are 1) excess weight that makes it harder for a dog to get around (how is Hoyt's weight?) and 2) physical activity that the Tripawd isn't ready to tackle.
Did Hoyt have any kind of rehabilitation therapy after surgery? If not, now is a good idea to see a licensed CCRT or CCRP / pain management specialist who can help pinpoint the pain issue and work on helping Hoyt feel better. If your vet doesn't know of any, we can help find one closest to you.
Meanwhile, trust your gut. If you want x-rays, your vet should accommodate your request. If he won't then perhaps it's time to get a referral to a specialist who is more familiar with these types of injuries / pain symptoms. 
I hope that Hoyt starts feeling better really soon. Please let us know how things are going for him. 
Forum Posts: 2
Member Since:
25 June 2018

Offline
His weight is a little high for his size, he has been cut back on food and his weight is down to 37 now from 39. The vet wants him at 33. As of this morning, there still really hasn't been any improvement. The thing that scares me the most is that is ONLY hurts him IN his carpal joint which is exactly how it started last time. He is only 4 and he is the sweetest, most loving dog I've ever had so I'm so sad that he is struggling so much right now. I will give it the two weeks like the vet said and then I'm going to tell him I want xrays if i dont see any improvement. Other than the pain in his carpal joint keeping him from walking he is great and he is so sad that he isnt allowed to run and play! Hoyt has not had any rehab therapy, I don't know if we would have any around because we are in a rural area…

Virginia


Forum Posts: 16378
Member Since:
22 February 2013

Offline
BTW, HAPPY SIX MONTH AMPUVERSARY  HOYT!!!😁  GOOD JOB FELLA'!
Yeah, a rambunctious  Coonhound can certainly  get a Basset/mix to tweak a few muscles  when romping  around!  
Did the Vet add a pain med to the Rimadyl?  If not, I would certainly  ask for that to help  with the healing.
Qnd yes, we all worry about the worse case scenario anytime there is so much as a hiccup  or a burp!  This journey  makes us all a bit whacko when it comes to worrying  about what usually  turns out to be nothing!  For whatever it's  worth, osteo doesn't  generally go to another limb.  It happens,  but not generally.
It wouldn't hurt though to get an xray, to eliminate other possibilities.  Something  may be identified  that additional  meds may be advised, or even a brace, something  like that temporarily  until things heal.
Do keep us posted AND, we would LOOOOVE to have photos!
Hugs
Sally and Alumni Happy Hannah and Merry Myrtle and Frankie too!
Happy Hannah had a glorious additional bonus time of over one yr & two months after amp for osteo! She made me laugh everyday! Joined April's Angels after send off meal of steak, ice cream, M&Ms & deer poop!

The Rainbow Bridge

Forum Posts: 23780
Member Since:
25 April 2007

Offline
Ditto on Sally's insight. I would absolutely ask for another pain medication while you wait for the R&R to kick in.
You would be surprised at how many rehab therapy clinics are popping up. If you want to Private Message me your town I can help find you the closest one near you. The best part is the Tripawds Foundation may even pay for your first rehab visit , so let's see what we can come up with OK?
While you wait, I would have a conversation with your vet about helping Hoyt drop that remaining weight. One pound of fat on a dog is the same as five pounds of fat on a human. It's a lot of weight to haul around, and it takes a toll. The good news is your vet can show you many ways to help him lose weight and not all of it involves physical exercise, it starts with the food bowl. I know you've already cut back on his food but you can do other things too. See our Tripawds Nutrition blog for weight loss tips.
We hope he starts to feel better this week! Keep us posted.
Forum Timezone:
America/Denver
Most Users Ever Online: 597
Currently Online: kbp0419, kbart1107, joni
60 Guest(s)
Currently Browsing this Page:
1 Guest(s)
Devices Used: Desktop (52), Phone (10), Tablet (1)
Member Stats:
Guest Posters: 1005
Members: 12590
Moderators: 2
Admins: 3
Forum Stats:
Groups: 4
Forums: 23
Topics: 14970
Posts: 210768