Join The Discussion
Learn about life on three legs in the forums below. Browse and search as a guest or register for free to take advantage of member benefits:
Instant post approval.
Private messages to members.
Subscribe to favorite topics.
Join the Live Chat and more!
Tripawds News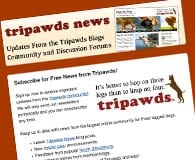 Subscribe to newsletter for email updates. Unsubscribe any time and keep free gift!
A
A
A



Life Lessons on Spirit Jerry's Day of Remembrance

Read the original blog post

Add Reply

Add Topic
Well, this is a day that weighs heavy on my people's hearts. You see, four years ago on October 3, 2008, just two days after my birthday #10, I left my weary body behind and flew away, to a place so beautiful I can't even find the words to describe it.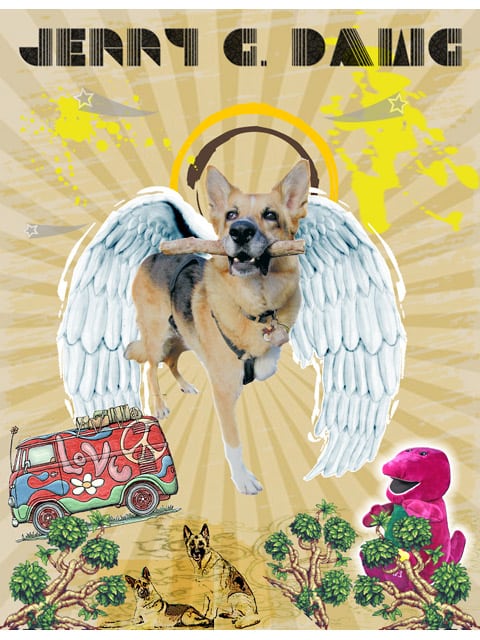 But ever since that very sad and surreal day under peaceful blue Montana skies, I've been in constant communication with my pack.
From today's beautiful sunrise while the full moon sank down into the horizon, to the three-legged buffalo roaming the Great Yellowstone Plains that I loved, my love is everywhere my people are.
You see, I make it easy for my people to find me. But first they have to be still, and take a deep breath.
It's not easy for them, you know? They're just like you are!
You crazy people are always trying to do too much because you're so worried about tomorrow, without even stopping to consider the things that are happening right in front of you, right now.
My sole purpose while I was on earth, was to get my people to find the joy in This Moment. To take a minute to see the world through my eyes, and make the most of all that they have, because Life Is Beautiful and Way Too Short!
I showed them this lesson in a lot of cool ways.
Like catching a ball as if were the last one on earth.
And running crazy in the salty ocean air.
Today my pawrents are sad, but I think I have something that will cheer them up. See, on their one day of heavy hearts and bittersweet tear drops, I have a gift that I hope will brighten your day, every day. Knowing you're reading this will make them smile!
The next six lessons are what I try to teach my people as they go about their busy lives, and I know it will make them very happy to know that you are learning them too:
Spirit Jerry's Life Lessons
Every day is a great day. Life each day as if it were your last, because it very well may be.

Don't let adversity slow you down. Enjoy those things you can do, right now.

Take time to smell the roses. Observe the world around you, you never know what you might miss.

Go and Do. Get up, get out and seek adventures.

Simply be. No matter what's going on, where you are, be happy within.

Never give up. Do everything within your power to reach your highest aspirations.
You can't go wrong if you take these lessons and hold them close. Remember this simple way of living, and your days will be richer than you ever thought pawsible.
This is how I lived. It's what your own Tripawd is trying to tell you, at this very moment.
This is the Way of Dog.
Love,
Spirit Jerry G. Dawg
10/1/98 – 10/3/08
P.S. My friend, Lil' Bit, from the Odaroloc Sled Dawgs, left his weary bones on the same day I did too. I know his people have heavy hearts also, and I send all my love out to them as well.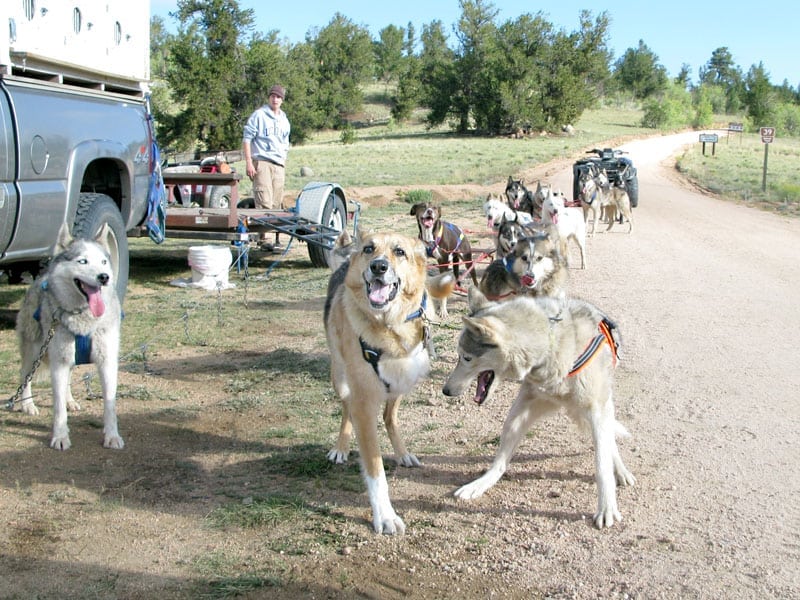 Oakland, CA
Forum Posts: 673
Member Since:
20 December 2008

Offline
Thanks for the reminder Big Dawg! Thinkin' of you and your pawrents tonight, with a candle lit so you can find us!
xoxox,
Codie Rae and the OP +1
Woohoo! Tripawds Rule!
Regulator of the Oaktown Pack, Sheriff of the Oaktown Pawsse, Founding member and President of the Tripawd Girldogs With 2 Names ROCK Club, and ... Tripawd Girldog Extraordinaire!

My heart lives at Rainbow Bridge
Forum Posts: 3754
Member Since:
28 November 2008

Offline
It took me a while to gather enough courage to read this.  I knew it would be awesome advise, so I finally just dived in.  Jerry, you just keep on teaching us and we are grateful.
Shanna & Spirit Trouble ~ Trouble gained her wings 3/16/2011, a 27 1/2 month cancer survivor, tail wagging. RIP sweetheart, you are my heart and soul.  Run free at Rainbow Bridge.
The November Five - Spirits Max, Cherry, Tika, Trouble & Nova. 11/2008 - 3/2013 An era ends as Queen Nova crossed the Bridge.


Tampa, Florida
Forum Posts: 14
Member Since:
17 September 2012

Offline

Forum Posts: 17
Member Since:
11 September 2012

Offline
Paw shucks everyone, you really are so sweet. Thank you so very much.

Sydney, Australia
Forum Posts: 628
Member Since:
13 September 2011

Offline
Wonderful advice as always Jerry. And since we are only human we need to be regularly reminded!!!
Karen
Magnum: 30th May 2002 to 5th May 2012. Lost her back left leg to osteosarcoma on 5th Sep 2011. Lung mets found on 20th Mar 2012 but it was bone mets in the hip that ended her brave battle. Magnum's motto - "Dream as if you'll live for ever, live as if you'll die today" (James Dean). Loyal, loving, courageous and spirited to the end. My beloved heart dog, see her memoirs from Rainbow Bridge ...... http://princess.....pawds.com/

Forum Posts: 92
Member Since:
17 March 2012

Offline

Dear Spirit Jerry – I think that you also inspired your parents to make this place, this place where many people and their dogs support each other as they learn to "live like a dog" (by your rules) despite cancer. We are sad along with your parents but we also thank Dog that we found your site and all your words of wisdom.
Run Free Spirit Jerry and keep watching over your parents, helping them to keep learning how to live by your rules. You've helped me more than you can imagine.
K, an 8 year old chocolate lab, was diagnosed with osteosarcoma of the radius and ulna on 12/23/11. She had stereotactic radiation to kill the bone tumors, and 3 rounds of carboplatin. On 3/16/12, lung mets were found. We tried several different kinds of chemotherapy to slow the lung mets but none worked. Finally, mets appeared at other sites, including her spine. She earned her angel wings on July 15, 2012. K changed my life, and I'll never forget her. Our/my journey is chronicled at romp-roll-rockies.blogspot.com.

Plainfield, Illinois
Forum Posts: 465
Member Since:
14 May 2011

Offline
Pawesome advice, Jerry!  Spirit Chili Dawg taught me some of those same lessons.  Tell him I said "hi and I miss you" if you run into him up there.  Thank you for reminding us to live in the moment

Jenna- Spirit Chili Dawg's mom
Diagnosed with OSA: 5/2/2011 Ampuversary: 5/11/2011 OSA returned in hip: 8/26/2011
Chili Dawg crossed the Rainbow Bridge on 8/30/2011 & is now pain free. He was my heart dog, and I miss him every day.
chilidawg said
Pawesome advice, Jerry!  Spirit Chili Dawg taught me some of those same lessons.  Tell him I said "hi and I miss you" if you run into him up there.
Thank you! Consider it done, Jenna. Don't you know, all Tripawds hang out together?

{{{{{hugs}}}}}}
Forum Timezone:
America/Denver
Most Users Ever Online: 597
Currently Online: jessiemurrenus, Bear
46 Guest(s)
Currently Browsing this Page:
1 Guest(s)
Devices Used: Desktop (44), Phone (4)
Member Stats:
Guest Posters: 1005
Members: 12757
Moderators: 2
Admins: 3
Forum Stats:
Groups: 4
Forums: 23
Topics: 15023
Posts: 211539