Join The Discussion
Learn about life on three legs in the forums below. Browse and search as a guest or register for free to take advantage of member benefits:
Instant post approval.
Private messages to members.
Subscribe to favorite topics.
Join the Live Chat and more!
Help Your Tripawd Swim!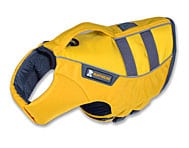 Three legged dogs swim safer and have more fun with the K9 Float Coat from Ruffwear!
A
A
A

Austin, TX
Forum Posts: 46
Member Since:
26 August 2010

Offline
I'm trying to make the most informed decision possible.  At this point in time, I'm feeling that amputation of Jack's front right limb is the best option, but thought someone else here might have more experience.
I rescued my dog Jack from a shelter; his front leg was crooked and there was evidence of a break that had healed badly.  He was fine for the first few years of his life but after a summer where he continued to limp, we sought a solution to the problem.  Our vet thought he could straighten the limb and make it 'as good as the other leg'.  However, the crooked limb was 5 cm too short so we had to go through a process to lengthen the bone…which I will probably never do again, in all honesty.
Unfortunately this week, after months of setbacks and problems, we've had to declare the whole thing a failure.  Our only options now are either amputation of the leg or a surgery involving a bone graft to close the last 5mm left, a plate on the bone to hold it steady, and cutting of the tendons/fusing the wrist joint due to the leg being unable to flex from that joint any longer.
Jack had developed arthritis in his elbow as early as two years of age (he's now six years) and during the initial try to fix his crooked leg, too much pressure was put on his paw and severely damaged the tissue around his digits, resulting in the loss of two pads and a somewhat now-deformed paw.  There is no promise that the bone-graft/tendon-cutting/wrist-fusing procedure will ever fix his paw and I am worried that the paw itself will develop arthritis in the future as well.
I know there is a wealth of information on front-leg amputees on this site, but I have no idea what to expect in terms of a bone-graft surgery with everyone else attached.  I want to know if it's even worth giving a shot, the whys-and-why-nots of it versus front leg amputation, if anyone has any experience with this.
Thank you so much in advance.
Jack - adopted with a crooked leg at 4 months old, managed for six years, and now much-happier Tripawd as of 5/24/2012!

Here and Now

Forum Posts: 11459
Member Since:
25 April 2007

Offline
Thanks for joining, sorry to hear about Jack. Your future forum posts will not require moderation.
Only yu and you vet know what is best for Jack. And we can only speak from our own experiences with Jerry and Wyatt. But far too many times we have heard from people who put their dogs through multiple, painful, expensive surgeries trying to "save the leg" only to end up amputating anyway.
We have interviewed surgeons and oncologists who told us about 30% success rates with limb sparing and the huge risk of infection. Not to mention some studies that have identified osteosarcoma tumors growing at the location of grafts and plates. But please note that we are not vets.
Best wishes in making the best decision about what is best for Jack. If he is otherwise fit and trim, he should adapt quickly and do well on three legs. Please keep us posted.

Scottsburg, IN
Forum Posts: 308
Member Since:
5 February 2010

Offline

krun15
When I was a kid we had a dog that was the very nervous type.  She freaked out once while we were gone and jumped out a second story window and she shattered one of her wrists.  All the vet could do was fuse the joint with a metal plate and screws.  Once healed from the surgery she got around fine, but was never as fast running as she was before the surgery.  As she got older she would limp a bit- probably from arthritis. I don't remember her having much trouble with the leg.
But, the broken wrist was her only injury.  Sounds like Jack has multiple issues with the front leg, including arthritis.  I am dealing with pretty sever arthritis in my older quad pug and it is quite a challenge.  If you could take that pain away from Jack now I think he would be a happier pup.
Do you have him on joint supplements?  People have different opinions of the effectiveness, but I have seen glucosimine/condroitin really help my first two pugs.  Tani, my older girl, started on it around age 7 or 8 when she started limping and the arthritis in her back was first diagnosed.  It completely stopped her limping for a few years.
Karen and the pugapalooza


Forum Posts: 1896
Member Since:
22 August 2008

Offline
It sounds like even if you try the bone graft that the carpus will still be unable to flex normally.  In addition he has damaged toes/pads.  I think that for these reasons he would do much better with an amputation.  He will recover quicker and with less complications.  He is still a young dog and should bounce back fast!
Pam

Just from the information that you have given I would side with doing the amputation. This will prevent any future problems with that leg and Jack will likely be all healed up in a few weeks and he will be able to live pain free and do most of what he could do before. Good luck with your decision and we will all be here to help you through the healing process if you decide to go through with the amputation. 

San Diego, CA
Forum Posts: 2503
Member Since:
29 October 2010

Offline
I don't have any experience with that, so no advice to offer (except to say that most of the dogs on this site have done great following the recovery post-amp) but did want to say that your Jack is gorgeous! Sorry you have to make a tough decision.
Keep us posted and all the best,
Jackie, Angel Abby's mom
Abby: Aug 1, 2009 – Jan 10, 2012. Our beautiful rescue pup lived LARGE with osteosarcoma for 15 months – half her way-too-short life. I think our "halflistic" approach (mixing traditional meds + supplements) helped her thrive. (PM me for details. I'm happy to help.) She had lung mets for over a year. They took her from us in the end, but they cannot take her spirit! She will live forever in our hearts. She loved the beach and giving kisses and going to In-N-Out for a Flying Dutchman. Tripawds blog, and a more detailed blog here. Please also check out my novel, What the Dog Ate. Now also in paperback! Purchase it at Amazon via Tripawds and help support Tripawds!

Leicester, NY
Forum Posts: 422
Member Since:
11 February 2011

Offline
No advice here but just wanted to say welcome to the site and wishing Jack the best!
Spirit Samson was Spirit Tripawd Daisys four legged "brother" and ruled as the self proclaimed head of the Monkeybutt Federations East Coast Division. Lady Chunky Monkey stayed from Oct 2011 and left for the bridge in Apr 2012. Miss Perdy is left and has some big pawprints to fill.
Do you have what it takes to be a Monkeybutt? Find out more at the Monkeybutt Federation

Las Vegas, Nevada
Forum Posts: 4344
Member Since:
14 August 2009

Offline
OH!  What a cutie pie Jack is!   I love that face! 
Nothing on my end either for advice but FYI "tazziedog" is a vet, so her advice is always the best!
Comet - 1999 to 2011

She departed us unexpectedly  January 23, 2011 at the age of 12 1/2.

She was born with a deformed front leg and a tripawd all of her life.


Austin, TX
Forum Posts: 46
Member Since:
26 August 2010

Offline
Thank you all for the responses and the support so far.  I really appreciate all of the advice.  I think my mind is settled on amputation instead of the bone graft/etc…I just need to discuss everything with my vet and make sure that the best is set for Jack.
Everyone's positive attitude here has really helped my mindset in this; I really can't say how much I appreciate it.
Thank you guys again!
Jack - adopted with a crooked leg at 4 months old, managed for six years, and now much-happier Tripawd as of 5/24/2012!
Forum Timezone:
America/Denver
Most Users Ever Online: 597
Currently Online:
49 Guest(s)
Currently Browsing this Page:
1 Guest(s)
Devices Used: Desktop (43), Phone (5), Tablet (1)
Member Stats:
Guest Posters: 1005
Members: 12755
Moderators: 2
Admins: 3
Forum Stats:
Groups: 4
Forums: 23
Topics: 15022
Posts: 211515