Caring for a Three Legged Dog or Cat
Tripawds is the place to learn how to care for a three legged dog or cat, with answers about dog leg amputation, and cat amputation recovery from many years of member experiences.
JUMP TO FORUMS ↓
Join The Tripawds Community
Learn how to help three legged dogs and cats in the forums below. Browse and search as a guest or register for free and get full member benefits:
Instant post approval.
Private messages to members.
Subscribe to favorite topics.
Live Chat and much more!
Find out in Be More Dog: Learning to Live in the Now by Tripawds founders Rene and Jim. Learn life lessons learned from their Chief Fun Officer Jerry G. Dawg! Get the book and find fun gifts in the Be More Dog Bookstore.
Has anyone used granulox haemoglobin spray here?
You're actually the first person to mention it here (I searched the Forums and couldn't find anything). But in a quick Google search I see that Granulox used for human wound care has some pretty good results. Makes sense it would work for Kaju as well.
Have the vets mentioned Manuka Honey at all? Many members here have reported good results with Manuka Honey wraps and it's relatively inexpensive.
I am trying to celebrate the little things instead of being all doom and gloom 
YES!
This is part of the prescription for healing, it's so helpful when we can seek out those bright spots and celebrate them. You're doing great, keep it up!
Forum Posts: 60
Member Since:
26 July 2020
Offline
Oh! Our vet actually did Manuka honey with Ziggy when he had his first little infection and it seemed to go really well! I've never heard of the spray either but that's one of those things I'd discuss with the vet first to make sure it's okay to use on cats, or useful in Kaju's case.
At this point just let him eat whatever he wants - that's what we did with Ziggy. As long as I could get him to eat SOMETHING that was good enough in my book. There's always time to argue with them later about good food vs. junk food.
Keep looking for and celebrating those small steps, that's what gets you through stuff like this! We celebrated when Ziggy would drink some water on his own, when he didn't sling half his medicine all over himself or us, when he'd eat some of his food without being forced, when his incision didn't leak for an hour or two. Nothing wrong with cheering about little milestones!
Jist tompoggyback on the Manuka Hone and the Franulox ki d of "complementary  therapy", check out thos link about cabbage poultice.  It was shared by one of our members.
Happy Hannah had a glorious additional bonus time of over one yr & two months after amp for osteo! She made me laugh everyday! Joined April's Angels after send off meal of steak, ice cream, M&Ms & deer poop!
Good one Sally, thanks for remembering!
I consulted another vet today. His opinion largely matches his regular vet surgeon's.
- to dress the wound locally for one week giving time for internal healing. 
- after one week evaluate for surgery. Surgery will consist of taking out dissolvable internal stitches provided it's healed enough inside and stitching the 1 inch gap outside.
The vet said there's less likely to complications this time because the skin can be stitched in a straight line as opposed the y shape (the unhealed portion is the joining of the y). He'll need to go back on antibiotics. 
He's also prescribed an ointment which has similar to the granulox spray but can be applied more frequently. He also agreed with Kaju's surgeon that the infection is superficial and mild and we can stop oral antibiotics for now from today. He'll have to have daily cleaning of wound and covering it up with gauze and porous plaster to prevent dirt from getting in. 
Thanks everyone for being with us on this journey and being patient with me. I'm still quite apprehensive and anxious but if stitches mean faster healing then I guess that's what I have to opt for. I'm trying to think of one day at a time. Wednesday is his dental evaluation. Fingers crossed for that.

Forum Posts: 88
Member Since:
6 July 2017
Offline
Hi there!
A bit late here as I am not online too often these days, but my cat Tuxedo went through a very long period of healing following his surgery and subsequent wound infection.  Hopefully you will not have to go down the same path he did as it was very drawn out and costly too.  But just in case here is what he went through in some detail. 
Tuxedo had a deep seated infection which opened up pretty much his whole incision.  A brief summary of it is here.  The  vet really did not have the option of closing the incision with sutures (or Staples) due to the amount of skin lost after surgical debridement of it.  And after the problems with one incision, the last thing I wanted to try was the flap surgery that was offered as an option.  Instead, Tuxedo's incision was allowed to fill in and close with all new skin, granulation they call it.  Treatment mostly consisted of wet to dry bandages sewed in place.  Which the vet changed out three times a week.  This is not as bad as it sounds.  Four small loops were sewed on his skin and the wad of bandages were laced to that.  The bandage stack was roughly 2" thick and was sopping wet when put on and then it dried.  Each time he went back he had to be sedated to change the bandage (I have heard this type of bandage sticks to the wound and is painful to change).  Evidently if a wound can be kept wet/moist it usually heals ~5x faster. He also given cool laser therapy treatments at each dressing change.  This  was done for 3-4 weeks until the bandages were discontinued and the rest of the area was allowed to fill in naturally.  The filling in took another 2-3 weeks.  He was on antibiotics this whole time, long acting injections.
Hopefully this is just useless information to you.  However, since Kaju amputation was not cancer related (unless I missed something), it might be worth considering cool laser therapy if it is not too expensive, to speed up cell growth/healing.  I do not think I have seen that mentioned.
Hugs and best wishes
-Dawna, Tuxedo, Lilly, and Angel Dazzle
WOoohoo! What great news, that's such peace of mind to get another opinion isn't it? What is the ointment?
You are doing such a great job taking things one day at a time, give yourself a pat on the back, it's not easy, this is such a learning experience.
The gel given today is called solcoseryl. Anyone used it before? He said I could use that or nano silver spray. Kaju doesn't like sprays so i opted for the gel. Has anyone used it? 
Also tomorrow from day 20 he won't have oral antibiotics. 
I'm including a photo of his wound here today(day 19)  and on day 4. i hope it's not too graphic.
[Image Can Not Be Found]
[Image Can Not Be Found]

Here and Now
Forum Posts: 12448
Member Since:
25 April 2007
Offline
No need to apologize, it's just that not all the photos showed up, only the last one. 
The incision doesn't look healed in my non-vet eyes, and seems like it needs more time and treatment. You and your vets are on the right track it sounds like. Try not to get frustrated, many people have pets with longer than average healing times but it really does happen eventually as long as the vet team is good about staying on top of wound care. 

Michigan
Forum Posts: 2006
Member Since:
11 July 2016
Offline
We can see two images. I'm not sure how many you were posting. Never need to apologize here;)
Again we were fortunate and did not have any issues with incision healing. I'm sorry I can see why you are concerned. What is the blue in the incision? Did they put something in there? Did they leave Kaju's shoulder/scapula? (I can't tell in the photo)
They took Purrkins scapula and leg; he had no issues closing him and a lot of extra skin. We did not choose the scapula, no scapula; this is how his surgeon did these surgeries. They told us Purrkins would be more comfortable w/o the scapula, and i have also heard since it's also a cosmetic thing. But i do wonder if Kaju still has his scapula, which is why it is not healing as well & closing? 
Here are some pics of Purrkins, first day home, Day 9 & Day 14 stitches out for comparison.
Day one Purrkins home
Day 14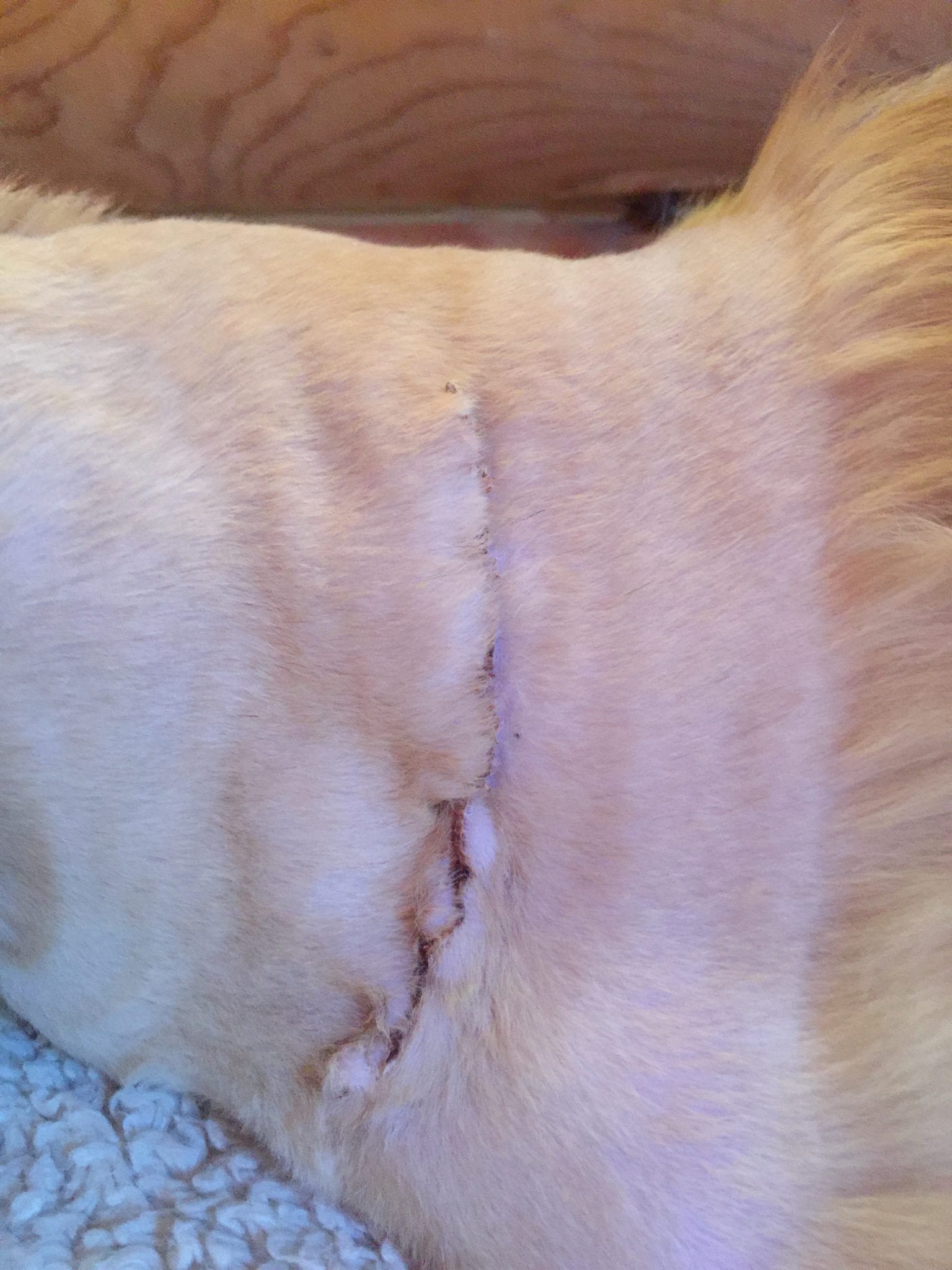 You can also look at the photo gallery here, Surgery and Treatment Pics. 
We have an ask a vet forum here if you want to post there for another virtual opinion and get Dr. Pam's input on what she would advise next.
https://tripawd.....-a-vet/. 
Hugs, Holly & Purrkins💝💝💝
Sorry about late update. His scapula was not taken out because the vet felt it would be too invasive. The blue stitches are the dissolvable stitches holding together the muscles. They've been taken out on Wednesday. The vets still feel we should wait for another week before deciding whether he needs stitches. They feel the wound looks good and infection free nad looks like it has narrowed a little in one place. So it's every 3 days dressing with antibiotic ointment and granulox spray. However, kaju manages to open the gauze bandage or soil it so practically i dress it at home with cleaning and applying antibiotic amikacin gel everyday.
On Thursday (yesterday) Kaju had appointment with the dentistry specialist. He said that Kaju's teeth looked pretty okay and there was no swelling inside his mouth or lymph nodes. So he recommended no surgery for now. He's also given an ezymatic toothpaste that I'm goi g tos tart using after Kaju is back to eating as before. I'm going to send him a few videos of Kaju eating because he refused to eat in at the clinic and the vet wanted to see how he is eating to gauge if there's any underlying issue.
The continuing issue remains his refusal to eat. Even with appetite meds he doesn't eat much at all despite trying 7 varieties of dry food and 4 varieties of wet food. But he is drinking more on his own. His eosinophil levels were a bit high in his last blood test and I'm awaiting a report of stool examination to see if he might have stomach parasite. 
I'm wondering if I should stop giving the probiotic (benebac plus)? Could that be causing inappetence? He also gets really depressed in his collar. But everytime i put on a shirt on him while he enjoys licking and scratching himself he also invariably 8 out of 10 time manages to take off the gauze covering his open incision. I've ordered a different kind of soft collar let's hope he's less depressed in that and isn't able to open up the gauze bandage. 
His furless skin around the wound is also very itchy: loves it when i rub it and any chance he gets licks it raw. Anything I could safely apply to soothe it?
One thing for certain, Kaju could not be getting better care!  You are so tuned into his needsand so atte give.  Very lucky boy.
As usual, the ,with members can offer better I sight than I.  A thought, have you tried human food, like cut up pieces of steak or hamburger, or maybe even stinky liverwurst?   And leaving the cone off while eating, you probably already are doing  that, right?
Hugs
Sally and Alumni Happy Hannah and Merry Myrtle and Frankie too!
Happy Hannah had a glorious additional bonus time of over one yr & two months after amp for osteo! She made me laugh everyday! Joined April's Angels after send off meal of steak, ice cream, M&Ms & deer poop!
Forum Timezone:
America/Denver
Most Users Ever Online:
946
Currently Browsing this Page:
1
Guest(s)
Member Stats:
Guest Posters: 1153
Members: 13560
Moderators: 2
Admins: 3
Forum Stats:
Groups: 4
Forums: 23
Topics: 17183
Posts: 240446
©
Simple:Press
—