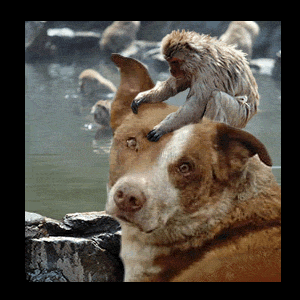 Life is good. Lately I've been living with my people in the woods near Eau Claire, Wisconsin, just soaking up the sun and loving life. But recently, I heard from a fellow Tripawd, Sammy. He was looking for some ideas for a back and ear scratcher for dogs without the use of back legs. Got any? Scratching ideas, not legs, silly!
See how Sammy tries to scratch:

Sammy is blazing through his amputation recovery like a Rock Star, even though he has faced some really big health problems. He found me because he went to the wonderful people at the University of California at Davis' Vet Teaching Hospital too. Sammy even met my girlfriend there, Theresa Varland!
You can read all about it on his Dogster page, but here's the short version of what 10-year old Sammy has battled. Ha, you think you've got it bad sometimes?