Plenty of studies about dogs and cannabis products exist, but few research the safety of cats and CBD or THC products. One study found that a small group of healthy cats safely tolerated one particular cannabis product formula for pets.
We think the results are a perfect fit for Cannabis Corner with Tripawds. Let's take a look at what they found.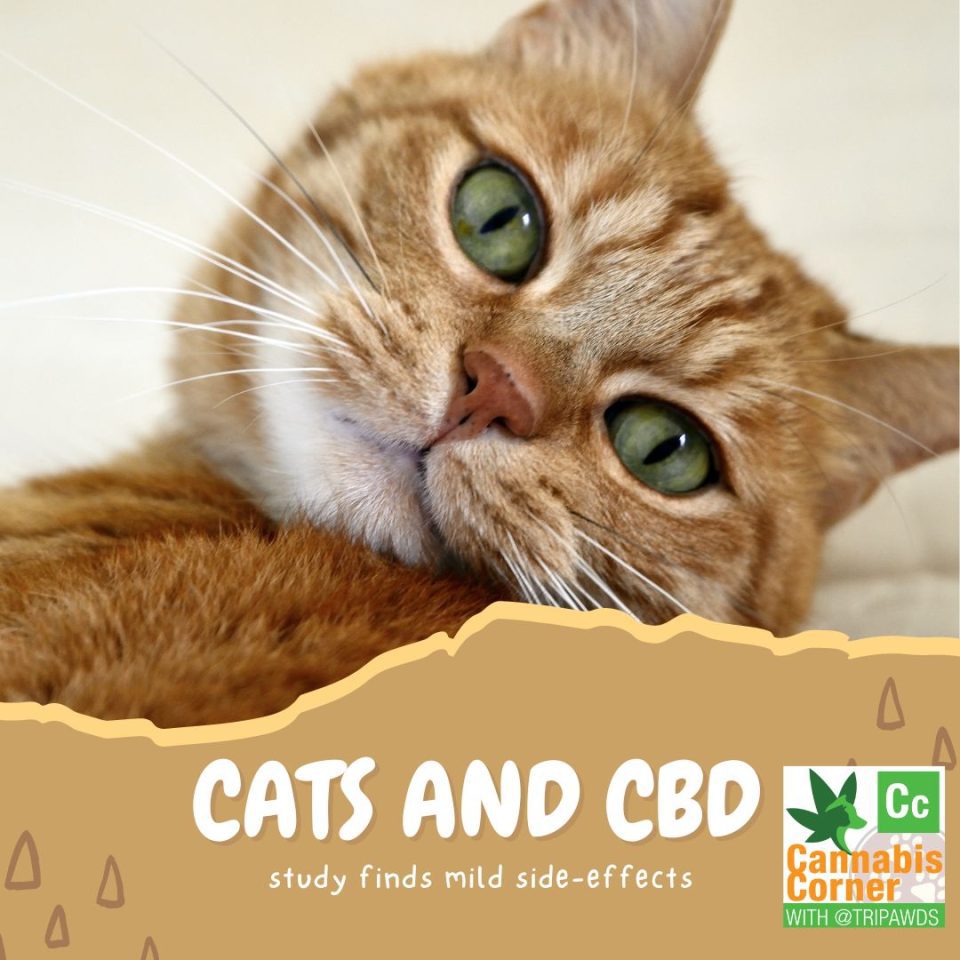 Why Give Pets Cannabis Products?
As we discuss in our Cannabis (CBD) Pet Product Basics article, molecules contained in the cannabis plant can have healing properties for people and pets. CBD is the most well-known of those healing molecules, but there are close to 200 other cannabis molecules that also provide healing benefits.
Pain control, seizure reduction, appetite regulation, and anxiety reduction are three of the most common reasons pets and people use cannabis products.
Many cannabis studies on dogs have been published over the years. But little money is being spent on uncovering the safety of cats and CBD or THC products.
Study on Cannabis Dosing for Healthy Cats Shows Mild Side-Effects
The 2021 study is titled "Safety and Tolerability of Escalating Cannabinoid Doses in Healthy Cats." This randomized, placebo-controlled, blinded study recruited 20 healthy adult cats as participants.
The goal: to determine the safety and tolerability of increasing doses of cannabidiol (CBD) and tetrahydrocannabinol (THC), alone and in combination
The cats taking a placebo received either sunflower (SF) or medium-chain triglyceride (MCT) oil (the fats found in coconut oil, for example).
Cats getting cannabis received CBD in MCT oil, THC in MCT oil, or CBD/THC (1.5:1 ratio) in SF oil. The dosages were as follows;

CBD alone: ≤30.5 mg/kg of body weight
THC alone: ≤41.5 mg/kg
CBD/THC (≤13 mg/kg and ≤8.4 mg/kg

Both groups of cats were fasted before their dose. Each got up to 11 increasing oral doses, three days apart.
The Findings
All cats given cannabis only experienced mild side effects such as minor gastrointestinal upset (27.6%), respiratory (15.4%), neurologic (14.6%), and ocular (8.3%) issues.
About 29% of cats on cannabis had mild lethargy, ataxia (unsteady gait), and hypothermia. The cats getting a CBD and THC product had more side effects than those receiving CBD or THC alone.
Some cats on the placebo dose has GI upset from the MCT oil.
The Final Verdict on this Study About Cats on Cannabis?
There were "no clinically significant changes" on each cat's CBC and serum chemistry profile.
Sunflower oil appeared to be tolerated better than MCT oil as a carrier.
This particular CBD / THC pet product blend was well tolerated in the cats.
It's important to note that three of the scientists conducting the study are employed by the company whose product was used in the research. This company owns dozens of human and animal cannabis product lines. The researchers' affiliation may have led to some bias. But overall, it's good to know that progress is being made when it comes to cats on CBD and THC products.
Use Cannabis in Cats and Dogs Carefully
If your Trikitty is having health issues and you want to explore cannabis medicine, please talk to your vet first. Don't try a single product until you do. If your vet is not able or willing to discuss cannabis medicine, post in this Tripawds Discussion Forum Topic and we will try to help you find a vet professional who can help.